Top Performers from All-American Bowl: Day One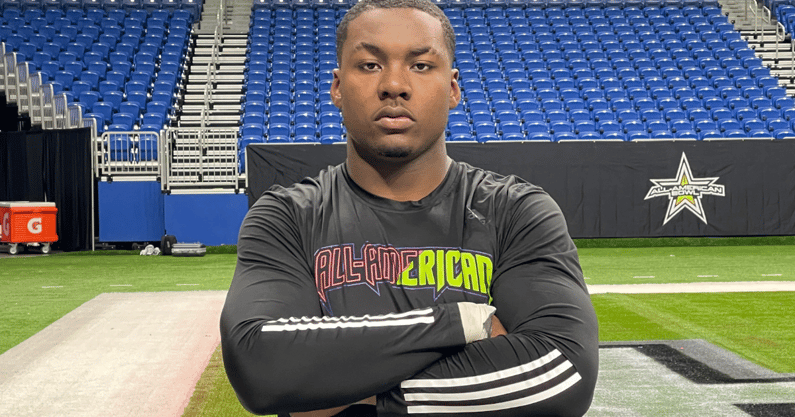 SAN ANTONIO, Texas – Tuesday marked the first day of All-American Bowl practices. The long-running, prestigious event annually brings in around 100 of the nation's top senior prospects.
The two teams are geographically split into East and West. The game is set to be played on Saturday, January 8 at 12 P.M. in the Alamodome and televised on NBC.
On Tuesday the East team took part in a two-session practice inside the Alamodome while the West's was at Trinity University. On3 was on hand at both practices
Here are On3's top performers for the day, headlined by a Georgia defensive line signee and one of the nation's top signal callers.
All-American Bowl Roster Breakdown
On3 MVP
East: DL Mykel Williams – Georgia
Mykel Williams had a dominant showing on Tuesday and was far and away the obvious choice for the East's On3 MVP. Williams is playing inside this week and made easy work of the East interior offensive line. He had a good start in the morning session, winning most, if not all of his 1-on-1 reps. Williams really turned it up in 11-on-11 work, though. He put on a show during the team period in the afternoon. Williams got things going by blowing up a speed sweep. He darted into the backfield closed on Kentucky receiver commit Barion Brown and knocked the ball out. Williams followed that up by making two or three more plays behind the line of scrimmage in rapid succession. He made it tough for the East team to effectively practice. The Georgia commit has a great frame with considerable length. That, paired with his first-step quickness and active motor had him looking all the part of a top five prospect nationally on Tuesday. – Charles Power
West: QB Devin Brown – Ohio State
Devin Brown began the week by measuring 6-2.25 without shoes with a 10-inch hand. Then when it came time to hit the field Tuesday, he was easily the most talented quarterback on the West Team. That's not a slight on Clemson signee Cade Klubnik, but speaks more to the gifts Brown possesses. He delivered every pass at every level with effortless arm power. Brown never has to load up to deliver the ball vertically, or on opposite hash mark deep outs. A subtle aspect in the short passing game, but very important, Brown delivered every swing pass with the correct velocity and ideal ball placement in front of backs and receivers. Another quality he possesses not talked about enough is his ball handling. He's a fluid moving athlete with a quick arm. – Gerry Hamilton 
Remaining East Top Performers
2. DL Dani Dennis-Sutton – Penn State: Dennis-Sutton was outstanding during the morning session. The Penn State signee made easy work of Florida State offensive tackle signee Julian Armella in a pair of 1-on-1's. Dennis-Sutton showed considerable speed to power in his pass rush, walking Armella back to the quarterback on one rep. We also saw the 6-foot-4, 250-pounder flash some quick hands. He didn't get as many first team reps in the afternoon session, but the flashes in the morning were substantial.
3. RB Nick Singleton – Penn State: It's difficult for running backs to impress in these non-contact settings. With that said, Penn State signee Nick Singleton showed why he's a five-star on Tuesday. Singleton tangibly flashed, with a few 'wow' reps in 11-on-11 work. He showed an outstanding burst in reaching the second level. The long speed kicked in once Singleton got to the second level – he torched the secondary for what would be a long touchdown run.
4. WR Isaiah Bond – Alabama: Bond was the standout in 1-on-1's for the East wide receivers, winning every rep in the morning session. The Alabama signee's has sub-10.5 second speed transfers to the field. He looks like the fastest player on the East team, perhaps by a good margin. Bond roasted the East corners on vertical routes, easily separating within the first 10 yards. He played on both sides of the ball as a receiver and corner for Georgia powerhouse Buford High and it's possible we see him on either side at the next level. Bond will need to continue honing his ball skills but the speed alone makes him a field-stretching deep threat.
5. EDGE Marvin Jones Jr. – Georgia: Jones enters the week with something to prove as the No. 1 prospect in the On300. The 6-foot-5, 250-pounder had a good day rushing the passer at the East sessions. Jones showed a nice get-off along with the ability to turn, bend and dip around the edge. We also saw him read fellow Georgia signee Gunner Stockton's passes, batting two throws during 11-on-11, one of which was picked off. That premium skill is what made him a five-star prospect for us in the initial On300 rankings. He may not have too many emphatic finishes behind the line, but the disruption was there on Tuesday.
Remaining West Top Performers
2. RB TreVonte' Citizen – Unsigned: At first glance, Citizen has the appearance of a downhill runner with a tremendous running back body type. That is not necessarily the case, however. Citizen proved adept and sure handed out of the backfield, which was a carry over from spring and summer 7-on-7 action. One will not find a better running back body type than the On3 Consensus 4-star. He checked in this week at 5-11 3/8, 218-pounds with a 31'7/8" arm length. He possesses short enough arms to perfectly pocket the ball, and do so with a big mitts. He flashed considerable lower body power on several occasions Tuesday. Citizen remains one of the top prospect unsigned in the 2022 cycle. He will announce February 2 out of LSU, Florida, Michigan State, Miami and Auburn.
3. WR Kyion Grayes – Ohio State: Grayes checked into the All-American Bowl at 5-foot-11 without shoes and 170-pounds. He added a nine-inch hand and 31-inch arms. Grayes is most impressive on the field. He was the best receiver on the West squad getting off press coverage. The former Chandler High star routinely beat press coverage with feet on fire. A quicker than vertical fast player that excels creating separation out of cuts in the intermediate passing game. Every reception on Tuesday was arms extended with the ball plucked out of the air. Not going to race past coverage vertically. Possesses natural feel and instinct for playing the position. 
4. IOL Earnest Greene – Unsigned: The On3 Consensus 4-star is one of the more interesting offensive line prospects in the class. He's an IOL body type all the way with body development needed. Height, frame and arm length scream guard. His initial movement skills, foot quickness and ability to play in space are tackle athletic. Greene packs a powerful initial punch, and looks to hit all the way through the whistle. His ability to pull at guard at the next level will be a differentiator. Greene will announce his decision January 8 during the game with Georgia favored over Texas. Alabama and Ohio State round out the final four. All four schools told him during the recruiting process he will receive first crack at tackle.  
5. LB Lander Barton – Utah: The Utah Utes legacy oozes athletic ability and frame upside. At nearly 6-foot-4, he carries 215-220-pounds extremely well. In drills, he displayed the ability to sink the hips lower, and uncoil with explosive movement better than any other West Team linebacker. In pass coverage, Barton was fluid in drops and used his length to created a pair of well time pass break ups. The third of three brothers that will suit up for Utah was also a strong communicator on the field, and in drills. He attacks reps with a seriousness about him that grabs the attention.
Additional notes
+ Clemson quarterback signee Cade Klubnik hit on several back shoulder balls Tuesday, His strength at the next level looks to be timing throws in which ball placement is at a premium. – Gerry Hamilton
+ Penn State signee Drew Allar had a good day throwing the ball, showing his considerable arm talent. Allar has easy velocity with the ability to drive the ball to all levels. – Charles Power
+ The top two defensive backs for the East team on Tuesday were Devin Moore (Florida) and Davison Igbinosun (unsigned). Both are rangy, versatile defensive backs capable of playing multiple spots. The pair lined up at safety and corner, showing well at each spot. Moore looked like the best East defensive back in coverage during 1-on-1's and did a nice job keeping up with some speedy receivers. Igbinosun showed nice range and came down a pick in 11-on-11 off of a batted pass from Marvin Jones Jr. – Charles Power
+ We liked what we saw from Notre Dame offensive line signee Aamil Wagner on Tuesday. Wagner is light and has a developmental body type. With that said, he has outstanding play strength, particularly for his size. We saw Wagner beat Texas A&M Enai White in consecutive reps in 1-on-1's, taking White to the ground on one. – Charles Power
+ Kentucky receiver signee Barion Brown was not super consistent, but had some flash moments and was our second receiver for the East after Bond. Brown showed tracking skills to go with his long speed. Arkansas signee Samuel Mbake is the most impressive looking receiver on the hoof for the East team. – Charles Power
+ Notre Dame offensive line signee Billy Schrauth worked at right guard for the West team, and showed a strong initial punch. Schrauth stayed balanced and square. The only rep we saw him lose was on a push-pull move from fellow Notre Dame signee, Tyson Ford. – Gerry Hamilton
+ Omarion Hampton was the next running back for the East after Singleton. The North Carolina signee has a great build for the position and showed soft hands as a pass catcher. He also looked to move faster than he does on film. – Charles Power

+ Defensive lineman Caden Curry (Ohio State) lacks ideal size and arm length, but flashed high-end snap anticipation and foot quickness in team and 1-on-1's. Purdue EDGE signee Nic Caraway made his mark today with effort and motor. He consistently jumped in for an extra rep, and attacked each one with a rugged mentality. Texas signee J'Mond Tapp was a jack-of-all-trades Tuesday out of necessity. He lines up at EDGE, defensive tackle and even worked at safety in drills. Yes, Tapp is 6-foot-3, 245-pounds with skill player feet. – Gerry Hamilton
+Lincoln Riley will enjoy moving Raleek Brown all around the field on offense. His quickness, suddenness and hands are all high-end. On3 sees Brown as more of a slot receiver that can take the occasional handoff. – Gerry Hamilton