All-American Bowl Top Performers: Day Three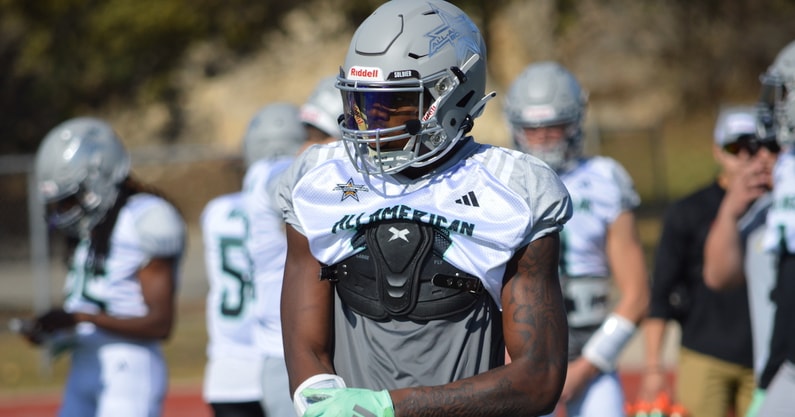 SAN ANTONIO, Texas – Thursday marked the third day of All-American Bowl practices.
The two teams are geographically split into East and West. The game is set to be played on Saturday, January 7 at 12 P.M. in the Alamodome and televised on NBC.
Full 2023 All-American Bowl Roster | Day One Top Performers | Day Two Top Performers
Each team took part in a morning practice with the West working in the Alamodome, while the East practiced at Trinity University. The practice was relatively light, particularly for the East team, who worked out in shirts and shorts, with little action on the line of scrimmage.
Here's On3's top performers for the day, headlined by a touted quarterback heading to the Pac-12 and an a high-upside pass catcher.
On3 MVP East: QB Dante Moore – UCLA
Dante Moore must have been feeling himself on Thursday morning, because he was flat-out showing off during practice. We didn't see Moore have an incompletion during Thursday's session. He was placing the ball with precision from multiple arm angles. Moore made several throws off-platform and on the run with accuracy. He had a gorgeous sidearm flick of the wrist to Jalen Brown on a slant during routes-on-air. The ball pops out of his hand with plus zip. Moore was accurate as can be throughout routes-on-air, 7-on-7 and the team period. The UCLA signee is making a strong case as the best quarterback at the event. Moore ranks as the No. 55 overall prospect in the On300. – Cody Bellaire
On3 MVP West: WR Cordale Russell – TCU
No wide receiver has gotten behind the secondary more often this week than Cordale Russell. After being up-and-down in finishing at the catch point on Wednesday, Russell turned the corner in a big way and put on a show at the West's Thursday practice. The 6-foot-2, 205-pounder had several touchdowns during the team period. In one sequence, Russell scored two touchdowns in three plays. He beat Wednesday's On3 MVP Jelani McDonald off the line of scrimmage in the red zone twice, and tracked the ball over his shoulder for impressive scores. Earlier, Russell got deep on a deep route for a score and readjusted to come down with a catch on an underthrown ball – play that would've gone for another touchdown had the throw been on time. We also saw Russell put forth some effort as a blocker, driving defensive backs to the sideline on run plays. The Dallas area product's size, length, quickness and overall athleticism make him arguably the most physically-gifted wide receiver on hand. If he plays with consistency, Russell's upside looks to be as high as any pass catcher in the cycle. Russell ranks as the No. 36 overall prospect and No. 6 wide receiver in the On300.
Remaining East Top Performers
2. WR Brandon Inniss – Ohio State
Brandon Inniss continued his run as the most targeted receiver at the All-American Bowl. He was once again the leader in catches for the East on Thursday morning. Not only did Inniss catch the most balls as a possession target, he flashed some acrobatic ability making multiple one-handed grabs during the routes-on-air periods. The majority of the South Florida native's catches during team period were on underneath routes or screens behind the line of scrimmage, but he showed good burst and toughness after the catch. The Ohio State pledge has become a trusted target of the East quarterbacks. Inniss ranks as the No. 94 overall prospect in the On300. – Cody Bellaire
3. S Caleb Downs – Alabama
It doesn't take long to tell Caleb Downs is the most college-ready defensive back prospect for team East from a physical standpoint. But Downs more than passes the eye test. While we didn't see Downs tested often during the first two days of practice, that ended Thursday. Downs had multiple pass breakups during the 7-on-7 period of the East's practice. He also had excellent display of run fits and closing to the ball. On one play, Downs nearly beat running back and fellow Alabama signee Justice Haynes to the ball on a screen pass during the team period. Downs ranks as the No. 11 overall prospect and No. 1 safety in the On300. – Cody Bellaire
4. WR Jalen Brown – LSU
Jalen Brown has made splash plays on consecutive days, with Thursday's practice being his most complete performance to this point. In routes-on-air, he showed his ability to track deep balls and reel in passes over the shoulder. Brown also showed he can separate off the line of scrimmage beating Auburn signee Kayin Lee on a slant route during 7-on-7. The LSU signee didn't make much noise during the team period in terms of catching the football, but was consistent in his ability to get open and find green grass. Brown ranks as the No. 152 overall prospect in the On300. – Cody Bellaire
5. LB Whit Weeks – LSU
Whit Weeks has been very consistent in his time at the All-American Bowl and Thursday's practice was no different. His fluidity and ability to simply be around the football was second to none during Thursday's 7-on-7 and team periods. Weeks made multiple stops during the team period and and even got a hand on a pass during 7-on-7. We saw Weeks' ability to key and process when he make a tackle in the open field on Miami running back signee Mark Fletcher during the team period. The play showed just how quickly the LSU signee can trigger to the football. Weeks ranks as the No. 233 overall prospect in the On300. – Cody Bellaire
Remaining West Top Performers
2. WR Ryan Niblett – Texas
Ryan Niblett showed his game-breaking ability and deep speed in the West's Thursday practice. The Houston native is a burner on the track with speed that translates to the gridiron. Niblett got vertical on on Oklahoma corner signee Jasiah Wagoner and high-pointed the pass from Austin Novosad for a long gain that may have gone for a touchdown in a live game. Niblett later separated in short quarters on the goal line and had a close call reception that may have been ruled a touchdown in a game setting. He has been often used as a ball-carrier and multi-purpose weapon at the high school level, so we were interested to see how the ball skills and routes stacked up in this setting. Based on what he showed in live periods and drills, Niblett looks to be coordinated to go with his considerable athleticism. Niblett ranks as the No. 95 overall prospect in the On300. – Charles Power
3. RB Rueben Owens – Texas A&M
Rueben Owens continued to show his eye-catching top end gear on Thursday. The Texas A&M signee plays at a different speed than any running back on hand. He gained massive separation on a vertical route out of the backfield during a team period and came back to the football to make a diving grab on a severely underthrown pass. We also saw Owen's juice as ball carrier. His burst and pace as a runner were evident as he popped one nice gain to the left side and later darted up the middle for another chunk run. The El Campo (Texas) High product has shown a strong all-purpose skill set in San Antonio. Owens ranks as the No. 50 overall prospect in the On300. – Charles Power
4. EDGE Tomarrion Parker – Clemson
Tomarrion Parker created the most pressure off the edge that we saw during the West's team period on Thursday. The Clemson signee has shown and advanced package of first-step quickness, bend and technical skills over the course of the week. During the first team period, Parker hit Tennessee offensive tackle signee Shamurad Umarov with a nasty spin move before forcing the quarterback out of the pocket. He later had a would-be sack had the session been full-contact. The Phenix City (Ala.) Central product has one of the most polished pass rush skill sets at the All-American Bowl. Parker ranks as the No. 148 overall prospect in the On300. – Charles Power
5. OT Kadyn Proctor – Alabama
While the offensive line and defensive line didn't do 1-on-1's on Thursday, we thought Kadyn Proctor notably held up well during the team periods. Proctor worked at left tackle for a few drives and didn't give up any pressures that we saw. Early on, Proctor did a nice job in neutralizing Ohio State signee Joshua Mickens. We later saw Proctor flash a quick pass set and smoothly handle a stunt. At 6-foot-6 and over 345 pounds, the Iowa native pairs a burly, dense build with solid reactive quickness. Proctor ranks as the No. 44 overall prospect in the On300. – Charles Power
Additional notes
+ As noted above, the East team was worked in shirts and shorts during the lone session of practice – no pads. This affected the offensive and defensive lines who were working at a walk-through pace. – Cody Bellaire
+ Nebraska wide receiver signee Malachi Coleman made a few impressive plays, including a long reception during a team period for the West. Coleman's size and long speed are well known, but he's impressed with his route-running and ball skills in San Antonio. – Charles Power
+ Ohio State wide receiver signee Carnell Tate showed off his fluidity and smooth route running during Thursday's practice. His ability to get in and out of his breaks with little wasted movement was impressive during the routes-on-air and 7-on-7 periods. – Cody Bellaire
+ Ole Miss safety signee Braxton Myers capped of the final play of one team period for the West, picking off a Lincoln Kienholz pass intended for LSU tight end signee Ka'Morreun Pimpton. – Charles Power
+ Texas linebacker signee Anthony Hill lowered his shoulder to deliver a big hit in defending a short pass – perhaps the biggest collision we've seen in what has been a relatively light week of contact. – Charles Power
+ Auburn defensive back signee Kayin Lee flashed during Thursday's practice reeling in an interception during the 7-on-7 period. After getting beat by Jalen Brown early in the 7-on-7 period, he made up for it by breaking up a pass on the first rep of team period. – Cody Bellaire
+ In addition to Kadyn Proctor, Utah signees Caleb Lomu and Spencer Fano stood out on the West offensive line. Lomu looked good in working at left tackle and Fano showed his mobility in working to the second level on a screen pass. – Charles Power
+ Florida State linebacker signee  Blake Nichelson showed some athleticism and coverage ability throughout the West's practice. He intercepted Austin Novosad on a corner route and continued to show good range in coverage on other occasions.

+ We also saw Auburn signee Keldric Faulk do a nice job setting the edge as a run defender. – Charles Power
+ Georgia tight end signee Pearce Spurlin flashed some acrobatic ability and strong hands during the routes-on-air and 7-on-7 periods during Thursday's session. He had two one-handed catches in routes-on-air and made a contested catch on linebacker Jayvant Brown during the team period. – Cody Bellaire
+ Though he hasn't been targeted a ton, LSU tight end signee Ka'Morreun Pimpton has shown off his catch radius, which might be better than anyone else this cycle. Pimpton uses his 36-plus inch arms to go up and get the football. – Charles Power