Top Performers from All-American Bowl: Day Three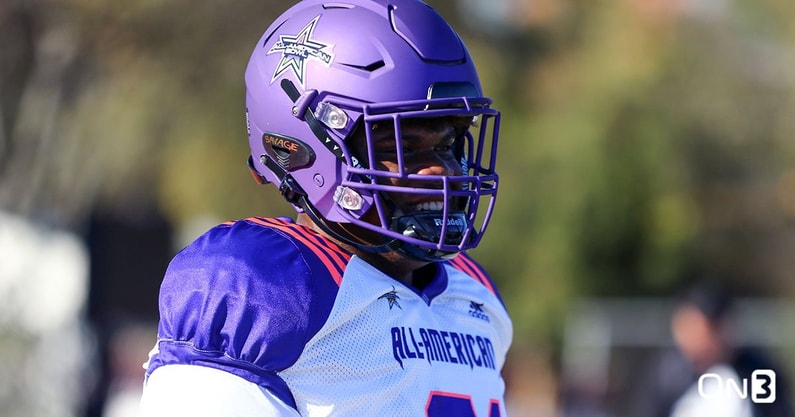 SAN ANTONIO, Texas – Thursday marked the third day of All-American Bowl practices.
The long-running, prestigious event annually brings in around 100 of the nation's top senior prospects. The game is set to be played on Saturday, January 8 at 12 P.M. in the Alamodome and televised on NBC.
After having a two-a-day and joint practice on Wednesday, the teams were split back up with the East practicing at Trinity University, while the West was inside the Alamodome.
Here are On3's top performers for the day, headlined by a Notre Dame linebacker signee and an offensive lineman with an impending announcement.
All-American Bowl Roster Breakdown | Day One Top Performers | Ranking the Quarterbacks: Day One |Day Two Top Performers |
Ranking the Quarterbacks through Two Days
On3 MVP
East: LB Joshua Burnham – Notre Dame

Joshua Burnham is headed for a stock up week in San Antonio. The 6-foot-3, 216-pounder with long arms has impressed at times on each day. On Thursday, it was his quick reactions and reading of the triangle in inside run drills. Burnham has no wasted motion. In the 7-on-7 team setting, Burnham took control of the East's defense. He made the calls, and got teammates aligned. Burnman was the first inside linebacker out in both sessions ahead of North Carolina signee Sebastian Cheeks. – Gerry Hamilton 
West: IOL Earnest Greene – Unsigned

Greene has made a strong case as the West's top offensive lineman this week. The 6-foot-4, 350-pounder has arguably the best anchor among the linemen in San Antonio. He used that strong base on Thursday to win all of his 1-on-1 reps. Greene has the length and width to succeed at tackle but also has the run blocking chops to be a standout drive blocker on the interior. That positional versatility along with his considerable size points to a high floor as a prospect. Greene is set to announce his decision during the game on Saturday. Georgia is currently trending in his RPM. – Charles Power
Remaining East Top Performers
2. EDGE Marvin Jones Jr. – Georgia: Jones continues to have a very solid week in San Antonio. He has solidified himself as a five-star prospect, and continues to be in consideration to end up the No. 1 ranked prospect overall. The 6-foot-5, 250-pounder has displayed an improved power rush. That rush ability combined with his ideal leverage instantly puts offensive tackles on their heels. Playing the run will be key in getting Jones' ability to get on the field early in Athens. The Georgia signee also showed quickness and bend running the loop going both right and left in drills, as well.
3. S Devin Moore – Florida: Moore will end up being a very key flip for Billy Napier out of the gate. The 6-foot-3, wiry strong safety has been the best in coverage for the East team all week at the position. He is smooth in his pedal, stays balanced and flashes very good timing for using his length to create pass break ups. He also showed the ability to run with Alabama signee Isaiah Bond on Thursday. In an off coverage situation, Bond ran an out and up. Moore stayed on his hip on the out and up, and got his head around to use his length to tip the pass.
4. EDGE Aiden Gobaira – Notre Dame: Gobiara has turned a very solid week through three days. The 6-foot-3.5, 235-pounder flashed the quickest feet in the hoop drill running both right and left. In team inside run drills, Gobiara was the quickest off the ball of the defensive ends. There has been a consistent motor in drills and in live settings all week. Along with the agility, the flexibility to bend and turn the corner have also been evident. The future Fighting Irish pass rusher will need to add weight and strength to his frame to maximize his quickness and effort combination. 
5. TE Oscar Delp – Georgia: The tight end position can have a difficult time standing out in the all-star practice settings. Delp did stand Getting into routes quickly and creating separation out of cuts in short and intermediate routes are among Delp's strengths. He is a fast starter with quick feet and excellent change of direction for his size, which helps create opportunities in the red zone. Delp needs to continue working on being more consistent with getting his hands in position to snatch the ball out of the air.
Remaining West Top Performers
2.IOL Billy Schrauth – Notre Dame: Schrauth has looked like one of the two best linemen on the West team all week. That trend continued on Thursday's practice. Schrauth has mainly been playing at guard but also got some snaps in at center during Thursday's practice and took quickly to the position. He had another very strong session in 1-on-1's winning all of his reps that we saw. Schrauth neutralized fellow Notre Dame signee Tyson Ford on two reps and had one of the few wins on Purdue signee Nic Caraway. The 6-foot-4, 295-pound Schrauth has been one of the pleasant surprises on the West roster. He's versatile, has quick feet, good play strength and some technical skills.
3. QB Devin Brown – Ohio State: The West practice moved at a relatively slow speed on Thursday. With that said, Brown continued to show off his arm talent – which is some of the best in the 2022 cycle. The 6-foot-3, 195-pounder was effortlessly ripping throws tot he boundary. He throws a very tight ball that cuts through the air. Brown had a nice off-platform throw across his body to C.J. Williams in 11-on-11 work that was a nice encapsulation of his physical ability. Most of Brown's misses were high or deep. He's certainly not lacking for arm talent.
4. DL Caden Curry – Ohio State: Curry backed up a strong showing on Tuesday's first practice with another good session on Thursday. The 6-foot-2.5, 240-pounder lined up both inside and on the edge during the West's practice and won three of his four reps in 1-on-1's with the lone loss coming to Earnest Greene. Curry showed some first step quickness and won with spin and swim moves. We also saw Curry make a run stop in 11-on-11 work and come away with a would-be sack of Devin Brown.
5. QB Cade Klubnik – Clemson: We thought Klubnik may have had his best day of the week on Thursday. The Clemson signee was decisive and made quick decisions. He had one of the best throws in the 7-on-7 session, hitting C.J. Williams on a deep out route, fitting the ball over zone coverage. Klubnik's delivery and intermediate passes have been consistent throughout the week.
Additional notes
+ Lone Star natives Jaylon Guilbeau (Texas) and Kyron Chambers (TCU) were once again the top corners on the West team. Guilbeau has shown some coordination in coverage with ball tracking skills and overall technical ability. Chambers has caught our eye on multiple occasions. He's well built and can stay in-phase downfield. We saw Chambers have a nice pass break up in 7-on-7. – Charles Power
+ Purdue defensive line signee Nic Caraway Caraway has had a strong week in San Antonio. The Purdue signee is a high energy player who can play multiple spots in the front seven. He moved all along the West defensive line on Thursday and won the majority of his reps in 1-on-1's, including a pair against Ohio State signee Carson Hinzman. Caraway's first-step quickness and solid play strength allow for some encouraging versatility. – Charles Power
+Notre Dame signee Tyson Ford continues to impress with his effort level in practices. Ford made a number of high-level plays in pursuit in 11-on-11 work. He ran down a play to the sideline on a swing pass and later blew up a double pass. Ford's motor stood out in a practice where all players were not moving at full speed. – Charles Power
+ Kentucky offensive tackle signee Nikolas Hall was a late addition to the West team, taking part in his first practice on Thursday. The four-star prospect worked at both tackle and guard. He's a fluid mover but was clearly adjusting to things in his initial practice. – Charles Power