Top Performers from All-American Bowl: Day Two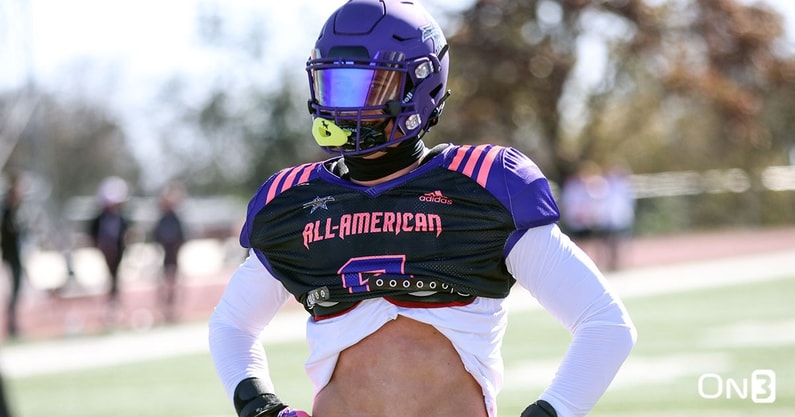 SAN ANTONIO, Texas – Wednesday marked the second day of All-American Bowl practices.
The long-running, prestigious event annually brings in around 100 of the nation's top senior prospects. The game is set to be played on Saturday, January 8 at 12 P.M. in the Alamodome and televised on NBC.
The two teams are geographically split into East and West. Each team had separate practices in the morning before having a joint session in the afternoon. On3 was on hand at both practices.
Here are On3's top performers for the day, headlined by a Georgia defensive line signee and Utah linebacker signee.
All-American Bowl Roster Breakdown | Day One Top Performers | Ranking the Quarterbacks: Day One
On3 MVP
East: DL Mykel Williams – Georgia
The On3 Consensus 5-star continued to look like a top five prospect nationally on Wednesday. Williams showed his max effort motor throughout Tuesday practice and again Wednesday. In began jumping to the front the drills line, and receiving constant praise from the coaching staff. In 1-on-1, Williams was flat out dominant after a first rep loss against Billy Schrauth. Williams overwhelmed Schrauth in the next three reps with elite speed to power. Williams has a high-end first step followed by explosive contact power that jolts the opponent. He also displayed the ability to bend and uncoil in change of direction. Simply put, Williams has been dominant through two days. – Gerry Hamilton
West: LB Lander Barton – Utah
Lander Barton was a standout during the West's morning practice. The 6-foot-4, 215-pounder had one of the plays of the day on an interception on Ohio State signee Devin Brown in 11-on-11 work. Barton carried a slot receiver downfield and went up to high-point for the interception. We also saw him flash some physicality and striking power in putting quickly neutralizing a check down route. Barton didn't take as many reps during the afternoon session, but still looked good when he was out there. He's looked like the top linebacker in practice thus far. – Charles Power
Remaining East Top Performers
2. QB Drew Allar – Penn State: On3 Consensus 5-star Drew Allar was clearly the top passer for the East Team for a second straight day. Blessed with elite arm talent, the Penn State early enrollee rips the ball all around the field effortlessly. He does so with a pretty consistent 90 degree arm angle. On air, the ball rarely hits the ground. The arm strength is apparent on square ins, skinny posts and deep outs. In the 7-on-7 setting during the joint practice, Allar ripped a perfectly timed deep out that was dropped by Barion Brown. He came back with a deep ball to Isaiah Bond for a score against attached coverage. Allar has changed ball speeds and trajectories this week with accuracy.  
3. EDGE Marvin Jones Jr. – Georgia: Jones has been somewhat overshadowed by future teammate Mykel Williams this week. With that said, the Fort Lauderdale product turned in another strong performance on Wednesday. His stance has improved, making his first step more consistent. Jones easily won reps in 1-on-1's against West tackles with initial quickness and long arm power. He has been working on creating pocket push power with defensive line guru Nathan O'Neal, and it showed Wednesday. Jones routinely sent offensive tackles off balance into the backfield in 1-on-1's. Through two days, he looks like the top pure EDGE prospect at the event.  
4. RB Nick Singleton – Penn State: It's a rarity when a running back stands out in the first two practices of an all-star game setting. That is exactly what the future Nittany Lion has done. He has the best initial burst at the position in the 2022 class and it easily shows. Singleton reaches the second level in the blink of an eye. His speed is smooth and easy. On tape, he accelerates after contact. This week, that has shown up in a different form – as a pass catcher. He displays another gear when needing to create separation out of a cut. We've also seen him show soft hands at the catch point along with the ability to adjust to inaccurate passes. Singleton will head to Penn State on Sunday after the All-American Bowl. 
5. WR Isaiah Bond – Alabama: For the second straight day, Bond shined as the best receiver on the East squad. Bond wins off the line with quick feet, burst into the route. He sinks and separates out of cuts in the short and intermediate passing game. While he may not possesses great mitts, he has not dropped passes delivered in the catch radius. Bond's 10.5 second track speed has continued to transfer over to the field. He consistently gets behind cornerbacks forcing grabs and holds. Bond had several wins in East vs. West 1-on-1's and in 7-on-7 this afternoon. His blow-by speed looks like the most demonstrative positive trait among the receivers on hand.
Remaining West Top Performers
2. Devin Brown – Ohio State: Brown had a boom-bust Wednesday. There's no question the Ohio State signee spins the ball very well. The ball comes out of his hand the hottest and cleanest of the West quarterbacks. He made several of the prettiest throws on the day and came out ripping the ball in the afternoon joint practice. Brown had a beautiful throw on a seam route to C.J. Williams that was over 40 yards in the air. With that said, Brown threw several interceptions in the morning. Some of the throws were late while others were into double or triple coverage. Brown doesn't lack for confidence, but can get in trouble sometimes when he tries to squeeze the ball into tight quarters. The fact he rebounded in such a big way later in the afternoon is encouraging. Brown's arm talent and upside are obvious in this setting.
3. CB Jaylon Guilbeau – Texas: The West defensive backs made a bunch of plays on the ball in the morning session, with Guilbeau leading the way. There were at least three instances where we saw Guilbeau get his hands on the ball in 7-on-7 and team drills. The Texas signee had good coverage on Ohio State signee Kyion Grayes on a 40 yard deep ball from UCLA signee Justyn Martin. Guilbeau also had a pick of Devin Brown in 11-on-11 while playing in a deep third zone. He continued to build off that showing in the afternoon session and where he also looked like the West's top defensive back. The Longhorn signee does not have elite long speed and can get out of phase on vertical routes, but is technical and competitive.
4. EDGE J'mond Tapp – Texas: The Louisiana native had the best showing in 1-on-1's among the West defensive linemen, in our opinion. Tapp won the majority of his reps, primarily lining up on the edge after practicing inside earlier in the day. The Texas signee's initial quickness and extended long-arm created issues of the East offensive tackles. Tapp will need to continue honing his technique and lower his pad level. He's winning off of pure athleticism right now, but showed some upside on Wednesday.
5. CB Kyron Chambers – TCU: Chambers has had a busy month. He helped his South Oak Cliff team to a historic state title, signed with TCU and then got a call to be a late addition to the All-American Bowl. The Dallas native was one of several late adds to the roster and was the best of the group on Wednesday. In fact, Chambers looked like the West's second-best defensive back on the day, in our opinion. The future Horned Frog was natural and fluid in coverage. He showed the ability to stay in-phase while turning and running down the boundary. We also saw him locate and make multiple plays on the the ball. The showing was even more impressive when you consider it was his first day of practice.
Additional notes
+ Devin Moore has been the East's best safety and perhaps the best on either team through two days. The Florida signee fluid in his pedal, smooth in transition and uses his length to create pass break ups. – Gerry Hamilton
+ The West team didn't do 1-on-1's during the morning session. With that said, Notre Dame signee Tyson Ford made was the most disruptive member of the defensive line on inside drills in that session. The 6-foot-4, 270-pounder was primarily playing inside. His quickness was a mismatch for the West offensive line, which was working with a few late additions. Ford pinned his ears back and got upfield quickly. – Charles Power
+ The West offensive line is a complete M.A.S.H. unit and struggled mightily in 1-on-1's. With that said, Billy Schrauth (Notre Dame) and Earnest Greene have been the most competitive through two days. Schrauth has been one of the lone offensive linemen to win a rep on Georgia signee Mykel Williams this week. Greene is likely playing out of position at tackle, but has the best anchor of the bunch. – Charles Power
+ Alabama signee Elijah Pritchett is playing right guard this week for the East Team. He has the best frame of any lineman on the East squad. Pritchett has looked powerful and quick, but needs to be more consistent. His frame is that of a 6-foot-6 future 310-pound long-armed tackle with heavy hands. – Gerry Hamilton
+ Notre Dame signee Aiden Gobaira has flashed some extremely quick feet this week. Whether it be in drills or in 1-on-1's, the 6-foot-5 235-pounder has some of the quickest feet on either team on the line. – Gerry Hamilton
+ Arkansas signee Samuel Mbake is a route winner in the short and intermediate passing game. The 15 pounds of weight loss has made for a quicker player out of cuts. That, along with his strong hands and catch radius provides a consistent target in the intermediate game. He's not going to race past coverage or win deep, so being a precision route runner will be key at the next level. – Gerry Hamilton
+ For the West, Raleek Brown (USC) C.J. Williams (unsigned), and Tobias Merriweather (Notre Dame) each had some nice moments in 1-on-1's and 7-on-7. Brown is a quickness mismatch for linebackers out of the backfield. He has a slot receiver skill set. Williams had a great diving grab and scored on a long seam pass from Devin Brown. He's not a big separator, but has some polish and ball skills. Merriweather is the tallest receiver in attendance and had some nice grabs. – Charles Power