Emptying the All-American games notebook: Offense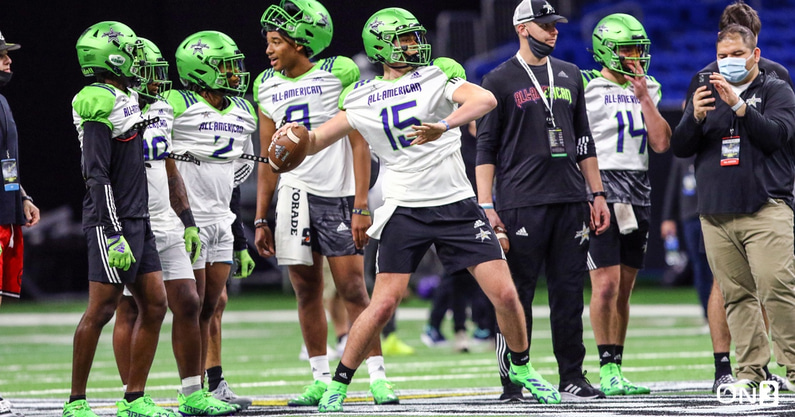 Two weeks of practices at the Under Armour All-America Game and the All-American Bowl gave On3 the chance to see close to 200 of the nation's top prospects from the 2022 cycle. The action at these events can be fast and furious. Nearly every player is a top prospect and you have at least four different areas of the field occupied at once in most practices. With that said, we've taken some time to process and re-watch footage from each week.
Here's some final thoughts from what we saw in Orlando and San Antonio, presented in a brain dump style, position by position. We'll kick things off on offense with defense to follow. Please note that not every prospect who participated will be mentioned.
Under Armour Roster Breakdown | Top Performers Day 1 | Top Performers Day 2 | Top Performers Day 3 | Final Top Performers
All-American Bowl Roster Breakdown | Day 1 Top Performers |Day 2 Top Performers | Day 3 Top Performers |Ranking the Quarterbacks|
Final Top Performers
Quarterback
+ Penn State signee Drew Allar (No. 12) and Ohio State signee Devin Brown entered All-American Bowl week as the top two quarterbacks in the On300. They looked the part from a physical talent perspective.
Allar was the most consistent quarterback throughout practices. The 6-foot-4.5 230-pounder continued to look like the top arm talent in the cycle. Allar has a big league arm with the ability to drive the ball downfield and whips throws to the boundary with ease. Allar made some of his biggest throws during the joint practice. The Nittany Lion pledge has a good feel for the passing game and at times was throwing before receivers were out of their breaks or showed themselves to be open.
Brown has one of the better combinations of arm talent and movement skills in the cycle. He's most comfortable and at his best when he can aggressively push the ball downfield. The Arizona native is a natural thrower. He had some of the more impressive passes of the week among all quarterbacks. When Brown was on, he was ripping throws with significant velocity to the second and third level of the defense.
While both put their talent on display, each has some areas for improvement. We saw things speed up a bit for Allar in the game. Neither team had a great offensive line, but he was under duress and at times was not on the same page with his receivers. Allar will need to improve his foot quickness to maximize his escapability at the next level.
Brown made some noticeable strides as a player after transferring to Utah powerhouse Corner Canyon for his senior year. With that said, he still hasn't had quite as much high quality in-game reps as some of his peers. That, combined with Browns aggressive mindset can get him into trouble at times from a decision-making perspective. We didn't get to see Brown take a ton of reps during the game, but his talent level was apparent throughout the week.
+ Clemson signee Cade Klubnik (No. 36) saw the lion's share of reps during the game and delivered a strong performance. For the most part, Klubnik was accurate, made sound decisions and was able to avoid the pass rush. He's been well-coached at powerhouse Austin Westlake and didn't have to adjust to the speed of the game. Klubnik does not have the physical ability as a passer of Allar or Brown and will need to spend some time in the weight room to bulk up his 180-pound frame. Still, he's a steady, high-floor prospect.
+ The talent level at quarterback at Under Armour was a bit lower than the All-American Bowl, especially throughout practice. Texas A&M signee Conner Weigman (No. 52) was the top quarterback on hand. Weigman was up and down at practice. He saved his best for the game, where he pretty clearly had the best showing among the signal callers. The dual-sport star (baseball) was able to use his athleticism and creativity to make some plays with his feet. We also saw him deliver some impressively-located downfield throws, showing nice touch.
+ Aside from regional 7-on-7's this was our first chance to see Gunner Stockton (No. 103) outside the confines of Friday nights. Stockton is a little different than the other quarterbacks detailed above. The 6-foot, 215-pounder is at his best when he can stress a defense and open up passing lanes by presenting a between-the-tackles run threat. We saw this during the game, where Stockton led a touchdown drive, much in part to his rushing ability. Stockton has a strong arm, but will need to continue improving his feel and nuance as a passer. He'll also need to improve his awareness for contact as he has a penchant for taking some huge shots.
+ We did not get to see other top quarterbacks like Alabama signee Ty Simpson (No. 33) , Nick Evers (No. 67), Walker Howard (No. 69). Each was initially slated to play in one of the games. Simpson enrolled early at Alabama and was practicing with the Crimson Tide as they prepared for the College Football Playoff. Evers was out for the week at the All-American Bowl due to health and safety protocols. Howard was injured late in his senior season.
Running Back
We've thought for a while that 2022 is a bit of a down cycle at running back in terms of depth at the top. It can be tough to evaluate the position during non-contact practices, but we didn't see anything to make us question that assessment.
+ Penn State signee Nick Singleton (No. 21) is the lone five-star back in the On300 and continues to look like the cream of the crop. The 6-foot, 215-pounder pairs an ideal build with one of the best bursts in the 2022 cycle. Singleton thoroughly impressed at the All-American Bowl despite the limitations of the practice setting. He also showed soft hands and some natural receiving ability out of the backfield. This supplements his sterling on-field resume, that saw him named the Gatorade National Player of the Year as a senior. There looks to be a decent gap between Singleton and the next running back in the cycle.
+ TreVonte' Citizen (No. 64) has an ideal running back build at 5-foot-11, 220 pounds. Citizen is compactly-built and has a slashing running style. While he had a solid week of practice at the All-American Bowl, there wasn't too much of significance to note given the limited structure. LSU Auburn and Florida are among those in the mix for the former Bayou Bengal pledge.
+ Alabama signee Emmanuel Henderson (No. 85) was more filled out than we expected. Henderson looks to have added some good weight to his high-cut frame, looking to much more in the 200 pound range than the previously-listed 185. Henderson had no trouble as a receiver out of the backfield and hand a one-handed grab during practice. He also showed a nice burst during the the Under Armour game.
+ Speaking of burst, Texas A&M signee Le'veon Moss (No. 109) may have had the most juice we saw from a running back at Under Armour. Moss's sub 11.0 100-meters speed transfers to the field. He lacks the on-field production of other top backs, but the quickness and speed are not in question.
+ Georgia signee Branson Robinson (No. 100) clearly does not skip time in the weight room. The state powerlifting champion is a 5-foot-9, 220-pound ball of muscle. He's compact and powerfully built. Robinson can bounce off tackles at the second level and projects as a pure between-the-tackles back. He struggled as a receiver at times throughout the week at Under Armour.
+ North Carolina signee George Pettaway was quite possibly the top receiver among the true running backs we saw in either game. So much so, that Pettaway lined up in the slot at times throughout the week at Under Armour. He's a solid route-runner with the ability to separate on linebackers. We also saw him make some diving grabs.
Wide Receiver
We entered all-star season thinking that wide receiver was the deepest position in the 2022 cycle. That thought was validated after time in Orlando and San Antonio.
+ Five-Star Plus+ receiver Evan Stewart (No. 8) got open at will throughout the week at Under Armour. The Texas A&M signee is a top separator with his combination high-end burst burst and route-running. Stewart primarily lined up in the slot on a team that had one of the best receiver groups I've seen in an all-star setting. Thus, we didn't get to see Stewart have too many premier matchups against true cornerbacks. He generally made easy work of opposing safeties. Stewart didn't have his best showing in the game with a pair of drops, with at least one looking directly into the sun. We won't ding him for that. Still, Stewart needs to get stronger at the catch point and in playing through contact. He looks to be around 5-foot-11, 170 pounds.
+ Luther Burden (No. 73) put together a strong case for On3 MVP for the week at Under Armour. The Missouri signee had a fantastic week in Orlando. He was among the best players at practice on seemingly every day. Burden can be unassuming physically. He doesn't stand out from a measurables standpoint. But the Missouri signee is a pure football player. He approached the week with a laser focus. These are not always strenuous practices, but you wouldn't know that watching Burden. He wasn't chopping it up with other players and was rarely on the sideline. I'm not sure we saw another receiver take more reps throughout either week.
While the effort and focus stood out, Burden's performance was even better. In practice, he showed the ability to separate at all levels with good change of direction, particularly at the top of his route. Burden consistently showed strong hands at the catch point, rarely if ever dropping passes. We've viewed his ability after the catch to be his differentiated trait for a while. That belief was backed up in the game, where he took a quick-hitter for a 65 yard touchdown on the first play from scrimmage. He continued to show his open-field ability with a long return later in the game. Burden has a well-rounded skill set as a multi-dimensional weapon. Those characteristics should bode well at the next level where he figures to be a high usage player for Missouri, likely as a true freshman.
+ Jordan Hudson (No. 27) was a late arrival to Under Armour, missing the first few days of practice. You wouldn't know it. Hudson arrived and immediately made his presence felt. The TCU signee won every 1-on-1 rep we saw him take, making easy work of opposing corners, including five-star Texas A&M signee Denver Harris. We also saw him get behind Five-Star Plus+ athlete Travis Hunter twice in the game – drawing a pass interference call on one and a a would-be holding call on another. Hudson is a silky smooth operator within his routes. He has an efficiency of movement with the ability to gain ground and deceptively change speeds mid-route that is highly projectable to the next level. Hudson also has some of the better ball skills in the cycle with a large catch radius and the ability to make extended and high-point grabs.
+ Texas A&M signee Chris Marshall looked like one of the more talented pass-catchers at Under Armour. Marshall is not as technically developed as many of his peers. He first came out for varsity football as a junior after focusing on basketball early on in high school. That, combined with a very low target and usage rate makes Marshall one of the more interesting receivers in the cycle. He only had 15 caches as a senior, but remarkably scored on 11 while averaging over 30 yards per catch. Marshall has an angular build. His long arms help create a considerable catch radius. Marshall has a smooth, gliding gait. Despite being one of the bigger and longer receivers in Orlando, we saw him get vertical against some top defensive backs. Marshall also made a pair of impressive grabs on the during the game, tracking the ball over his shoulder and showing some footwork on the sideline that belies his experience. Overall, Marshall looked like a stock up prospect and one of the more naturally talented receivers in the cycle.
+ No receiver did more to raise his stock in our opinion than Alabama signee Isaiah Bond. Ranked as an athlete due to his two-way ability at the high school level, Bond was the toughest cover at the All-American Bowl. He's one of the top sprinters in Georgia as a defending state champion in the 100 and 200 meters. Most importantly, his speed transfers over to the field. Bond was virtually unguardable on vertical routes over the course of the week. He could be the top deep threat in the cycle based on what he showed in San Antonio. Bond will need to continue refining his routes and ball skills, but he's made progress in both areas in the last six months.

Bond's fellow Alabama signee Aaron Anderson (No. 88) also caught our eye at Under Armour. We knew about Anderson's outstanding quickness, but were most impressed by his strong hands. Anderson naturally has a smaller catch radius at around 5-foot-8.5. But his leaping ability and coordination at the catch point allow him to play bigger than his size.
+ After Bond, Kentucky signee Barion Brown (No. 24) was the fastest receiver at the All-American Bowl. Brown is more than a straight-line speedster, though. The Nashville product has the ability to change-directions mid-route and in the open field with hesitation and dead-leg moves. Brown made a few impressive plays in the open field early on in the game before going out with a sprained ankle. He tended to have concentration drops over the course of the week, which could be partially explained by the fact he was used more of a ball-carrier than receiver as a senior.
+ Clemson signees Adam Randall (No. 81) and Antonio Williams (No. 137) were among the more impressive receivers at Under Armour. Both look like talent upgrades for the Clemson receiver room. I wouldn't be surprised to see one, if not both in key roles for the Tigers this fall. Randall is the most physically-developed receiver we saw at either game. He's 6-foot-2.5 and around 215 pounds of lean muscle. Randall is a power player who excels after the catch. He also has good play speed especially for his size and consistently separated downfield over the course of the week. Williams was the best route-runner we saw at either game. He was the toughest cover and most active receiver on his team for at least two days of practice. Williams' change of direction, savvy and confidence as a route-runner were obvious. He had opposing corners on skates. It's clear Williams has been well-coached at powerhouse Dutch Fork. He looks like an ideal slot receiver for Clemson. Both Randall and Williams are younger for the cycle and interestingly enough, share the same birthday. They don't turn 18 until July 14.
Tight End
The tight end position was essentially a wash. The majority of the top tight ends in the cycle were slated to compete at the All-American Bowl, but Georgia signee Oscar Delp was the only one who made it on to the field. Delp had some nice moments over the course of the week, earning a Top Performer nod after one practice. With that said, it's honestly tough to glean much at the position from either game.
Offensive Tackle
+ Tyler Booker (No. 48) was the On3 MVP at Under Armour. The Alabama signee had a great week of practice and was clearly the most consistent performer on the line day-over-day, in our opinion. Booker worked at both tackle spots and guard over the course of the week and looked comfortable in every scenario. The 6-foot-5, 325-pounder has advanced play strength and technical skills. Both helped him stand out in this setting. Booker would quickly neutralize the hands of opposing defensive linemen before establishing his anchor. He also played well in the game. Booker worked at left guard and led the way on many of his team's longer runs and at least one touchdown. While he's not an elite athlete for the position, Booker's versatility, strength and technical skills make him one of the better offensive linemen prospects in a cycle that isn't loaded at the top.
+ Kelvin Banks (No. 20) primarily worked at right tackle at Under Armour. This was Banks' first time ever playing on the right side of the line. It took the Texas signee a few days to adjust, particularly in his pass set. Knowing that context is key in parsing his performance. Even then, we thought Banks was among the better offensive linemen at Under Armour. He got better and better each day. Banks continued to show some of the traits and skills that make him a five-star prospect. His strong base, flexibility, length and reactive quickness are among the best in the cycle. We saw Banks make a jump as a physical run blocker as a senior. That progress showed up in the game where he created a nice push and easily got to the second level.
+ Similar to Banks, Alabama signee Elijah Pritchett (No. 26) played out of position at the All-American Bowl, working as a right guard. Pritchett looks like a tackle long-term and has primarily played left tackle throughout his high school career. Thus, Pritchett was a little uncomfortable over the course of the week, particularly in 11-on-11 situations. Still, we thought the Columbus, Georgia product had one of the better builds of the linemen in San Antonio. He didn't have a ton of flash moments, but tended put up more of a fight than some of his teammates along the line.
+ We were eager to see Kentucky signee Kiyaunta Goodwin (No. 17) in this setting. Goodwin made one of the more incredible physical transformations we've seen from a prospect earlier in his high school career, shedding over 100 pounds prior to his junior season, allowing for much-improved movement. Unfortunately Goodwin has backslid a bit, now playing around 380 pounds. He's not naturally flexible in his lower body and the added mass showed up in his movement ability over the course of the week.
+ On3 Consensus five-star Josh Conerly Jr. (No. 55) is an athletic lineman with good length. The 6-foot-5, 285-pounder worked at right tackle in San Antonio and was clearly adjusting to the speed of the action over the course of the week. While Conerly has some nice movement skills, he'll need to increase his play strength and anchor to maximize his potential at the next level. We saw him get moved off his spot relatively easily once engaged with defensive linemen.

+ Texas A&M signee PJ Williams (No. 44) is similar to Conerly Jr. Williams has outstanding combination of length to go with twitchy athleticism. He struggled at times with his anchor. As is the case with most developmental offensive linemen, he'll need some time the weight room and at the training table. The upside is still evident, though.
+ Of the lighter, developmental offensive tackles in both games, we thought Notre Dame signee Aamil Wagner (No. 89) had the best play strength. Many of the offensive linemen at the All-American Bowl were well over 330 pounds, so Wagner's lack of mass stood out in the group. He looks to be in the 250-260 pound range. With that said, Wagner played stronger than many of the 300+ pounders. We saw him take Texas A&M signee Enai White to the ground in 1-on-1's on the first day. That strong base and pop in his hands continued throughout the week. It probably shouldn't come as a surprise that Wagner is so strong, given he has a 60-foot shot put toss to his name. He pairs that strength with some of the better movement skills and athleticism among tackles in the cycle. Wagner worked with the second team throughout the week and played both right and left tackle on two of his team's best drives in the game.
Interior Offensive Line
+ If you count Tyler Booker as a swing tackle/guard, Devon Campbell (No. 23) probably had the next best week among interior offensive linemen at Under Armour. Campbell lacks some stature and length at the position. He's probably a shade under 6-foot-3. With that said, he has very good reactive quickness and a strong punch. Campbell worked at guard and had some nice moments against top defensive linemen like Walter Nolen. Some of his physical limitations showed up in pass protection during the game, but Campbell still had a nice showing overall.
+ Texas signee Neto Umeozulu (No. 66) had some of the better dimensions along the line at either game. The 6-foot-4, 295-pounder is barrel-chested with long arms. Umeozulu looks like a natural at guard but has the length and quick feet to potentially play tackle if needed. He'll need to continue honing his pass set technique, but the physical skills and versatility were apparent at Under Armour.
+ Of the big offensive linemen at the All-American Bowl, we felt Earnest Greene (No. 141) stood out. While others played with a top-heavy lean, Greene showed a strong base. Greene, who announced for Georgia during the game was the best offensive lineman on the West team over the course of the week. He showed his versatility in working at left tackle despite likely projecting inside long-term. The NFL legacy is battle-tested against top competition and looks to have a high floor.
+ Notre Dame signee Billy Schrauth (No. 138) had the second-best week of offensive linemen on the West team at the All-American Bowl, following Greene. The Wisconsin native worked at guard and picked up playing center mid-week. His play strength, feet and competitiveness helped him stand out among the bunch.
+ LSU signee Emery Jones (No. 196) was another standout on the interior at Under Armour. Jones worked at right guard and had a nice week, showing a strong base in 1-on-1's to go with getting a push as a run blocker in 11-on-11 situations.