Emptying the All-American games notebook: Defense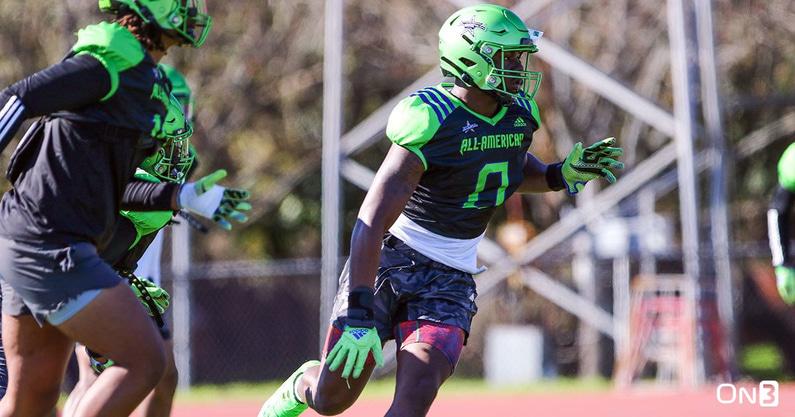 Two weeks of practices at the Under Armour All-America Game and the All-American Bowl gave On3 the chance to see close to 200 of the nation's top prospects from the 2022 cycle. The action at these events can be fast and furious. Nearly every player is a top prospect and you have at least four different areas of the field occupied at once in most practices. With that said, we've taken some time to process and re-watch footage from each week.
Here's some final thoughts from what we saw in Orlando and San Antonio, presented in a brain dump style, position by position. We covered offense yesterday. Please note that not every prospect participating will be mentioned.
Under Armour Roster Breakdown | Top Performers Day 1 | Top Performers Day 2 | Top Performers Day 3 | Final Top Performers
All-American Bowl Roster Breakdown | Day 1 Top Performers |Day 2 Top Performers | Day 3 Top Performers |Ranking the Quarterbacks|
Final Top Performers
EDGE
+ Jihaad Campbell (No. 30) showed why he's considered to be one of the most versatile defenders in the 2022 cycle at Under Armour. The Alabama signee is ranked as an EDGE prospect, but primarily practiced as an off-ball linebacker throughout the week in Orlando. First off, Campbell looks bigger than listed. He's closer to 6-foot-3.5 or 6-foot-4 than the previously-measured 6-foot-2.5. The New Jersey native has a great frame that should fill out once he gets to Tuscaloosa.
Campbell has the fluidity and athleticism do legitimately cover receivers downfield. We saw this on display at the end of one practice, when he picked off a pass in the end zone while covering Missouri wide receiver signee, Luther Burden. We also saw Campbell take some pass rush reps in one practice with his explosiveness standing out in the limited sample. He was among the more active defenders in the game leading his team in tackles – despite rotating in. It seemed like Campbell made a play the majority of snaps he was on the field. Campbell's dimensions, athleticism, versatility and motor have him looking like a stock up prospect and one of the better defensive players in the cycle.
+ Penn State signee Dani Dennis-Sutton (No. 38) had a strong week of work at the All-American Bowl. The 6-foot-5, 255-pounder was a standout in 1-on-1's, giving the East offensive tackles issues. That carried over into the game where he beat Ohio State signee George Fitzpatrick for a sack on fellow Penn State signee Drew Allar. Dennis-Sutton made a handful of additional flash plays throughout the game, as well – he set the edge against the run and had a big quarterback hit. The Maryland native showed a well-rounded pass-rushing skill set with the ability to win with speed-to-power, active hands and a good first step. He's a high-energy player who looked to be all business in San Antonio. In fact, he was spotted working out in the hotel gym after a two-a-day practice.
+ Marvin Jones Jr. entered the week as the No. 1 overall prospect in the On300. We've said for a while that the Georgia signee will have to fight to hold on to that spot. With that said, we thought Jones put together a nice week at the All-American Bowl. He teamed with Dennis-Sutton and Mykel Williams to present a strong defensive front for the East team. Jones was consistently disruptive in practices, showing the bend and curvilinear movement that we liked so much from his junior season. The NFL legacy also showed a penchant for disrupting passing lanes. There was one sequence where he batted several passes from fellow Georgia signee Gunner Stockton. Jones has added significant size over the past year, now checking in around 6-foot-5, 250-pounds. He can continue to improve his finishing ability in the backfield, but the talent was on display over the week of practices.
+ Stanford signee Ernest Cooper IV (No. 46) impressed with his effort level and seemed to improve every day at Under Armour. He's a long, angular rusher who wins with his length and motor. We saw those traits show up in the game, when he registered an impressive sack. Ohio State signee Omari Abor (No. 164) also caught our eye with his effort level day-over-day in Orlando. Abor moved all over the defensive front and even showed some ability to play inside. He doesn't appear to have quite the bend and pure athleticism of some other top pass rushers, but the brute strength and motor help compensate.
+ It took Alabama signee Jeremiah Alexander (No. 19) a day or two to adjust to the setting at Under Armour, but we saw the five-star make his fair share of plays by the end of the week. Alexander looks to be around 6-foot-1, 230-240 pounds. He was employed more as a edge setter and pursuit defender in high school, so this setting where he was pass rushing against big offensive tackles was a bit new. We saw Alexander employ a nice spin move towards the end of the week – something he wasn't doing earlier. His effort level also showed up multiple times in 11-on-11 work.
+ Michigan signee Derrick Moore (No. 167) had a strong week at Under Armour. The Baltimore native was the game's MVP with several sacks in the second half. But he was good in practice, too. At 6-foot-4, 250 pounds, Moore is at his best as a speed-to-power rusher.
+ Kenyatta Jackson Jr. (No. 59) entered the week at Under Armour coming off of a strong senior season that saw him named Florida's Gatorade Player of the Year and help his team to a state title. The Ohio State signee looks to have leaned out a bit since last off-season. He's a tall, lean pass rusher with very good length. We like Jackson's bend around the edge, as well. He should continue improving as he continues to elevate his play strength.
+ We only got to see Texas A&M signee Enai White (No. 54) in one practice at the All-American Bowl before he was out for the week due to health protocols. White had a bit of an up and down day, but had some serious flash moments when at his best. He's tall with outstanding length and showed some twitchy closing speed. The Philadelphia native is not very nuanced as a pass rusher at this point, but the physical ability and upside was on display in San Antonio.
Defensive Line
+ Mykel Williams (No. 4) put together a dominant week at the All-American Bowl en route to being named the On3 MVP for the event. Williams was the best player in San Antonio from start to finish. His flash moments in both practice and the game were the best we saw from any prospect on either week. Williams was virtually unblockable in 1-on-1's, showcasing a deep bag of pass rush moves. The quick hands, 34+ inch arms, ability to dip and speed-to-power were all evident. Williams' first-step quickness and instincts made him the most disruptive defender in 11-on-11 situations as well. That carried over to the game, where we counted around four or five sacks or tackles for loss. His skill set as an interior pass rusher was simply too much for the offensive linemen in San Antonio.
The five-star was full-go all week. He didn't take his foot off the gas despite dominating in just about every aspect. To make things even more impressive, Williams still has room for growth. He's young for the class with a June birthday. It will be interesting to see where his body goes after a year or so in Georgia's strength program. Williams is currently around 6-foot-5, 260 pounds. He's already ranked as one of the nation's top prospects for On3, but certainly had a showing befitting of a top five prospect. It was impossible to not notice.
+ Walter Nolen (No. 14) came to Under Armour in the best shape we've seen him in over a year – and it showed in his play. The Five-Star Plus+ prospect is down about 30 pounds from the summer and was noticeably lighter on his feet. Nolen has always been a top athlete for his size and position, but he's able to maximize his ability at the lower playing weight (310 to 320 pounds). The Texas A&M signee was the best defensive lineman at Under Armour over the balance of the week. His first-step and play strength create considerable issues for even the best offensive linemen in the cycle. One of Nolen's differentiating characteristics as a defensive tackle is his ability to kick out and push the pocket as a big defensive end. Nolen has always been one of the top talents in the class. Some prospects who rise so early can plateau towards the end of their high school careers – that doesn't appear to be the case here.
+ Shemar Stewart (No. 5) has primarily played on the edge in high school but looks to be trending more towards ending up as a defensive lineman. Stewart is big and filled out – he looks all of 6-foot-5, 270-pounds. The Miami native was among the better defensive linemen over the course of the week at Under Armour. He was not as consistent day-over-day as Williams or Nolen at each respective game but flashed some considerable upside. Stewart has the capability of being a powerful rusher. He'll need to hone the technical side of his game. To this point, we've really seen most of his upside manifest in high-level plays in pursuit. You don't usually see players at Stewart's size track down running backs from the back side.
+ Gabriel Brownlow-Dindy (No. 3) was a late arrival at Under Armour. We only got to see him practice on one day and a bit during the game. The Texas A&M signee has a filled-out, compact but not short build with long arms. The defensive line group at Under Armour was very deep and he passed the eye test in our brief exposure.
+ Anthony Lucas (No. 13) was among the several Aggie signees in Orlando. The Arizona product can be a frustrating evaluation at times. Lucas is among the more physically-gifted prospects in the cycle. He has an outstanding frame with advanced flexibility and athleticism. With that said, Lucas has a tendency fade into the background both in games and in this all-star practice setting. We didn't see Lucas take a ton of reps over the first few days at Under Armour. Then he comes out has one of the more impressive reps of the week, beating Alabama signee Tyler Booker in a 1-on-1. The physical gifts are obvious, but Lucas will need to improve his play personality to maximize the ability.
+ Georgia signee Bear Alexander (No. 41) had an enigmatic high school career. He bounced around several high schools and was ruled ineligible due to transfer rules for seemingly the majority of his four years. That's all to say we were looking forward to seeing Alexander in this setting. He has more of a stocky, compact build and could project as a nose tackle long-term. Alexander was up-and-down in practices. He can be a boom or bust player with his initial jump off the ball playing a large part in his success or failure on a given play.
+ Jaray Bledsoe (No. 77) is another prospect we were looking forward to seeing due to the lack of a senior season. The Texas signee was ruled ineligible following a transfer. The small town product is very raw and undeveloped. With that said, he looked like one of the more naturally talented prospects at Under Armour. Bledsoe had arguably the best first step among the defensive linemen in Orlando. He's also highly flexible – we saw him easily sit on his feet during warm ups. Bledsoe has a long way to go in terms of technique but his upside is sky high.
+ Travis Shaw (No. 68) has long-ranked as one of the top prospects in the cycle, dating back to his sophomore season. The North Carolina signee currently ranks as the No. 18 overall prospect in the On3 Consensus. If what we saw in Orlando was any indication, Shaw has a ways to go. He looks to have regressed a bit physically which affects his movement skills. We expect Shaw to need some time in the Tar Heel strength and conditioning program before he is a serious contributor in Chapel Hill.
Linebacker
Similar to running back, the linebacker position can be a little tougher to parse in non-contact practice settings. We can get a feel for movement, ball skills and cover ability – but instincts and physicality are easier to assess in the game.
+ If we're counting Jihaad Campbell as an EDGE, Notre Dame signee Jaylen Sneed (No. 37) and Utah signee Lander Barton (No. 186) had the best showings at linebacker in both respective games.
We've long known Sneed as a twitched-up, multi-dimensional athlete. He made the transition to more of an off-ball linebacker as a senior and has take to it quickly. The South Carolina native plays with his hair on fire and was the most active linebacker in the Under Armour game. He flew around and played with effort and physicality.
We tabbed Barton as a potential riser heading into the All-American Bowl. He exceeded those expectations. The Utah and NFL legacy impressed in every facet. He's physically imposing at around 6-foot-4, 220 pounds. We thought he had the best movement skills of the jumbo linebackers at either game. Barton is a natural in space and coverage. He can flip his hips and turn and run while carrying receivers over the middle of the field. The play speed and instincts also showed up in the game, where Barton made some impressive plays in pursuit.
+ Harold Perkins (No. 8) entered the week at Under Armour as the de facto top linebacker prospect nationally. Perkins had a relatively quiet week. Some of that may have been due to seeing some time as a running back in practice. Still, we saw the Texas A&M commit's elite athleticism on display over the course of the week. He's one of the best athletes relative to his position in the cycle. Though he's been listed at around 6-foot-3, Perkins looked to be closer to 6-foot-1 to our eyes.
+ Jalon Walker (No. 65) was one of the more filled-out linebackers at Under Armour. The Georgia signee played off-ball throughout the week, but might more of a EDGE body long term. Walker is a high-energy, strong linebacker who is at his best as a run defender.
+ Notre Dame signee Joshua Burnham (No. 110) had some nice moments at the All-American Bowl. Burnham is not as developed as a linebacker as some others, which makes sense given he's been a two-way player at the high school level. Still, we liked his combination of size and movement skills.
+ Ohio State signee C.J. Hicks (No. 22) moved well throughout practice and has nice ball skills, which shouldn't be a huge surprise given his experience on offense. We would've liked to see some more physicality and instincts during the game.
Cornerback
The majority of the nation's top cornerback prospects did not play in either game. Domani Jackson missed his senior season with an injury. Toriano Pride, Gentry Williams and Jaheim Singletary missed the week in their respective games due to health protocols. We didn't see Earl Little Jr. in San Antonio and Terrance Brooks was not scheduled to play in either game.
Six of the top nine ranked corners not playing in either games makes the position a little tough to parse. Still, we saw some interesting things at the position.
+ He's ranked as an athlete, but Jackson State signee Travis Hunter (No. 2) primarily worked as a corner at Under Armour. Hunter took things relatively easy over the course of the week and is still nursing an ankle injury from his senior season. Hunter views himself as a cornerback first and certainly has the ability to be a great player there. With that said, I've been of the belief his highest upside is at receiver. What we saw at Under Armour confirmed that thought. Hunter has elite and perhaps transcendent ball skills. Along with A.J. Green, Hunter's ball skills are the best I've seen from a high school prospect. That ability is maximized at receiver while any perceived questions about him as a prospect (slight build, lack of verified long speed) are minimized relative to corner. Make no mistake, Hunter was among the better corners at Under Armour, but he was not flawless. TCU signee Jordan Hudson got behind him twice during the game and he got caught flat-footed a few times in practice.
+ Michigan signee Will Johnson (No. 42) was the most consistent cornerback over the week at Under Armour. The 6-foot-2, 190-pounder pairs great size with silky smooth movement skills. Johnson looked to be highly instinctive in his break on the ball. He triggered quickly in every setting and showed off the ball skills of a receiver. We still aren't sure Johnson has great top-end speed for the position but his refined feet, recognition skills and ability to make plays on the ball were undeniable.
+ Jeadyn Lukus (No. 58) arguably had the best week of practice on his team at Under Armour. Lukus was among the taller corners in attendance at over 6-foot-2. He also showed quick feet and the ability to turn and run down the boundary. The Clemson signee had the best play of the game with an incredible diving interception.
+ Georgia signee Daylen Everette (No. 7) entered as with some unknowns despite the lofty ranking. We didn't see Everette targeted too much in coverage over his last two seasons at IMG Academy, so we were looking forward to seeing how he fared at Under Armour. It was a mixed bag for Everette. He was defending some of the best receivers in the cycle, but showed the need to improve his fluidity in turning to run in downfield coverage. Still, Everette had a solid week and has some nice length for the position.
+ Denver Harris (No. 16) was a late arrival at Under Armour, coming in mid-week. The Texas A&M is a smooth mover in coverage and plays with good technique. Jordan Hudson got the better of him in 1-on-1's, but that was probably more about Hudson than mistakes from Harris. The Houston native caught our eye in the game with some physicality as a tackler.
+ Alabama signee Trequon Fegans (No. 214) had some nice moments in coverage at Under Armour. Fegans has good stature at around 6-foot-1 and uses his length to make plays on the ball. He looks to have average speed in defending vertical routes.
+ Jaylon Guilbeau (No. 205) was arguably the top cornerback over the week's balance at the All-American Bowl. The cornerback group was ravaged by absences, but Guilbeau still had a nice week. The Texas signee is technical and plays with instincts. He'll need to continue improving the long speed.
Safety
+ Jacoby Mathews (No. 31) made a case as the top safety prospect in the nation at Under Armour. The Louisiana native missed the first day of practice but put together a strong week once he got on the field. Mathews looks to have leaned out a bit – he looks closer to 195 pounds than 210. He was the lone safety we saw effectively cover Clemson wide receiver signee Antonio Williams. Mathews is highly instinctual at safety, which is a key trait at the position.
+ Bryce Anderson (No. 35) worked at safety at Under Armour after spending the majority of his high school career as a quarterback. Anderson has elite straight line speed as a sub 10.5 second sprinter. The 5-foot-10, 190-pounder did not look out of place in coverage despite his lack of experience. He's a smart player with athletic upside. 
+ Devin Moore (No. 84) may have been the best cover safety at either event. That might be due in part to his background as a cornerback. Moore looks like a big flip for new Florida head coach Billy Napier. The one-time Notre Dame pledge has great stature at 6-foot-1.5 and is a smooth, natural mover in coverage. We didn't see Moore get beat badly and he was typically in good position. One of his highlights of the week came on an interception in the second half of the game. Moore had the best showing among defensive backs in San Antonio. 
+ We thought Michigan signee Keon Sabb (No. 102) showed some nice coverage instincts for a bigger safety. Sabb did a nice job staying in-phase downfield and fared better than some of his smaller and faster peers. The New Jersey native looks to have benefitted from getting extensive work at safety during his time at IMG Academy. 
+ Iowa signee Xavier Nwankpa (No. 63) is a jumbo safety at close to 6-foot-3 and over 200 pounds. After seeing Nwankpa at The Opening Finals and again at the All-American Bowl, we think he might be more of a box safety or linebacker long term. The size and physicality are there. He just has a ways to go in man coverage. 
+ We only got to see Ole Miss signee Davison Igbinosun (No. 128) at one day of practice at the All-American Bowl before he entered health protocols. We thought he looked like the second-best defensive back on that day, following Devin Moore. 
+ We've been higher on Oklahoma signee Robert Spears-Jennings (No. 173) relative to the industry. With that said, Spears-Jennings might've raised his stock even further with his showing at Under Armour. He covered the best among safeties on his respective team and was among the best in that aspect we saw at either game. Spears-Jennings also won the fastest man award, edging out some top sprinters in Evan Stewart and Bryce Anderson.