All-Spiegelman Team for 2022 regular season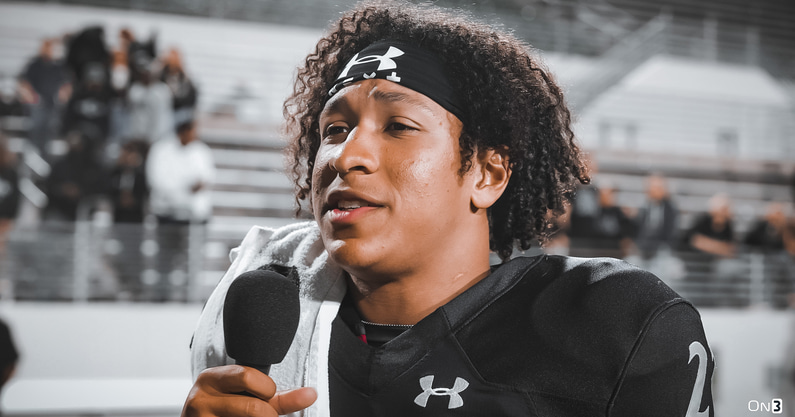 The All-Spiegelman team was an annual item at a previous stint to single out the best in-person performances during live evaluations during the season. This version is dedicated to the regular season, which was capped in both Texas and Louisiana this past weekend.
Here are the top performers at each position to earn spots on the 2022 installment of the All-Spiegelman team:
No quarterback has absolutely dominated from the jump during a live evaluation this fall more than five-star Oklahoma commit Jackson Arnold. The Denton (Texas) Guyer standout dissected Dallas-area powerhouse Allen — which has Division I talented at multiple levels of the defense — to the tune of 25-of-28 for 334 yards and five total touchdowns. Arnold sat for much of the fourth quarter of what should've been one of his toughest games of the regular season and looks primed to get his team back in the state championship game this December.
It was evident as a junior, but even more so this year that Arnold is the ultimate gamer. He plays with a unique comfortability operating this offense and there might not be one quarterback I'd feel more comfortable winning a single game right now than Arnold. He's playing decisively, aggressively attacking defenses downfield and is also playing near-flawless football in terms of making smart decisions. He brings a whole other dimension to the Guyer offense with his mobility to escape pressure and ability to make off-schedule plays out of the pocket. The five-star Sooners pledge reminds me a ton of Russell Wilson early in his career with the Seattle Seahawks with his control of the offense and big-play spark.
Harlem Berry is the early No. 1 player in Louisiana for the 2025 class. The lanky 5-foot-11, 175-pounder is the focal point of the Metairie (La.) St. Martin's offense lining up in the backfield, out wide at receiver and even at quarterback tasked with running and throwing the football. During a mid-season evaluation against a sound Reserve (La.) Riverside defense that ranks among the best in the state, Berry quietly piled up 109 yards on 24 touches.
Berry had a strong showing at LSU camp this summer when he recorded a sub-4.4 second 40 time and showed his elusiveness as a pass-catcher out of the backfield. Against one of the state's best 2A defenses, Berry was forced to create much of his yardage on his own. Nonetheless, he has exceptional short-area quickness and acceleration to pick up chunk yardage consistently and can cut on a dime as well as any running back I've seen in person this fall. The first player that comes to mind when watching Berry is the late great Joe McKnight.
Five-star WR Shelton Sampson Jr. has been heavily featured in the Baton Rouge (La.) Catholic offense as a senior and has been such a reliable pass-catcher in crucial situations throughout his prep career, a theme that has certainly carried over into his this season as well. In an interstate showdown with talented Montgomery (Ala.) Carver, which features two five-stars on the defensive side of the ball, Sampson went down as the game's most impactful player with two touchdown receptions and even more critical chain-moving catches, including the game-sealing catch on third-and-long after Carver made it a one-score game in the final minutes.
The 6-foot-4, 190-pound Sampson's 4.3 speed was on display beating coverage on the perimeter and down the seams, and the mere threat of him going deep yielded three pass-interference calls. Sampson was sharp firing back to the football amid physical press coverage on the outside and used his frame and length to overcome multiple defenders in coverage. He showed hand-eye coordination tracking balls downfield and on end-zone fades, and was up to the task when pressed on a goal-line slant. The LSU commit finished the game with 8 receptions and 126 yards, and both his touchdowns came in the red zone. On3 is higher on the record-setting wide receiver than the rest of the industry.
Three-star Lucas (Texas) Lovejoy WR Parker Livingstone was exceptional in multiple facets of the team's regular-season finale against a talented Melissa (Texas) squad. The long, big-time vertical threat came away with four catches for 123 yards and a pair of touchdowns, and also contributed a 74-yard kickoff return to open the contest and set up his offense up with a red-zone opportunity.
Among Livingstone's most impressive plays was a one-handed grab along the sidelines with a defender draped in his face, but the 6-foot-4, 180-pounder also flashed his hands and ability to easily come away with 50-50 balls, as well as breakaway speed in the open field. Livingstone gives his quarterback a massive target and he has tremendous ball skills on the other end to make difficult grabs consistently. Baylor is the early leader over Texas on the Recruiting Prediction Machine.
Top-30 OT Trevor Goosby was undoubtedly one of the more impressive true offensive tackles evaluated in person this fall. The 6-foot-6, 290-pounder has a broad frame and bends well for a player with that sort of length and presence, and he's having another stellar senior for Melissa (Texas) as he continues to take necessary steps to develop at the position.
Goosby isn't shy in the run game and can easily move defenders off the ball and moves well getting to second layers of the defense. He used his arms well in pass protection and showed well in containing pass-rushers coming off the edge as well as assisting in sets. The Texas commit has a fantastic athletic profile.
Top-75 junior IOL Khayree Lee has been playing his best football since shedding more than 50 pounds in the offseason and manning multiple positions on the left side of the Marrero (La.) John Ehret offensive line, including his natural position at guard. Lee not only plays with enormous power, but the 6-foot-5, 330-pounder is light on his feet. He's able to get out and bully defenders and reach the second level. With an array of mobile quarterbacks to block for in his offense, the newly minted LSU commit impressed with his ability to hustle to make blocks out in space.
Another standout in The Boot for 2024 along the OL is top-65 IOL Joseph Cryer out of Many (La.). The 6-foot-4, 290-pounder is a road grader that wins with power and sets a tone in the trenches. An interior offensive lineman that currently works inside at guard and could certainly slide in at center on Saturdays, Cryer explodes out of his stance and packs a strong initial punch paving holes in his high school's power-run game. Louisiana Tech is favored over Nebraska early on the RPM.
Five-star defensive lineman David Hicks Jr. opened his senior campaign back in Katy already in mid-season form and has been a positively menacing presence all over the Paetow defensive front off the edge as well as inside. In his season opener, Hicks dominated in the trenches with superb first-step quickness and an array of different moves, as advanced with a repertoire of technique as any linemen in the nation.
Hicks ripped linemen, moved them at will, and often drove through them en route to multiple sacks and several more hits on the quarterback, which has been a theme for the Texas A&M commit all season long. The Consensus' No. 6 overall player is an unstoppable force that can out-physical, out-athletic and outsmart defenders. He has a compelling case as the college-ready defensive lineman in the country.
Montgomery (Ala.) Carver DL James Smith went up against Louisiana's most physical offensive line in October and On3's No. 1-rated interior defensive lineman made his presence felt. Smith didn't have a box score-filling type of game as he battled through double- and triple-teams up front, but the stout, powerful 6-foot-3, 300-pounder played with a high motor, shedding blockers and crashing against the run and also generated pressure inside. His presence played an integral role in holding Catholic's potent rushing attack to less than 3 YPC.
Smith bends and twists well for a massive-sized interior lineman and his impactfulness on a snap-to-snap basis is not something you routinely witness. Alabama currently holds the lead on On3's Recruiting Prediction Machine over Georgia, Auburn and Florida.
Five-star junior EDGE Colin Simmons was brilliant during On3's live evaluation for his season debut against defending state champion Dallas (Texas) South Oak Cliff, which has multiple Power 5 linemen scattered along its offensive line. Simmons is one of the most athletic prospects regardless of position in next year's cycle, and that rare blend of power and finesse yielded multiple sacks, quarterbacks hit and even a safety in his Week 1 victory.
Simmons bulked up to 225 pounds in the offseason and is filling out his 6-foot-4 frame and hans't lost a touch of his fastball or explosiveness off the line. His motor and length is pesky for opposing tackles and has continued to take a noticeable leap in production in spite of increased attention all regular season, including against top-tier competition. LSU is the early leader on the RPM.
On300 EDGE Ashley Williams Jr. is one of the ascending talents at this position in the country as he continues to flash in bunches in his senior season at Zachary (La.). The Auburn commit is On3's No. 31-rated EDGE, and the 6-foot-5, 225-pounder was eye-catching pressuring the quarterback earlier this season in a district contest vs. Baton Rouge (La.) Woodlawn. Williams was a key part of containing QB Rickie Collins, who is a threat to escape the pocket on any given snap. Williams flew around the edge and collapsed the pocket on multiple occasions, and was equally as impactful in pursuit to the sideline to cut off rushing lanes.
Williams' high motor was on display and was a key part of Zachary's second-half shutout on defense in this game. He can set the edge against outside runs and defend out to the sideline, and his length is an issue for opposing coordinators to account for. The Auburn commit is able to outmaneuver opposing linemen and breeze around them, and he's really just beginning to scratch the surface.
Three-star hybrid EDGE defender Jonathan Bax has been on a tear since the offseason and is in the midst of his best season yet as a senior for New Orleans (La.) powerhouse Edna Karr. He's been masterful playing with his hand in the dirt as well as a stand-up linebacker. Bax has special first-step quickness and flies around the edge and wastes little time getting to the quarterback this fall. In an early-season content against crosstown rival Warren Easton, Bax picked up two sacks, three TFLs and even more QB hits and pressures while also dropping back into coverage.
Bax is electric off the ball and has outstanding hands and bends great to give opposing tackles fits trying to guess. He's relentless in sealing the edge against the run and the versatile, well-rounded skill set reminds me of Baltimore Ravens linebacker Patrick Queen. In 10 games, Bax has piled up 42 tackles, including 14 TFL, 8 sacks, 32 QB hurries with an INT, PBU and 3 forced fumbles. On3 is higher on the TCU commit than the rest of the industry.
Daymion Sanford was one of the camp-season standouts over the summer after clocking a 4.55-second 40 time in Tuscaloosa and then among the top performers from LSU's elite camp in June. If not for the presence of Five-Star Plus+ DL Hicks in the middle of the defensive line, Sanford could be the focal point of the Katy (Texas) Paetow defense as a hybrid second-level defender with blistering speed and a vast skill set.
In the Week 1 live evaluation, the On300 linebacker maintained a presence in the backfield early and often. Sanford opened the game with a sack and finished with two, while also putting several pops on the quarterback and meeting backs at the line of scrimmage. The Texas A&M commit's speed ranging sideline-to-sideline speed making a dangerous threat rushing off the edge or countering runs to the perimeter. On3 is higher on Sanford than the rest of the industry.
Jaiden Ausberry has been an impactful contributor for Baton Rouge (La.) University Lab since he was freshman. As a senior, he's elevated his game to another level at inside linebacker, and is also returning kicks and receiving carries out of the backfield for the Cubs, who are using Ausberry much like former U-High standout Christian Harris.
The 6-foot-2, 220-pound Notre Dame commit naturally finds the football and was excellent at clogging up running lanes and crashing in on runs inside. He also has enough speed to help slow down runs to the sideline and gives his defense an added element as a blitzer up the middle or off the end with great closing speed. Ausberry accounted for three rushing scores, a sack and also a blocked punt during the On300 LB's live evaluation against Madison Prep.
Starting on both sides of the ball — and as the team's punt returner — Tackett Curtis keyed Many's (La.) win over New Orleans (La.) Isidore Newman in September. As a traditional old-school linebacker, the Many coaches use Curtis 10 yards off the ball to blow up plays in car-crash fashion. The USC commit checks in at 6-foot-2.5 and 220 pounds and plays mean. He has fantastic instincts on the defensive side of the ball and his ability to make crucial plays in games as a runner and on special teams is inspiring. That should go a long way when he's asked to drop back in coverage more at USC.
Five-star Denton (Texas) Guyer DB Peyton Bowen is one of the focal points of what's shaping up to be one of the deeper, more talented position groups in this 2023 cycle. Bowen is the Consensus' No. 2-ranked safety, but in this analyst's opinion is a hybrid defensive back that can line up as a true center-fielder or be dynamic with his skill set in the slot, too. Bowen darts to the ball and consistently puts himself in a position to make plays on the ball in the air while also covering sideline to sideline as quickly as anyone in the country.
Over the past three years, the Notre Dame commit has been a playmaker out of the backfield as well as a ballhawk on the back end of the Guyer defense. This season, he has been dynamic in the return game and housed a 60-yard punt across the field during a live evaluation against Allen (Texas) in October, and in the process instinctively broke through several would-be tackles, flashing balance and elusiveness in space while scoring from across the field. He's done that on multiple occasions as one of the nation's premier game-breakers on defense and special teams, not to mention an impact leader in the locker room.
Another impact safety in the South is On300 standout Kylin Jackson, who as a senior is leading with his play on the field. The 6-foot-3, 200-pound Jackson is a freelancer for Baton Rouge power Zachary (La.) with the ability to effectively patrol a ton of real estate on the back end of the defense. Jackson flies to the football and is one of the most hard-hitting safeties I've seen in several recruiting cycles. The LSU commit blends a physical playstyle with great length in coverage, and he reminds me a ton of another former Tigers star in Grant Delpit with his ability to instinctively cover and be a playmaker near the line of scrimmage.
On3 Consensus top-50 overall player Javien Toviano was masterful in a showdown in September tasked with containing dynamic On300 athlete Mikal Harrison-Pilot on offense. Toviano's pick-six in the first half was a turning point early for Arlington (Texas) Martin. After recognizing the play, the hybrid defensive back playing outside cornerback back stepped into the passing lane and quickly was in the paint for six.
Toviano's size (6-foot-2, 185 pounds) and wingspan gives a defense a game-breaker in the back end of the secondary. He has the rare ability to line up as a big corner with length and special closing speed to man up on receivers one-on-one. He certainly has the playmaking ability to also line up at safety. LSU is leading the way on the RPM.
Ju'Juan Johnson, a three-year starter for Lafayette (La.) Christian Academy, is seeing actions on both sides of the ball as a junior. One of the nation's top 2024 athletes in the country, Johnson has the eyes of secondary coaches all across the South as a dynamic ball carrier on offense and an instinctive, speedy cover corner. This summer, Johnson clocked a 4.5 40 in Nebraska before earning an offer, then did the same at LSU and Alabama and on. Johnson seamlessly took to defensive back with natural hip and fantastic instincts in coverage and the ability to make breaks on the football.
In a highly competitive showdown against Lafayette (La.) Teurlings, Johnson was LCA's top playmaker offensively with the rock in his hands and came away with several long runs as he evaded pressure and also took over in the open field. At 5-foot-11 and 175 pounds, Johnson is elusive with short-area burst and has outstanding football awareness to play multiple positions. With the game in the balance, he shifted over to defense and made a third-down pass breakup out as a nickel, where his skill set is a perfect fit.
On300 LB Dahvon Keys is coveted by defensive coordinators around the country for his athleticism and thump that he brings inside at linebacker. The 6-foot, 205-pounder from Aledo (Texas) is light on his feet and extremely explosive at plugging in and closing off inside runs and meeting ball carriers at the line of scrimmage. He was quick to diagnose plays and has superb range like a safety trekking over from the second level. Keys also saw action as Aledo's goal-line runner and walked into the end zone twice. The action not only at linebacker but also flashing speed and toughness out of the backfield is a well-received trait from college coaches around the country. Oklahoma holds a slight edge over TCU early on On3's Recruiting Prediction Machine.
Keylan Moses is in consideration as one of the more impactful defensive prospects in the 2025 class toward the back end of the season. The 6-foot-2, 215-pound sophomore is taking on a lot of the same responsibilities as his older brother Dylan Moses did at University — as a runner, special teams ace and a hybrid ROVER on the defensive side of the ball. In a live evaluation in October, Moses opened the game with a compelling open-field tackle on the initial kickoff, the first of several special teams plays made by the 2025 star. Lining up close to the line of scrimmage and covering receivers in the slot, Moses darts to the ball carrier and can fly down the sideline. He hits with authority and plays with a great degree of emotion. He was a major factor in multiple facets of his game vs. Madison Prep with touchdowns, sacks, tackles for loss and impact plays on both sides of the ball, and has superstar written all over him. The Tigers lead early on the RPM for Moses.