Paul Finebaum explains how basketball has become so prominent in the SEC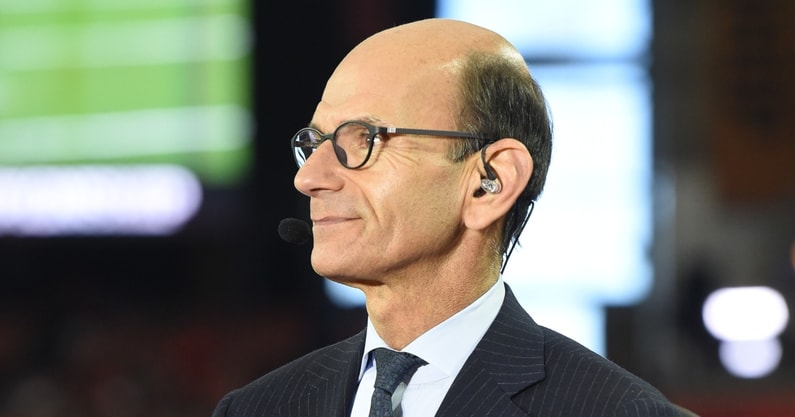 For years the SEC has been synonymous with being the best and most competitive conference in college football. But the Southeastern Conference has also become very prominent in the college basketball landscape, with three teams being ranked in the latest AP Top 25 Poll and two ranked within the top 10. SEC analyst Paul Finebaum made a recent appearance on the McElroy and Cubelic in the Morning show, and spoke about how the SEC has recently made its name in college hoops.
"I think the genesis of it overall is leadership at the SEC conference level, and emphasizing scheduling, and guiding and bringing people who are extremely competent and I think that's happened especially most recently with commissioner Sankey," Finebaum said. "I mean he made some very important changes when he took over and I think those changes have really enhanced and amplified the leagues reputation."
Kentucky has been a national powerhouse for years out of the SEC, but in the last few years programs like Alabama, Arkansas, Tennessee, and Auburn have proven to also be forces to reckon with nationally, which Finebaum also attributed to the conference's increase in exposure.
"And I think facilities I think the facilities are also better at a lot of places and overall it's exposure, and the SEC Network has helped. Having so many games on national television where back in the day Greg every game wasn't on, now every game is on in some form or fashion and I think that really matters too. Young players know what they see and hear," Finebaum said.
An SEC team hasn't won a national championship since Kentucky defeated Kansas in the 2012 National Championship game, but with the current rise of the conference, maybe a Southeastern conference will lift a national title sooner than later.
SEC Players of the Week announced after final week of January
The SEC season is officially halfway over with January coming to the end. With their tournament against the Big 12 over and done with, it's now time to resume conference play on Tuesday night. However, the league has looked back to last week one last time to name their Players of the Week.
The awards went to a pair of guards this week as Tennessee's Zakai Zeigler and Kentucky's Cason Wallace took home the Player and Freshman of the Week awards respectively in the SEC.
Zeigler and the Volunteers went 2-0 this week against Georgia and Texas. He was a big key in helping them win by an average of 20 points in the pair of wins. In those games, Zeigler averaged 16.5 points to go along with 8.5 assists, three steals, and 2.5 rebounds. His performance against the Longhorns, though, is likely what pushed him over the top with a third career double-double of 22 points and a career-high tying 10 assists. It was a historically significant performance within the program as just the seventh ever 20-point, 10-assist game at Tennessee as he accounted for 45 of the team's 82 points on Saturday.
As for Wallace, he helped the Wildcats to a 1-1 week with a win at Vanderbilt and a loss against Kansas. He averaged 12 points, 5.5 rebounds, three assists, and 2.5 steals in the games. They were his fourth and fifth double-digit scoring games since the start of 2023 and were his third and fourth straight. Wallace also filled the box score with his six steals on the defensive end as well as quality percentages from the field and from deep.
Zeigler and Wallace have been two of the league's most influential guards so far this season. With Tennessee up to No. 2 in the nation and Kentucky playing better, they should continue to make a difference within the SEC as well as we enter February.