Andrew Booth Jr. reveals startling fact about injury history after NFL Draft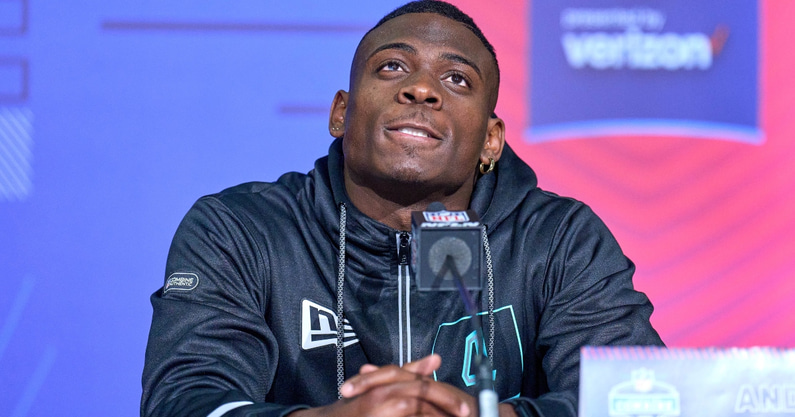 Former Clemson Tigers cornerback Andrew Booth Jr. was viewed as a possible first round pick entering the 2022 NFL Draft, but he ultimately fell to the Minnesota Vikings and was taken with the tenth pick in the second round. Following his selection by the Vikings, Booth went in-depth on his injury history and revealed a startling fact about his health throughout his playing career.
Booth has been dealing with injuries throughout his collegiate career, but he is happy with is landing spot and is now ready to prove his worth at the NFL level with the Vikings.
"I haven't played healthy football since like high school," Booth said. "So the surgery I just had, that was something from before sophomore year and I got it fixed, and then it didn't really do well and I got it again recently. But yeah, to say the least I did play through injuries. That's why it's like – you kind of have a chip now.
"You got a chip because it's like I know who I am. Everybody can't know exactly who somebody is because you're not them. But for me, I know who I am and I know what I can bring to the table and I know like where my health is. Like I said before, it's all good. I truly believe I'm supposed to be here on the Vikings so I love it. I'm ready to go. Let's do it."
Booth is confident in his abilities moving forward with the Vikings
In his freshman year in 2019, Booth was limited to just four games. He then played in ten games in 2020, totaling 27 tackles with three tackles for loss, one sack, two interceptions, four passes defended, and he also returned one fumble for a touchdown. During the 2021 season, Booth totaled 37 tackles, three tackles for loss, three interceptions, and five passes defended in 11 games.
Even though he battled through injuries during college, Booth is confident that the player he is now is better than the one that shows up on tape from his college days.
"I'm more healthy than the guy who is on tape. Ten times better than the cat on tape," he said.
The Vikings were in major need of an upgrade in the secondary entering the draft, so they will be hoping that Booth can live up to his potential and develop into a solid contributor for years to come. If he can stay healthy, Booth could make an impact right away in Minnesota.