Andrew Booth shares emotions of being drafted by Minnesota Vikings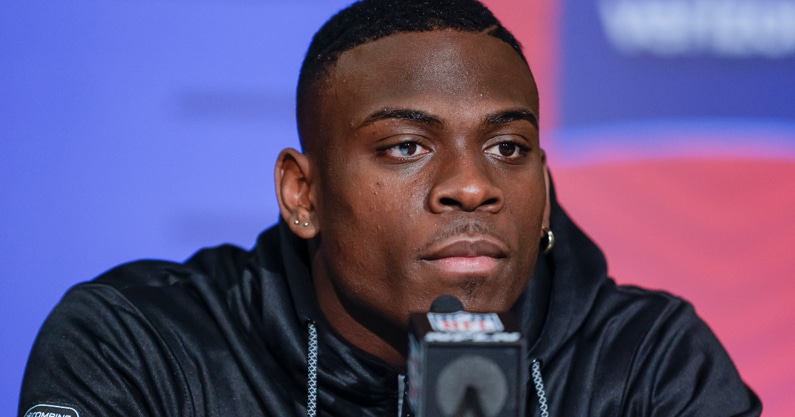 At one point, Andrew Booth was considered a sure-fire first round selection. A star at Clemson, the defensive back was ready to challenge the likes of Derek Stingley Jr. and Ahmad "Sauce" Gardner for the title of best cornerback in the 2022 NFL Draft. However, injury concerns caused Booth to slide, where he was drafted in the second round by the Minnesota Vikings.
His dreams came true when Minnesota traded ahead of the cornerback-needy New York Giants to draft the former Clemson star No. 42 overall. Speaking with the Minnesota media, Booth explained his emotions of being drafted by the Vikings.
"I'm super excited," explained Booth. "This is a lifetime dream coming true. Like I said, it's kind of out-of-body because it's a lifetime dream, so it's finally here. I really don't have words — I don't have too many words. I'm just ready to play the game I love again. At a high level, with great health.
"I feel the best I've felt in a long time, and I'm just ready to put the pads on and get to it."
Indisputably, Andrew Booth is supremely talented, and now he's more motivated than ever. Proclaiming his health and readiness to contribute, the Vikings could've gotten a steal in the former Clemson star taking his talents to Minnesota.
More on Andrew Booth, Minnesota Vikings
Furthermore, following two strong seasons at Clemson, cornerback Andrew Booth is now a second-round pick – being selected No. 42 overall by the Minnesota Vikings in the 2022 NFL Draft.
Minnesota traded up from No. 53, sending that pick, the No. 77 and No. 182 pick to the Indianapolis Colts for the No. 42 and No. 144 picks to draft booth.
Booth played a significant role on the defensive side of the ball for the Tigers in 2020 and 2021, recording 64 total tackles, five interceptions, a sack and a fumble recovery. The 2021 campaign was Booth's best yet, as he made 37 tackles – including 26 solo – to go along with three interceptions.
A former On3 Consensus five-star recruit out of the Class of 2019, Booth was ranked as the No. 2 cornerback in the country and the 27th-best overall prospect in the recruiting class. He held scholarship offers from a number of top-tier programs coming out of Archer (Ga.) High School – including Notre Dame, Alabama, Georgia and Mississippi State – before choosing to play at Clemson.
Looking at his stats from last season, Booth – a 6-foot, 200-pound defender – tallied eight tackles in a win over Boston College on Oct. 2 and picked off a pair of passes in a victory against South Carolina on Nov. 27. Over his three seasons at Clemson, Booth played in 25 games – meaning he brings plenty of experience to the Vikings.