AP Poll Top 25 released after Week 12 of college football
The latest AP Poll top 25 rankings are in after Week 12 of the college football regular season and it's quite the race for the top.
There are a couple of conference title games set while others need one more week to solidify the matchups. This is a make or break week for the playoff contenders as well.
After a fun Week 12, let's dive into the latest rankings for AP Poll Top 25.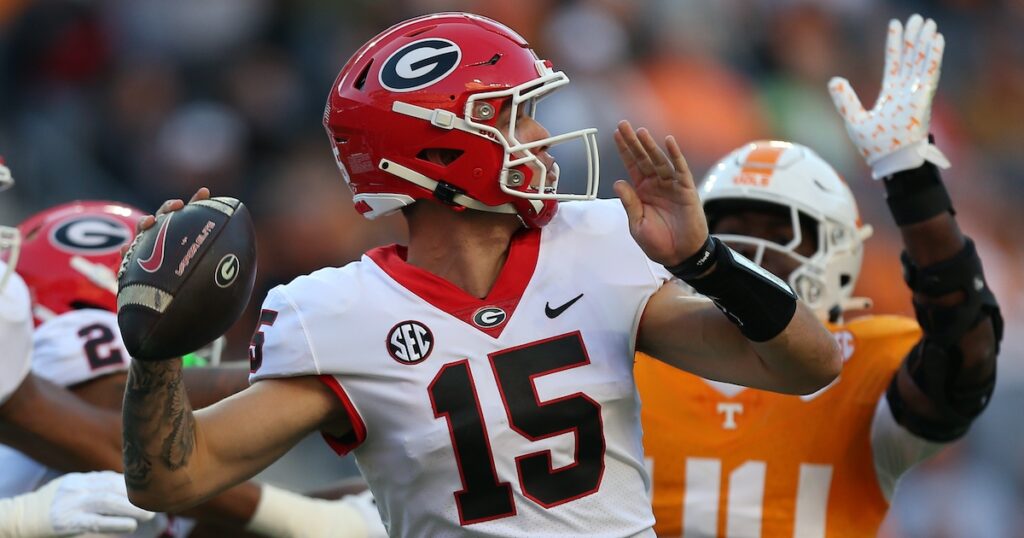 Look, if you're not afraid of the Georgia Bulldogs at this point, we can't help you. They've been absolutely dominant as of late and could very well be the runaway favorite to win another national title.
Carson Beck threw for 298 yards and three touchdowns while Kendall Milton got it going on the ground with 66 yards and one touchdown. Georgia Tech next week and then it's Alabama time.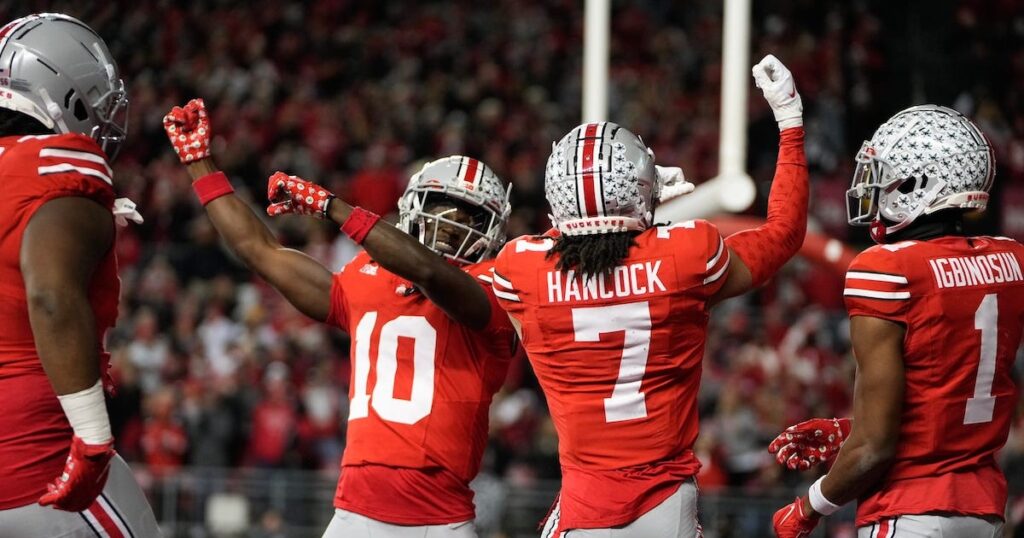 The Buckeyes dominated Minnesota to win their 11th game of the season. It seems like the team from Columbus is hitting their stride at just the right time.
But, it's all on the line next week against Michigan. Ohio State has to go to Ann Arbor and it's put up or shut up time. No Jim Harbaugh and no sign stealing, that we know of. Jokes aside, the game of the year is here.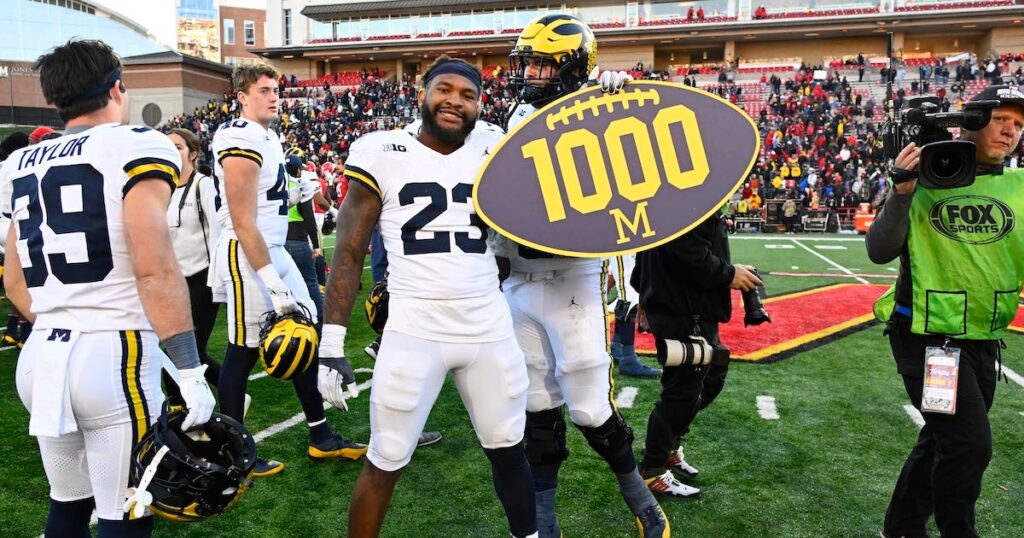 Michigan played with fire a little bit Saturday but was mostly in control with a 31-24 win over Maryland. It wasn't the most impressive, but the Wolverines are 11-0.
A win is a win, is a win as they say. JJ McCarthy looked sluggish against the Terrapins but the running game was strong with Blake Corum. Not to mention Michigan's defense is still elite and the team will need it all against Ohio State.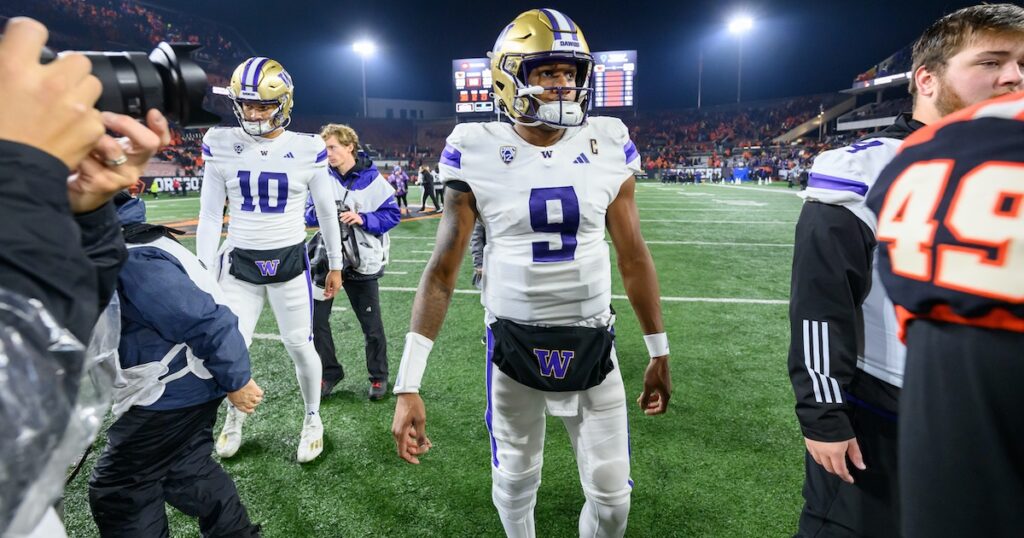 Washington went into a hostile environment at Oregon State and came out the victors. The Huskies edged the Beavers 22-20 on some clutch throws from Michael Penix Jr.
Penix Jr. didn't have a Heisman type of game, but he had Heisman-type throws in poor conditions on the road. That's certainly a championship mentality from the Huskies quarterback and from the team overall.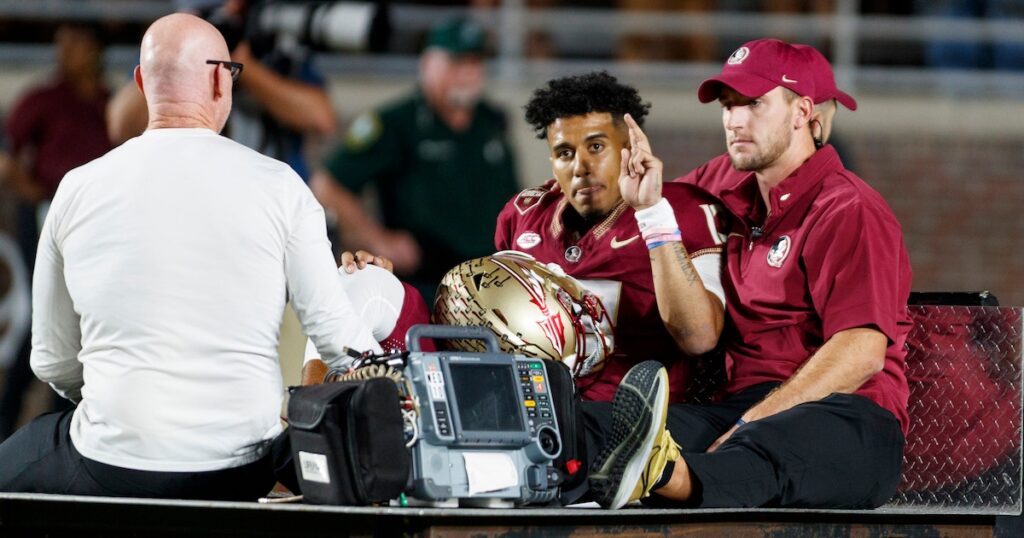 Florida State may have won but all thoughts and prayers are up for quarterback Jordan Travis. Travis appeared to suffer a gruesome lower leg injury in the win over North Alabama. FSU rolled to the victory in the end, but there are so many questions now.
Head coach Mike Norvell was emotional when talking about his star quarterback's injury. FSU can still win the ACC title and get to the playoff, but without Travis, the hopes certainly take a hit. A shame for such a great player.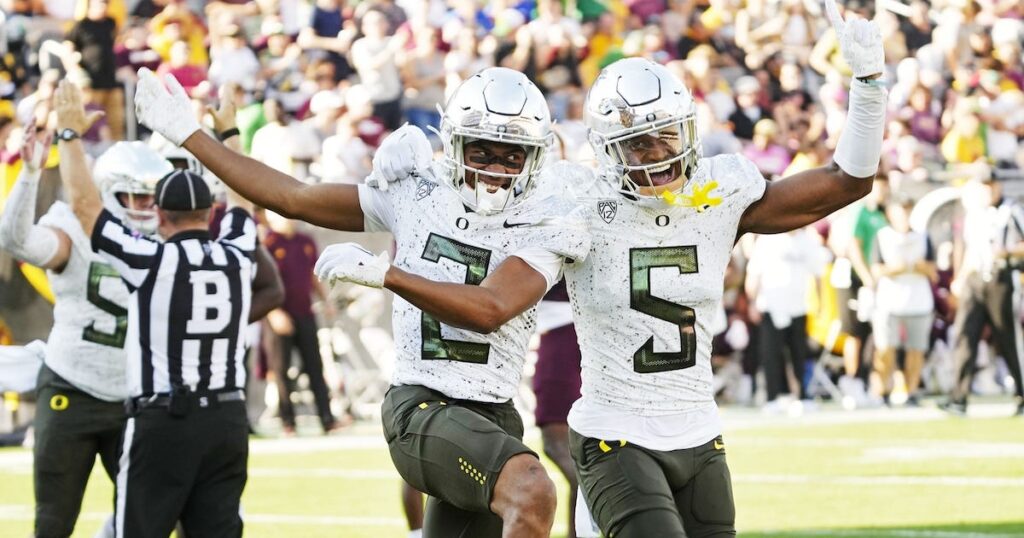 Another dominant win for Oregon, this time 49-13 over Arizona State. The Ducks have to beat Oregon State to clinch a spot in the Pac-12 title game and get that rematch with Washington. At this rate, it looks like they'll get it.
Bo Nix continued his Heisman Trophy campaign with 404 yards and six touchdown passes. He was unstoppable again. Civil War time this coming weekend against Oregon State. It's no pushover, but Oregon should be the favorite.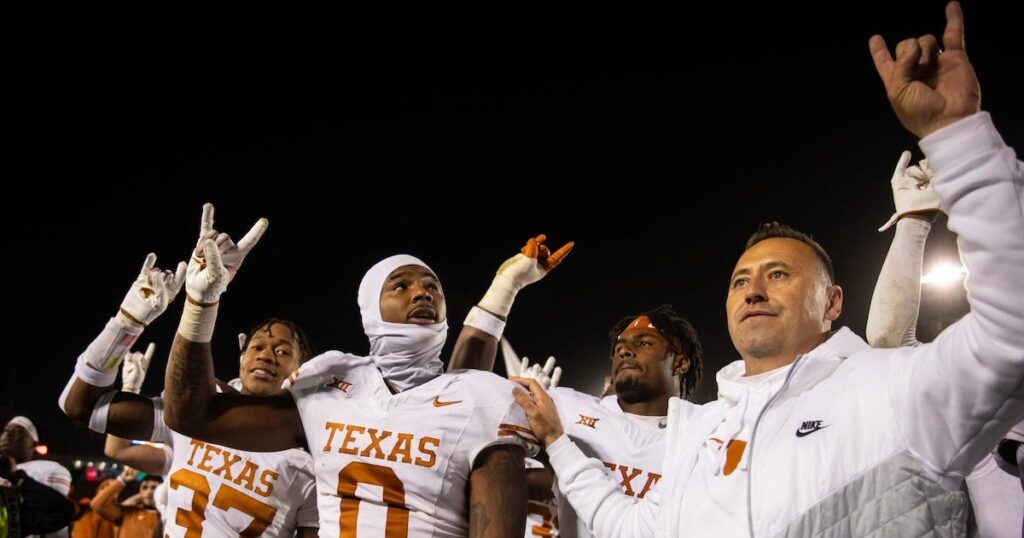 Simply put, Texas just took care of business and beat Iowa State 26-16. The Longhorns kept their playoff hopes alive and are now 10-1 on the season. Texas knows the roadmap: win out.
Quinn Ewers was efficient and threw for 282 yards and two touchdowns while CJ Baxter ran well in place of the injured Jonathon Brooks. He had 117 yards off 20 carries and could be key these last couple of weeks. That's a sign of a good team. But is this a playoff team?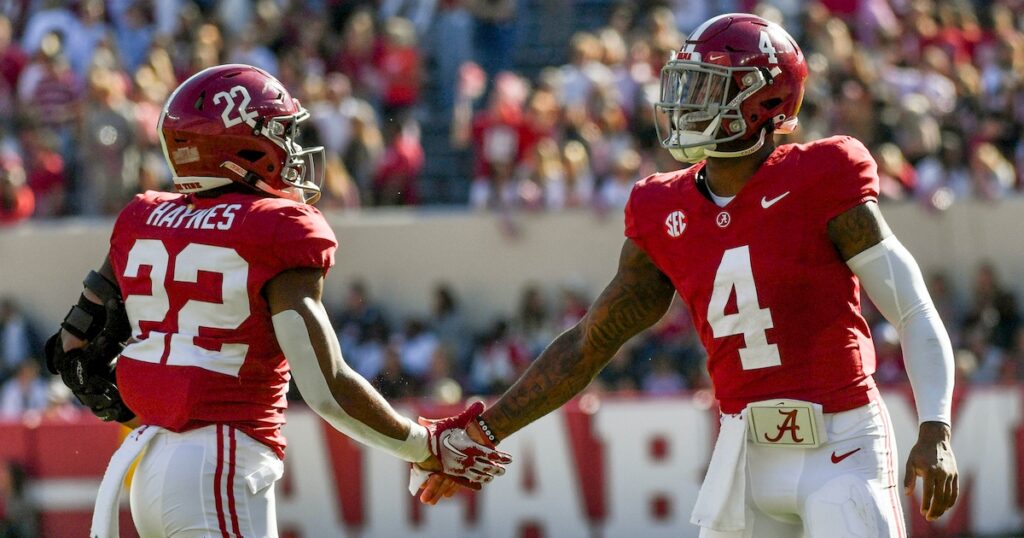 Nothing new for Alabama this week other than a blowout win over Chattanooga, 66-10. This sets up for the all important Iron Bowl this coming weekend after Auburn was upset by New Mexico State.
Alabama is as hot as any team in the country. Nick Saban knows the path though: win out and beat Georgia in the SEC Championship. That should get the Crimson Tide to the playoff, but there's a good amount of contenders in front. Either way, we'll revisit the Crimson Tide when it's SEC Championship time.
Louisville was in a bit of a rollercoaster game against Miami, but the Cardinals edged the Hurricanes 38-31 to clinch a spot in the ACC Championship Game. With the rivalry game against Kentucky on tap next week, the Cardinals can keep their playoff hopes alive with another win.
Now that Florida State won't have Travis at quarterback, Louisville could have the edge. Finishing 12-1 as ACC Champions gives Jeff Brohm's crew a chance at the College Football Playoff, but they'll need some help, maybe a lot of it at this point.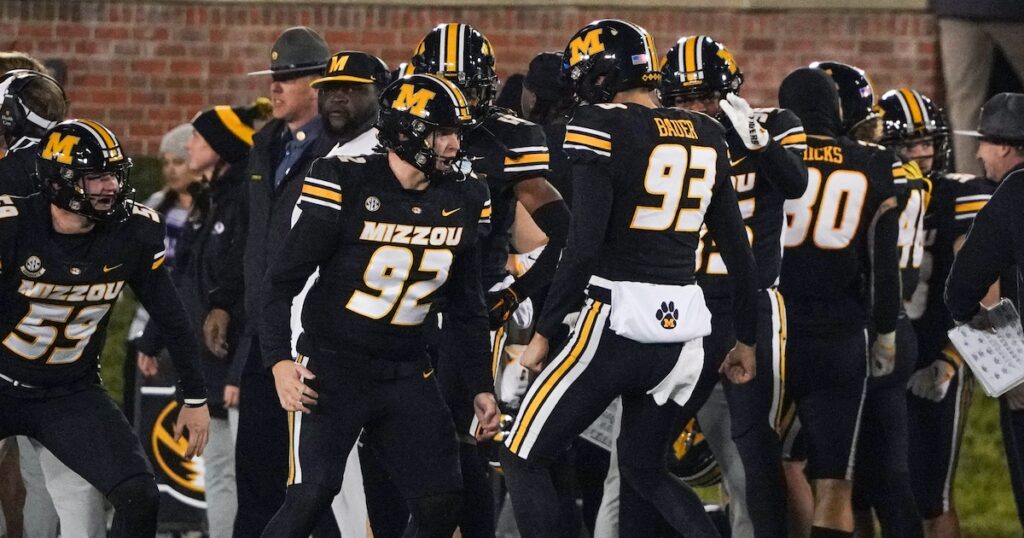 It certainly seemed like Missouri was going to fall victim to an upset at the hands of Florida, but the Tigers prevailed again. Harrison Mevis drilled the game winning field goal to give Mizzou its 9th win of the season and the party continued for the Tigers.
Basically, it's been a dream year for Eli Drinkwitz and company, sans that loss to Georgia. Boy, can you imagine if Missouri was on top of the SEC East instead? Either way, the New Year's Six is in play.
Rest of AP Poll Top 25
11. Penn State (+1)
12. Ole Miss (+1)
13. Oklahoma (+1)
14. LSU (+1)
15. Oregon State (-5)
16. Arizona (+3)
17. Notre Dame (+3)
18. Tulane (-1)
19. Kansas State (+4)
20. Iowa
21. Oklahoma State (+3)
22. Liberty (+3)
23. Toledo
24. James Madison (-6)
25. Tennessee (-4)
Others receiving votes: Utah 69, NC State 66, UNLV 56, SMU 49, North Carolina 26, Clemson 20, Kansas 7, Fresno St. 6, New Mexico St. 3, UCLA 1, Miami (Ohio) 1, Texas A&M 1.
We're headed to the final weekend of the college football regular season. What a year it's been and we can finally say it: it's rivalry week and it never felt so good.