AP top 25 Poll released following Week 12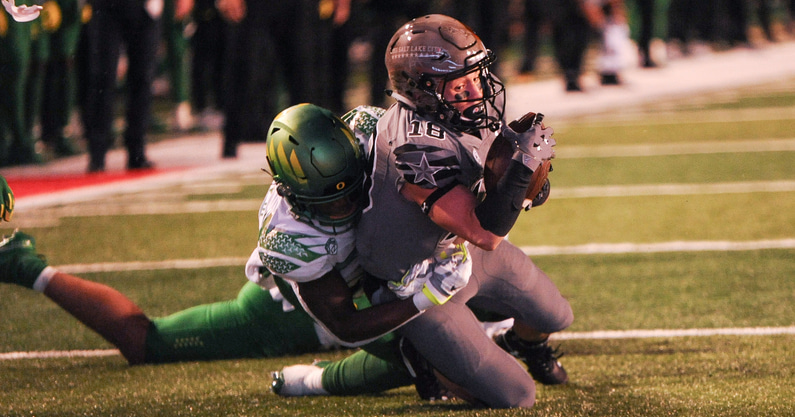 Week 12 of the college football season started off slowly, with the large majority of AP top-25 teams cruising to blowout victories in the early slate of games. But by the time the later slates rolled around, several patterns that have become quite common this year — notably, the upsets — began looking more like trends.
Georgia, once again, cruised to victory and maintained the No. 1 ranking in the AP top 25 poll, as Charleston Southern proved no match for the Bulldogs. Along the way, 6-foot-6, 340-pound defensive tackle Jordan Davis scored his first career rushing touchdown on a goal-line stand.
Meanwhile, Ohio State was heavily favored against Michigan State. While the Spartans entered Columbus ranked No. 7 in the country, Ryan Day's Buckeyes were favored by over two touchdowns. The result, an Ohio State victory, was expected by many, but the fashion in which it occurred was rather eye-opening: Ohio State dominated the entire game, winning in a 56-7 rout. CJ Stroud needed just one half to amass nearly 400 yards and six touchdowns, while throwing just three incomplete passes.
But of course, as is par for the course in 2021, there were a myriad of upsets that shook up the latest edition of the AP Poll. Oregon, previously ranked No. 3, moved down to No. 11 after a 38-7 blowout loss to Utah, which saw the Ducks' College Football Playoff hopes crumble in Utah's Rice-Eccles Stadium.
Though these upsets may not effect the AP Poll, two notable games saw SEC programs clinch bowl eligibility that few saw coming: Shane Beamer and the South Carolina Gamecocks, who many believed would begin a long rebuilding process this season, secured bowl eligibility in Beamer's first year at the helm by upsetting Auburn. The story was the same for Eli Drinkwitz in the other Columbia: Missouri clinched it first bowl bid since 2018 with a 24-23 overtime win over Dan Mullen and Florida.
The top of the latest AP top 25 Poll remained clear as day — Georgia has given no reason to lose its No. 1 spot. The rest of the top spots, however, saw a number of shakeups heading into the regular-season finale.
As rivalry week approaches and bowl season is in clear sight, here's a look at the last AP Top 25 Poll.
AP Top 25 Poll following Week `12
Georgia (11-0)
Ohio State (10-1)
Alabama (10-1)
Cincinnati (11-0)
Notre Dame (10-1)
Michigan (10-1)
Oklahoma State (10-1)
Ole Miss (9-2)
Baylor (9-2)
Oklahoma (10-1)
Oregon (9-2)
Michigan State (9-2)
BYU (9-2)
Texas A&M (8-3)
UTSA (11-0)
Utah (8-3)
Iowa (9-2)
Wisconsin (8-3)
Houston (`10-1)
Pitt (9-2)
Wake Forest (9-2)
San Diego State (10-1)
Louisiana-Lafayette (10-1)
NC State (8-3)
Arkansas (7-4)
Others receiving votes: Clemson (101), Mississippi State (44), Penn State (26), Appalachian State (24), Kentucky (10), Purdue (3)