AP Top 25 Poll released following Week 3 of college football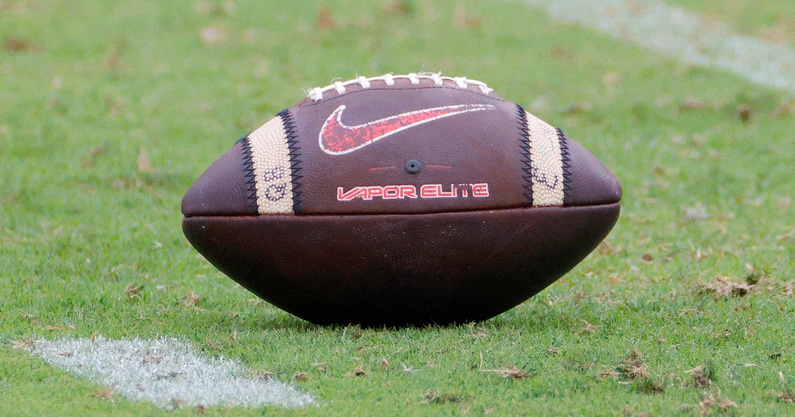 Another weekend of college football is in the books. After three teams ranked in the previous AP Top 25 lost on Saturday, a new poll has been released to reflect the results from Week 3.
If you entered the weekend already ranked in the top ten, you're still feeling pretty good. Zero top ten teams lost over the weekend. Additionally, top ten teams won by an average of 40.1 points on Saturday, illustrating the pure dominance that was on display.
Just three teams ranked in last week's AP Top 25 Poll lost in Week 3. Michigan State (previously No. 11) was arguably the biggest upset of the weekend, with the Spartans losing 39-28 in a road game against Washington.
The most exciting matchup on Saturday's slate was in College Station, with Texas A&M (previously No. 24) playing host to Miami (previously No. 13). Ultimately, it was the Aggies that prevailed in a low-scoring affair, giving Texas A&M a big bounce back win while handing Miami its first loss of the Mario Cristobal era.
BYU (previously No. 12) also hit the road for a trip to Oregon (previously No. 25), and the Ducks again looked impressive with a convincing 41-20 victory over the Cougars.
We might not get a new top team or much movement in the top ten, but the latest AP Top 25 Poll does feature some changes after Week 3.
Updated AP Top 25 Poll after Week 3
Georgia (3-0) (59 first-place votes)
Alabama (3-0) (3)
Ohio State (3-0) (1)
Michigan (3-0)
Clemson (3-0)
Oklahoma (3-0)
USC (3-0)
Kentucky (3-0)
Oklahoma State (3-0)
Arkansas (3-0)
Tennessee (3-0)
NC State (3-0)
Utah (2-1)
Penn State (3-0)
Oregon (2-1)
Ole Miss (3-0)
Baylor (2-1)
Washington (3-0)
BYU (2-1)
Florida (2-1)
Wake Forest (3-0)
Texas (2-1)
Texas A&M (2-1)
Pittsburgh (2-1)
Miami (2-1)
Washington's win over Michigan State proved to be a big one, as the Huskies joined this week's top 25 at No. 18 and the Spartans fell out. No other new teams joined the top 25, though there was a lot of movement within.
The top seven remain unchanged, while Kentucky and Oklahoma State swapped spots at the tail end of the top ten. Tennessee and NC State each rose four spots to finish just outside the top ten, and Penn State (eight spots) and Oregon (ten spots) saw significant jumps into the top 15 as well. BYU fell seven spots and Miami dropped 12 spots after their losses in Week 3.
Even though Michigan State dropped out, the Spartans received the most votes among teams outside the top 25 with 91. Florida State (85), Appalachian State (77), North Carolina (72), Washington State (62), Cincinnati (52), Oregon State (49, Minnesota (48), Kansas (23), Syracuse (7), LSU (6), and Wisconsin (4) also received votes.