LOOK: Arch Manning spring game attracts Alabama, Georgia, LSU, and Texas coaches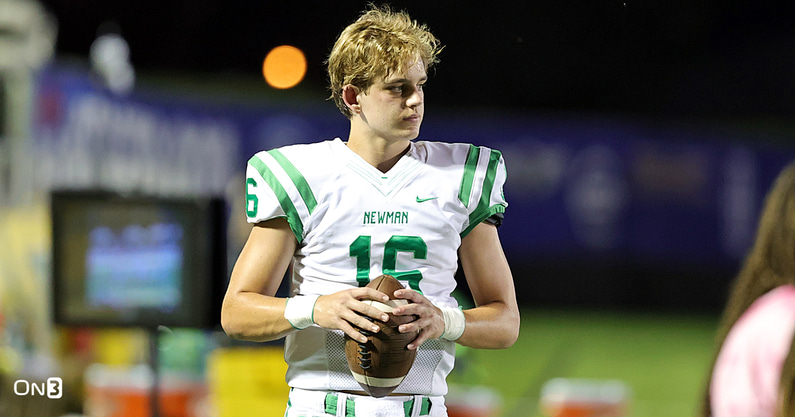 Spring football is wrapping up at Isidore Newman High School, with the annual spring game taking place on Friday night. It presented another opportunity for 2023 Five-Star Plus+ quarterback Arch Manning to display why he's ranked the No. 1 overall player in the class.
An impressive group of college coaches made the trip to New Orleans to see Manning in action, with representatives from Alabama, Georgia, LSU, and Texas in attendance. They were all seen on the sidelines, with On3's Sam Spiegelman snagging a photo of the group visiting.
Also included in the picture was Texas defensive back coach Terry Joseph, who helps recruit the state of Louisiana for the Longhorns. He and quarterbacks coach AJ Milwee have been frequent in seeing Manning and will have another opportunity when the Five-Star Plus+ prospect takes an official visit in June.
For LSU QB coach Joe Sloan, it was a quick trip from Baton Rouge to see the state's top overall player. The Tigers have been working on building a relationship with Manning ever since Brian Kelly was hired as the head coach.
Alabama defensive coordinator Pete Golding and Georgia offensive coordinator Todd Monken are repeat visitors to Isidore Newman. Their two respective programs are firmly in the race to land Manning as they are expected to receive official visits this summer.
Arch Manning sets official visit date for Texas
The nation's top quarterback and consensus No. 1 overall player will return to the Forty Acres June 17-19.
Texas would have preferred the following weekend, which is when it will host a number of other elite prospects, but that's when the Manning Passing Academy is scheduled. A recruiting dead period will go into effect the Monday following that weekend, and other than the last weekend in July, there won't be any other opportunity to take summer official visits.
Manning hasn't officially cut down his list of schools, but he is largely focused on three programs as he heads into the summer before his senior season: Alabama, Georgia, and Texas. Each program has hosted him for unofficial visits this spring and also had him on campus during the fall for game day visits.