New Arch Manning highlight is going viral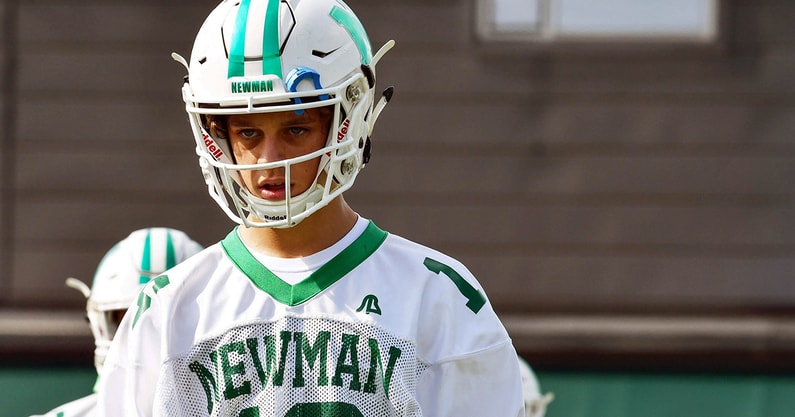 Arch Manning may come from one of football's most famous families, but he's making his own name for himself. Aside from ascending into one of the nation's top quarterback recruits, Manning has taken up another skill on the football field.
Nothing like a quarterback who can punt the ball as well. Evidently, defenses will have to be on their toes at all times with Manning, no matter the situation.
Moreover, it's not the first highlight of Manning's that's gone viral. A video showcasing his silky-smooth abilities went viral earlier this year, one of the young quarterback flipping the football in his hands prior to uncorking a long throw.
Heck, it was so impressive it even merited a response from his uncle, Eli Manning. Following the video's popularity, the two-time Super Bowl champion wanted to let everyone know where he learned the move from.
"I taught him that," wrote Eli Manning.
Why Arch Manning is No. 1 in 2023
A familiar last name sits atop On3's initial five-star prospects for the 2023 cycle with Arch Manning holding down the top spot. The New Orleans Isidore Newman standout is the son of Cooper Manning, grandson of Archie and nephew of Peyton and Eli.
The scion of one of America's top sporting families has already become one of the more well-known football recruits in the nation despite just entering the 11th grade.
Manning leads a strong group of young quarterbacks with two California products, Oklahoma commit Malachi Nelson (No. 2) of Los Alamitos and Nicholaus Iamaleava (No. 9) of Downey Warren, also ranking as five-stars for On3.
Despite the amount of external attention, Arch Manning has continued to show he's deserving of the lofty status.
He burst on the scene as with a big freshman season and showed continued physical progression last fall. 
While Arch Manning remains uncommitted, he's visited Clemson, SMU, Texas, LSU, Alabama, Georgia and Ole Miss over the past few months. Although he's shown them off, they aren't courting him for his punting abilities.
On3's Charles Power contributed to this article.