Arch Manning set for 'crucial' Alabama unofficial visit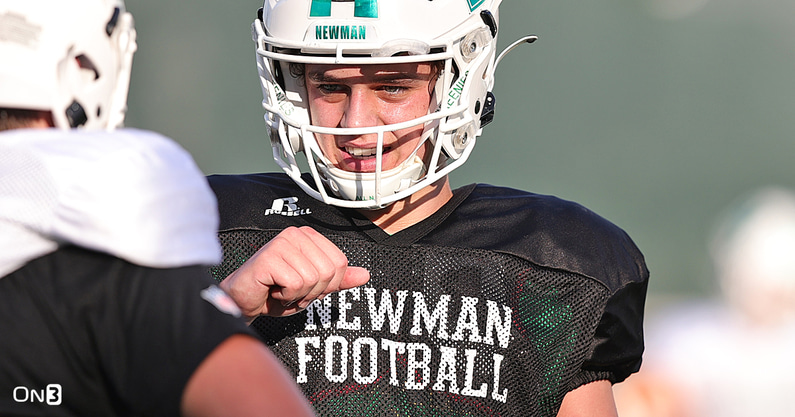 Any time New Orleans (La.) Isidore Newman Five-Star Plus+ quarterback Arch Manning steps foot on a college campus for a visit, it's newsworthy.
But for recruiting observers, there's a sense this weekend's visit with the Alabama Crimson Tide is a pivotal moment in the recruitment of the No. 1 prospect in the country.
On3 Director of Recruiting Chad Simmons says that's especially true because Arch Manning has taken back-to-back impressive unofficial visits to Georgia and Texas. Plus, Manning is expected to also visit LSU sometime this spring.
In fact, Simmons said the intel coming out of both visits is that Alabama has possibly slipped some in the race for Manning. That intel is reflected by the On3 Recruiting Prediction Machine that says it's the Longhorns that have the best chance of signing Manning.
Important trip for both Arch Manning, Alabama
All of this makes this an almost make-or-break moment for Alabama in Arch Manning's recruitment.
"This is a big visit for Arch and Alabama," Simmons said. "The buzz coming off visits to Georgia and Texas have been extremely positive for both programs. There is a sense that those two schools may have an edge on Alabama, so this is an important trip for both parties."
Joseph Hastings of On3's BCS Alabama agreed with Simmons.
"This is going to be a crucial visit for Alabama," Hastings said. "Arch Manning is coming off a multi-day trip to Texas that, by all accounts, went as well as the Longhorns could have hoped for. Texas, along with Georgia — a school Manning visited earlier this month as well — pose the biggest threats to Alabama's chances of landing the Five-Star Plus+ quarterback."
Hastings said what happens this weekend will likely dictate what happens with the Crimson Tide's quarterback recruiting board moving forward and how heavily they pursue four-star Eli Holstein of Zachary, La.
"Arch Manning remains the priority," Hastings said. "This visit should go a long way in determining Alabama's fate in Manning's recruitment. What they do coming out of the visit surely will be a sign of where they feel they stand with him."
Manning is most coveted prospect in country
Arch Manning has quickly become one of the biggest high school football recruits ever. His last name and relation to a pair of famous uncles and a legendary grandfather fuel the attention he receives. But he also backs it up on the field and has earned the No. 1 ranking in the country.
In fact, On3 Director of Scouting and Rankings Charles Power said Manning has a firm grasp on the No. 1 spot in the country, which he has held since On3 started ranking 2023 recruits.
He also has a firm grasp on the title of the most valuable high school football player in the country.
Arch Manning currently has a "massive" On3 NIL Valuation of $1.6 million. The On3 NIL valuation does not act as a tracker of the value of NIL deals an athlete has completed to date. It rather signifies an athlete's value at a certain moment in time.
Manning also ranks No. 1 in the On3 High School Football NIL Rankings and fifth in the On3 NIL 100. The On3 NIL 100 is the first of its kind and the defacto NIL ranking of the top 100 high school and college athletes ranked by market valuation.