Why Arch Manning is No. 1 in 2023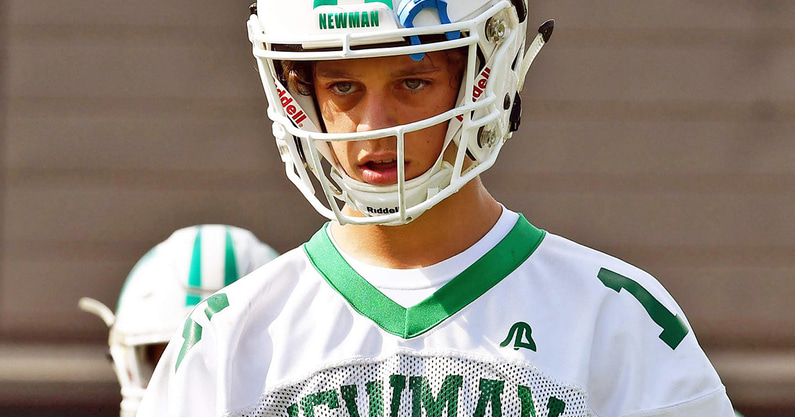 A familiar last name sits atop On3's initial five-star prospects for the 2023 cycle with Arch Manning holding down the top spot. The New Orleans Isidore Newman standout is the son of Cooper Manning, grandson of Archie and nephew of Peyton and Eli. 
The scion of one of America's top sporting families has already become one of the more well-known football recruits in the nation despite just entering the 11th grade.
Manning leads a strong group of young quarterbacks with two California products, Oklahoma commit Malachi Nelson (No. 2) of Los Alamitos and Nicholaus Iamaleava (No. 9) of Downey Warren, also ranking as five-stars for On3.
Despite the amount of external attention, Arch Manning has continued to show he's deserving of the lofty status.
He burst on the scene as with a big freshman season and showed continued physical progression last fall. 
Manning wasn't overly active on the camp circuit prior to COVID-19. As a result, he probably has less in-person exposure to recruiting media than other top 2023 quarterbacks. 
With the dead period ending, Manning, who remains uncommitted, was finally able to get out and throw at college camps and take visits over the summer. He hit Clemson, SMU, Texas, LSU, Alabama, Georgia and Ole Miss over the past few months.  
With that in mind, I jumped at the chance to see Manning throw at Clemson's camp in early June. Seeing the touted prospect in person added some important context to what he's shown on Friday nights thus far. 
Let us get into what makes Arch Manning On3's No. 1 prospect in the 2023 cycle. 
2021 On300
2022 On300
2023 Five-stars
Special release and motion
Simply put, Arch Manning has one of the quickest and purest releases I've seen from a high school quarterback. His throwing motion is concise with no moving parts. The ball consistently comes out quick. In-person, it's almost easy to not notice the release unless you're watching it explicitly.
It's that fast. 
One of Manning's throws from the Clemson camp made the rounds after being shared on social media with many viewers taking note of his throwing motion. Even Uncle Eli chimed in.
This is encouraging on a few fronts. For one, it's difficult for quarterbacks to overhaul their motion. Private coaching only goes so far. At the end of the day, you throw how you're hardwired to throw. Additionally, the ability to get the ball out quickly sets up Manning to make some high-level plays on the field. 
Feel and second reaction plays
Arch Manning's strong natural throwing motion combines with an advanced feel to allow for some plays you don't see from many 10th grade quarterbacks.  
A quarterback's ultimate success is decided by how they play from within a pocket. On that front, Manning is already stepping up and firing as the walls are closing in. There are a number of plays from the 2020 season where he doesn't bail out, stands tall and throws a strike.
Manning has also shown innate field vision for this stage. He isn't scared to flip the ball to a receiver who is seemingly out of the play. All eligible receivers are activated. It wasn't caught by the ESPN broadcast in real-time, but he also threw a no-look pass during the season. 
There are some instances where this can lead to Manning throwing the ball up for grabs. But you'll live with those mistakes from a quarterback at this stage in his development. It's easier to reign a quarterback in than force creativity.
The arm talent also allows for some difficult second reaction plays out of structure. 
In the play above, Manning rolls out to his left, yet is able to use hip torque to flick an inside-out pass for a score despite not setting his feet.
Physical maturation
Upon seeing Arch Manning in person this summer, I immediately took note of his size. He's over 6-foot-3 and 200 pounds — adding several inches and over 40 pounds since popping up on the recruiting radar a few years ago. There's no question Manning is bigger in person than you'd expect.
The baggy jersey sleeves could be deceiving. 
Manning is able to move well at his size. He made easy work of footwork drills and was the most polished quarterback I saw during the week in that regard. The arm strength also checks out in the camp setting.
Handling the unique attention
The Clemson camp was one of Arch Manning's first true camps, especially since becoming a national recruit. There was a palpable buzz at the facility once it was apparent he had arrived and was going to throw. 
The attention he received from the coaches and onlookers was unlike any other prospect I saw that week.
Other top 2023 quarterbacks like Nicholaus Iamaeleava and Texas A&M commit Eli Holstein hung around to watch Manning throw that afternoon. He even had the attention of current Clemson starting quarterback DJ Uiagalelei.
A small crowd formed and phones were out. Everyone was watching Arch Manning. I thought to myself that it seemed like a lot for a rising 11th grader. 
Despite all the attention, Arch seemed completely unfazed. He wasn't looking around and was laser-focused with an almost tunnel vision. If anything, the Clemson coaches tried to loosen him up a bit, especially Dabo Swinney.
Of course, this isn't the Manning family's first rodeo in handling a national quarterback's recruitment. Things are certainly different now with the internet and social media, but I came away impressed with his ability to handle the attention.
Moving forward
As noted earlier, the 2023 cycle looks to be strong at the quarterback spot. Malachi Nelson and Nicholaus Iamaleava are two very talented prospects. There are some others outside the five-star ranks like Detroit Martin Luther King signal-caller Dante Moore who could figure into the conversation. Manning has seen more in-game reps than almost any of his counterparts. There's a lot of football to be played over the next two seasons and some quarterbacks pop up a bit later every cycle.
With that said, Manning's passing ability, polish and continued physical development are among the reasons he holds the No. 1 spot in On3's initial 2023 rankings.