Sports business notes: On Arizona Bowl pushback, big NIL potential and government money for the Rose Bowl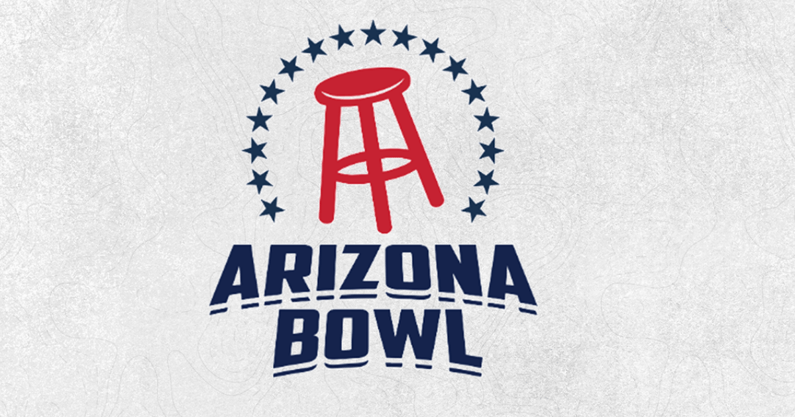 Questions surrounding Barstool Sports' deal to be the new sponsor of the Arizona Bowl have intensified after San Diego State's athletic director expressed concerns about the Aztecs potentially playing in the bowl game and being linked to the controversial brand.
The Mountain West Conference has direct tie-ins with five bowls, including the Barstool Sports Arizona Bowl. The MWC champion is destined for the inaugural LA Bowl at SoFi Stadium, although there remains a slight possibility No. 22 San Diego State (9-1) could qualify for a New Year's Six bowl. But if the Aztecs fail to win the MWC, there appears to be a real possibility that San Diego State could refuse to play in the Arizona Bowl because of the Barstool affiliation.
"I would say that what they purport to be and who we are are two very different things," San Diego State athletic director John David Wicker told The San Diego Union-Tribune. "We will work with the conference to be in the appropriate place."
When asked directly if the Aztecs would refuse to play in the game, Wicker declined to "comment on a hypothetical."
The remarks were made following the latest revelations surrounding Dave Portnoy, who founded Barstool in 2003. Portnoy was accused of sexual violence by multiple women in an article recently in Business Insider. 
To date, there is no indication that the Arizona Bowl, whose other direct tie-in is the Mid-American Conference, may sever its relationship with Barstool. When asked Tuesday in an email from On3 for a reaction to Wicker's comments and to the allegations against Portnoy, Kym Adair, the Arizona Bowl's executive director, answered, "We have no comment on either topic."
In September, Adair had told the Union-Tribune that "we felt like this [Barstool] was a company that was growing and evolving, and we felt very comfortable aligning with them."
Barstool already was a polarizing brand in the nascent NIL era. Concern stemmed at least in part from the connection to the gambling space. Penn National Gaming, which owns and operates casinos, purchased 36 percent of Barstool last year. This summer, Louisville advised its athletes to cease any NIL deals with the company because the school said it does not comply with school policy or criteria outlined in the Kentucky Governor's Executive Order.
The views of experts in the NIL space regarding Barstool have varied. Peter Schoenthal, CEO of Athliance, told On3 — long before the Portnoy allegations surfaced — that Barstool is a cultural touchstone like the Rolling Stone magazine of a different era, a brand that is positioned to be a "major player" in college athletics. Another prominent voice in the NIL space would speak only on condition of anonymity about Barstool because it has become a lightning rod for criticism. "They are going to grow in the space and turn into more of a mainstream media company," that source said. "Ten years from now, Barstool is going to be a mega-company and [its past] is going to be like folklore — their checkered past or their checkered beginning."
Amid recent headlines, the company's "checkered past" is the checkered present. And with bowl season fast approaching, it bears watching whether other MWC or MAC teams could get cold feet about playing in the bowl.
Learfield will provide massive NIL opportunities
Considering the depth and breadth of Learfield's reach, plenty of intrigue in the NIL world has centered on when the media and technology company would dive into that space. Well, it now has made quite a splash.
Learfield has launched Learfield Allied, which will enable brands to join with universities and athletes to create opportunities around their NIL. This provides national and local brands what Learfield is calling first-ever opportunities to create deeper fan connections by combining university intellectual property with the brand's own engagement with athletes. In short, it will provide brands the opportunity to pair athletes with university marks and logos.
Among the schools that immediately will engage in Learfield Allied are Duke, Florida, Florida State, Kansas, Louisville, St. John's, Syracuse, Utah and Wisconsin. While the company does not represent athletes, Learfield Allied provides opportunities for athletes to engage with brand partners invested in college sports marketing with the support of universities that opt in.
Blake Lawrence, the CEO and founder of Opendorse, has had a close eye on Learfield's movement in the NIL space for some time, telling On3 in the summer, "There's a billion dollars in college sports sponsorship that flows through that company every year. Those sports sponsors are the same entities and individuals that are going to want to directly support student-athletes. Learfield has a tremendous control over where dollars go and flow in college sports . . . You're talking about floodgates that could be in the hundreds of millions of dollars."
Quick hits
+ The Rose Bowl has been awarded $9.6 million by the U.S. Small Business Administration's Shuttered Venue Operators Grant. The grant is awarded to venues like museums, theaters, concert halls and arenas that were forced to cease operations during the pandemic.
+ As bowl season nears, Forbes had an interesting look at how much times have changed. Florida State, Nebraska, Virginia Tech, Florida and LSU possess five of the nine longest (not necessarily active) bowl streaks ever. It is possible that all five will fail to reach a bowl this season. When was the last time both Florida and Florida State were not part of bowl season? That would be 1978, when there were only 15 bowl games.
+ More than 85 percent of LEAD1 athletic directors — the association represents athletic directors from the 130 FBS institutions — voted in a survey that they are "highly concerned" about college athletes being classified as employees whether via legislative, administrative or judicial means with possible corresponding benefits and protections.