Ashton Hardaway, son of Penny, commits to Memphis to play for father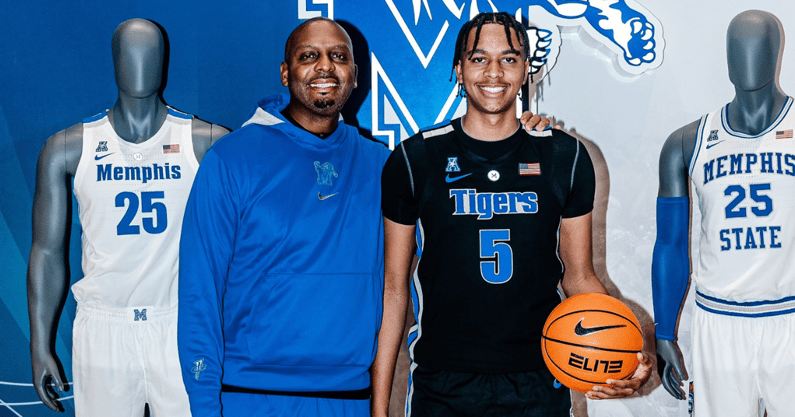 Ashton Hardaway, a four-star forward in the class of 2023, has committed and signed to play for his father, Penny Hardaway at the University of Memphis.
The son of the four-time NBA All-Star is ranked as the 94th overall recruit in the country, according to On3.
Along with the Tigers, Ashton also received scholarship from Kansas, USC, San Diego, Oklahoma State, Texas Tech, among others.
Hardaway, who stands 6-foot-8, is the seventh player to commit to the Tigers in the 2023 class. He joins four-star guard Mikey Williams (No. 35), four-star guard Ty-Laur Johnson (No. 67), four-star forward JJ Taylor (No. 60), three-star guard Carl Cherenfant (No. 133), three-star guard Ryan Forrest, and three-star big man David Tubek (No. 267).
Hardaway went in-depth on his decision to commit to Memphis with On3.
Ashton Hardaway on the difficulty of his decision, plus, did he always know he would play for his father?
"Making this decision was one of the hardest decisions I've ever had to make actually," Hardaway says. "I wasn't going to automatically go to Memphis. At one point in time, I told myself, if I go to Memphis, then everybody is going to think that I have it made for me, that I don't work hard, and everything is going to be given to me. So I was actually looking away from Memphis for awhile, just to prove to other people that I can be my own person, that I have my own story, and my own journey. But at the same time, I had to realize, it's not their future, it's my future. So I have to do what's best for me at all times. I know my dad is going to put me in the best position possible to help me to my end goal, which is the NBA. I think I'll be able to do that at Memphis, for sure."
The experience of being able to play for his dad
"I think it'll be pretty cool," Hardaway said. "My dad knows a lot about the game obviously. He's been at the highest level before. That's another key factor in why I chose Memphis. He's been where I wanted to go and he's been in my position before. I know he will give me all the knowledge I need to know and he will make sure I'm working hard every day. He will keep me right. I do think it is really unique, especially since my other brother, Jayden, will be there as well. I think that's a pretty cool thing to have. Kind of like how my boy Jett is with coach Howard at Michigan along with his big brother Jace Howard. So I think it's a really cool thing and I rare opportunity."
Ultimately, why Memphis?
"Really, my dad," he says. "He's been at the highest level before and he knows what takes to get there. Nobody will have my best interest more than my dad. We love each other and it's deeper than basketball. We care for each other and I know he's going to look out for me. But I also know that I'm going to be pushed every day and I'm going to work hard. Not even just from him, but all the coaches. Everything I have now, I've worked for. Nothing has been given to me. I know that's going to carry on at Memphis. Also, we have a really nice class coming in and a lot of good players coming back. Even though we are losing a lot of team, the players we have coming back, they're very experienced. I think overall it's just a good fit for me."
Hardaway breaks down his game
"I'm a knockdown shooter for sure," Hardaway says. "Kind of a stretch four. I can guard multiple positions and play multiple positions. I'm a pretty versatile player. I'll definitely be showcasing my three-point ability at Memphis because in the NBA everybody has a role. That's one thing college basketball helps you prepare for, getting into the NBA-type systems and having a role and being a role player. So I will embrace that position as a shooter but I'll show my versatility because of my height, size, and strength."
His message to Memphis fans
"I'm ready for y'all. I hope y'all are ready for me and the rest of the class coming in. I appreciate y'all, all the fans. You all have been in my DM's, really since my dad got the coaching job (laughs)…I see y'all on Twitter, my Instagram, my TikTok saying 'come to Memphis', 'go Tigers go'. Well, I'm here and I appreciate the love and support. I'm ready to get there, start the season, and have a great year."