Auburn fires head coach Bryan Harsin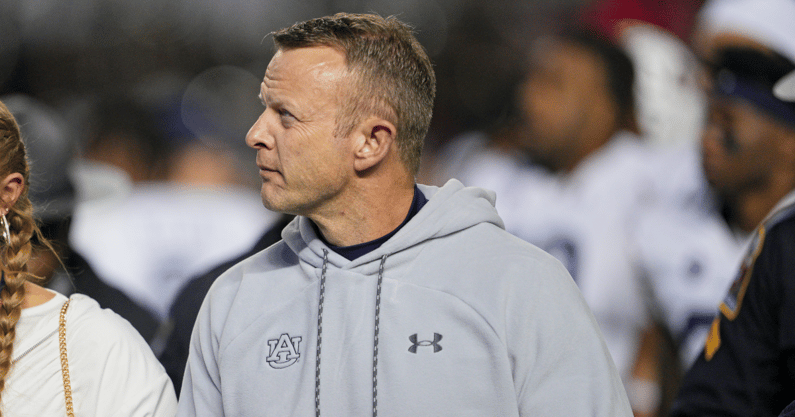 The balloon has finally popped on the Bryan Harsin Era at Auburn. 
The Tigers' head coach was fired Monday after getting blown out at home by Arkansas, ending two tumultuous seasons on The Plains. 
Harsin, 45, was 9-12 as Auburn's head coach, finishing his tenure with losing four straight games — including eight of his last nine to Power 5 teams.
During Auburn's loss to the Hogs, multiple outlets reported that the Tigers were close to finalizing a contract with Mississippi State's athletics director John Cohen. That contract was finalized earlier Monday morning.
Harsin's hourglass has been running out for months, and the struggling head coach did himself little favors earlier this week when he had to answer questions about his redshirt policy and process after multiple players entered the transfer portal.
The new AD plus one of the worst losses to Arkansas in school history simply sealed the deal.
A month ago, Harsin was rumored to be fired if he lost to Missouri, but the Tigers managed to win an absurdly comical 17-14 overtime game, allowing Harsin to survive a little longer. The Tigers opened the season with five straight home games before getting blasted on the road at No. 2 Georgia and then fighting hard in a close loss at Ole Miss.
Harsin seemed like an odd fit for Auburn the day he was hired in late December 2020. The former Boise State quarterback and head coach was quite successful with the Broncos — 10+ wins in five different seasons — but he accepted a job amid an ongoing power struggle between now-fired AD Allen Greene and a faction of influential boosters. 
The Tigers opened the 2021 season 6-2 with Top 25 wins over Arkansas and Ole Miss before cratering come November, losing five straight to end the season. Harsin was criticized for his lack of connection with his players, being overbearing on his staff and struggling to connect with high school coaches in Alabama. 
A group of boosters attempted to oust Harsin in late January, flooding social media with scandalous rumors that attacked the coach's family, character and integrity. 
The goal was to avoid paying Harsin his $18 million buyout and getting a fresh start scot-free.
Harsin had to leave his vacation in Mexico just to come home to defend himself in a university investigation. The rumors were unfounded, and with the support of the leaders on the team, Harsin kept his job. 
But the damage was done. 
Nearly 20 players left the program during the offseason, and the investigation cut Harsin's knees in recruiting. In what is considered the best crop of blue-chip prospects ever produced in Alabama, Auburn's 2023 recruiting class ranks last in the SEC. Harsin also had to replace both coordinators, including two OCs in one offseason as his initial hire Austin Davis didn't last two months on The Plains.
Harsin needed a strong start to the 2022 season to have any chance of maintaining his job, but the Tigers were sluggish in an ugly win over San Jose State and then completely embarrassed at home in a blowout loss to Penn State. 
The writing has been on the wall really since January, but a 3-5 start — with all five of the seven game at home and only one vs. a ranked team — was enough for Auburn's administration to finally pull the plug.