August Recruiting Winners: Massive month for UCF, Ole Miss; Ohio State pulls another 5-star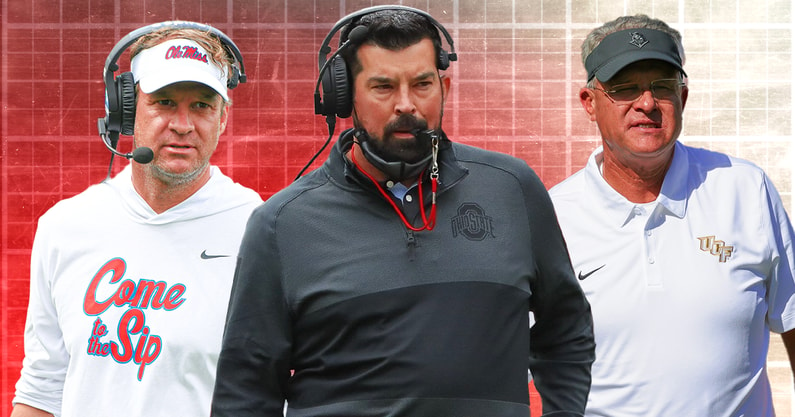 Following a hellaciously busy month of July for recruits and coaching staffs across the country, August was a reprieve — at least in the sheer number of commitments announced. There wasn't a shortage of talent coming off the board, however, as more than 20 of the nations' top 300 recruits in the On3 Industry Ranking made their decisions.
Included in that were not one, not two, but 5 Five-Star Plus+ prospects committing to their school of choice, as well as 5-star DL Eddrick Houston. The number of pledges pales in comparison to June and July, but a handful of programs head into the final one-third of the recruiting calendar with some serious momentum.
Ole Miss
Commitments: 5
Average Rating Per Commit: 89.81
Lane Kiffin has made his hay at Ole Miss at the Portal King, but the Rebels are having a terrific year on the recruiting trail as well. And it's only been improved over the past month. Ole Miss beat out Auburn, Tennessee and Miami for top-40 overall prospect Kamarion Franklin, the No. 1 recruit in the state of Mississippi.
On top of that, they poached four-star wide receiver Noreel White — another local star — away from Arkansas and added four-star quarterback Trever Jackson to a loaded QB room, too.
Central Florida
Commitments: 5
Average Rating Per Commit: 89.45
Central Florida is recruiting at a clip under Gus Malzahn unlike anything the school has seen. The Knights have the No. 2 class in the new-look Big 12 and a top-25 group nationally. Coming into the month, Malzahn and Co. had some July momentum at their backs, but took it up to an even higher level in August. Four-star safety Jaylen Heyward became the highest-rated commitment in program history (No. 103 overall), while running back Frankie Arthur and receivers Bredell Richardson and DayDay Farmer pushed the Knights up to eight blue-chip commitments this cycle.
Ohio State
Commitments: 2
Average Rating Per Commit: 95.12
Ohio State came into the month with the country's No. 2 recruiting class, and they'll leave the month in the same spot. But Ryan Day and his staff added two major commitments with five-star Buford (Ga.) defensive lineman Eddrick Houston and four-star St. Louis (Mo.) wideout Jeremiah McClellan.
The 6-foot-3, 255-pound Houston gave the Buckeyes their fifth five-star commitment of the cycle — most of any program — while McClellan added to a loaded WRs room that also includes On3 Industry Ranking No. 1 prospect Jeremiah Smith and five-star Mylan Graham.
Texas
Commitments: 1
Average Rating Per Commit: 98.58
Only one commitment for the Longhorns in August, but there might not be a bigger one in Steve Sarkisian's tenure than Five-Star Plus+ EDGE Colin Simmons. The Duncanville star considered LSU, Miami and others, but ultimately stuck with the in-state program. His pledge marks the first time in a decade that Texas has landed the No. 1 recruit in its own state. And he comes at a position where the Longhorns desperately needed elite talent if they're to compete at the top of the SEC.
Missouri
Commitments: 2
Average Rating Per Commit: 92.38
After being behind Oklahoma, Tennessee and Georgia for most of the spring, Missouri surged this summer for Five-Star Plus+ DL Williams Nwaneri, On3's No. 1 overall prospect in the 2024 class. He is the highest-ranked commitment for the Tigers in the Eli Drinkwitz era a potential game-changing prospect for the fourth-year head coach.
Mizzou will have to hold off each of the above schools until National Signing Day, but if he inks with the Tigers, it will be their biggest recruiting win ever.
Oklahoma
Commitments: 2
Average Rating Per Commit: 93.58
Despite losing out on the aforementioned Nwaneri, Oklahoma still picked up a big win in the month of August by landing Five-Star Plus+ defensive lineman David Stone over Miami. In a decision that literally came down to the final hours and minutes, the nation's No. 3 DL ultimately chose to stay close to his family in Del City (Okla.). And it marks the second straight five-star commitment along the defensive front for Brent Venables and Co.
Later in the month, they made another not-so-small addition with 2024 cornerback Eli Bowen, the younger brother of 2023 five-star signee Peyton Bowen.
South Carolina
Commitments: 1
Average Rating Per Commit: 98.47
South Carolina was another one-and-done in the month of August, but it was again just a massive commitment. Five-Star Plus+ EDGE Dylan Stewart had been considered a Gamecocks lean for a few months, but he ultimately decided to the pull the trigger on August 1. South Carolina has been a force in the DMV under Shane Beamer, and Stewart is only further proof of that.
Florida State
Commitments: 2
Average Rating Per Commit: 91.88
The Seminoles have a top-five class under Mike Norvell for the 2024 cycle, and they landed their third five-star with the addition of Buford (Ga.) safety KJ Bolden. The nation's No. 9 overall recruit chose FSU over Georgia, Auburn, Ohio State and others, and he gives the 'Noles defensive secondary a second five-star in this class.