Baltimore Ravens rookie receiver could make NFL debut vs. Chargers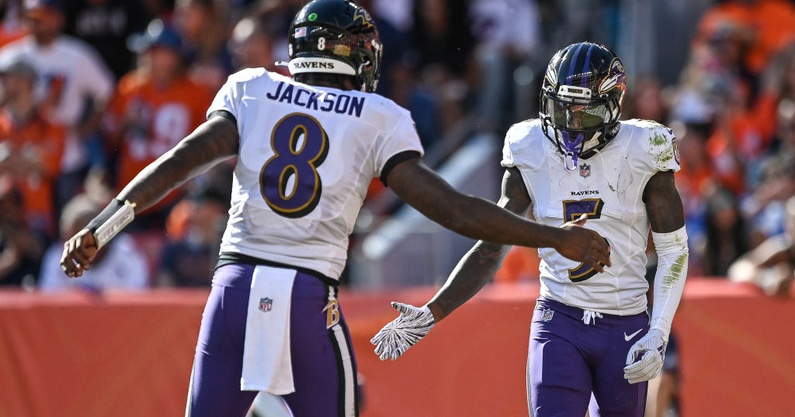 The Baltimore Ravens have dealt with a truckload of adversity to start the season. Still, John Harbaugh's mastery paired with the stellar play from Lamar Jackson has Baltimore leading the AFC North (4-1).
On Thursay, the Baltimore Sun reported that rookie wide receiver Rashod Bateman has a chance to make his highly-anticipated debut vs. the Chargers on Sunday, which would give the potent Ravens offense another weapon.
The report said "Ravens receiver Rashod Bateman has a 'chance' to make his NFL debut Sunday, but it likely comes in a limited role if it happens."
"He obviously hadn't played football for a while," Baltimore Ravens offensive coordinator Greg Roman said, via Jonas Shaffer of the Baltimore Sun. "Got the procedure done, and he's looking good. He's looking good. I think as he ramps in, he should do nothing but get better. His temperament, his attitude, everything's been A-plus. I don't think we're going to throw him into the fire for every play. I think we're going to build him into the plan on a week-to-week basis."
Baltimore Ravens thrilled about Bateman's potential
It's easy to understand why most everyone connected to the Ravens organization is thrilled about Bateman taking the filed in the purple and black.
Coming out of Minnesota in April's NFL Draft filled with top-tier wide receiver talent, Bateman was selected with the No. 27 overall pick in the first round by the Baltimore Ravens for a clear reason.
The 6-foot-2 dynamic pass-catcher broke multiple records in a brief, yet highly productive college career. The Ravens rookie caught at least one pass in all 31 games (fifth in school history) he played in and made 147 receptions (sixth in school history) for 2,395 yards and 19 touchdowns. He recorded 10 games where he recorded more than 100 receiving yards and was deemed the top receiver in his conference earning the Big Ten's Richter–Howard Receiver of the Year award in 2019.
Bateman has battled a lingering groin injury since training camp but his coaches and teammates are confident he will make an immediate impact when he takes his first NFL snaps.
Receiver Marquise "Hollywood" Brown said Thursday he's "very excited" to see Bateman play. The Ravens could use Bateman this week with starter Sammy Watkins (hamstring) unlikely to play.
"Rashod's going to have a long and fruitful career, and this is just the first step," Roman said. "So we will integrate him into the plan when the time is right."
Thursday's report doesn't firmly say Bateman will play on Sunday, but it sure looks like the Baltimore Ravens young weapon is as close to making his debut as he's ever been.