Bama, Florida, Oklahoma, LSU, USC hosting top prospects for junior days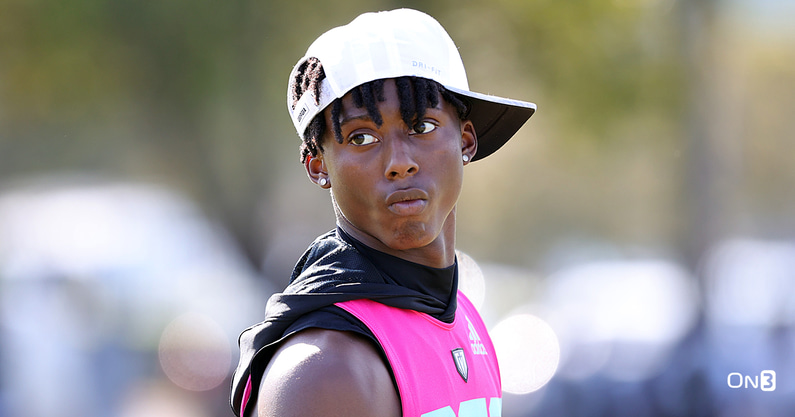 Now that the dead period is in the rearview mirror, top prospects in the 2023 and 2024 classes are wasting little time getting back on the road visiting schools. Most top programs in the country are hosting junior day events, including at schools like Alabama, Oklahoma, LSU, USC, Florida and Clemson. Some programs are even hosting some top recruits on standalone unofficial visits. On3 previews the top junior day events and visits across the country.
5 stars flocking to Alabama
Alabama recruiting weekends never disappoint, and that's definitely the case for the first weekend in March. The Crimson Tide is expecting around 25 top targets. This includes key five-star recruits like cornerback Cormani McClain of Lakeland (Fla.) Lake Gibson, EDGE Nyckoles Harbor of Washington D.C. Archbishop Carroll and safety Tony Mitchell of Alabaster (Ala.) Thompson.
Crimson Tide five-star cornerback commit Jahlil Hurley is also expected for the junior day, which gives the Tide four five-star recruits on campus. But the list of stars visiting doesn't stop there.
Some of the other top targets on the junior day visit list for Alabama:
But that's just a few of the top targets expected, and On3's BCS Alabama will have more coverage of the Crimson Tide's visit weekend.
Sooners hosting 15-plus 4 stars for junior day
It looks like 15-plus four-star prospects are expected on campus for Oklahoma's junior day, including Richard Young, the nation's No. 1 ranked RB.
The Lone Star State has always been kind to Oklahoma, and it's expected to become even more of a priority with Brent Venables in charge. That focus is reflected in the amount of talent from the Lone Star State on the visit list for this weekend.
Jaquaize Pettaway's busy track schedule will make it hard for him to take a lot of visits, so that's why it's a big deal that the Houston area receiver is expected to be at Oklahoma this weekend. Tyler Legacy four-star defensive lineman Jordan Renaud confirmed to On3's Gerry Hamilton that he will be in Norman this weekend for a visit. Hamilton believes the Sooners have a legitimate shot.
Mikal Harrison-Pilot of Temple, Texas, is also expected also at Oklahoma this weekend. The four-star top-100 prospect is pretty open, according to the latest intel.
Four-star linebacker S'Maje Burrell of Fort Worth (Texas) North Crowley has become one of the hottest defensive targets in the Lone Star State. And Oklahoma is right in the thick of things.
Four-star offensive tackle Cayden Green of Lee's Summit (Mo.) Lee's Summit North has an outstanding relationship with the Oklahoma coaches and is leaning toward the Sooners. While he's indicated he won't commit this weekend, the trip could be another opportunity for OU to strengthen its lead.
Also coming from KC are North Kansas City High four-star defensive linemen Adepoju Adebawore and Edric Hill. Oklahoma is believed to be right in the thick of things in their recruitment.
That's just a few of the top targets expected, and you can view the full OU visit list here.
USC's junior day will last all weekend
USC is set to host a monster list of visitors this weekend, as prospects will be on campus at various points stretching from Friday through Monday. Recruits have called it a junior day. But there will be prospects from the 2023, 2024 and 2025 classes there.
Orlando Edgewater four-star Cedric Baxter Jr. is one of USC's top RB targets. He'll be in LA for multiple days and it's a huge opportunity for the Trojans to make an impression on the No. 1 running back.
Four-star Olaus Alinen of Windsor (Conn.) The Loomis Chaffee School is believed to be one of USC's top targets along the OL, and he's scheduled to be on campus Saturday. Alabama, Florida, Georgia and Ohio State have also offered and are chasing.
Another priority target visiting is DL Jayden Wayne of Tacoma (Wash.) Lincoln. He will be on campus Friday, along with several other recruits from the FSP program. Wayne is the nation's No. 26 overall prospect.
But he's not the only big-time DL visiting USC this weekend. The Trojans are hosting four-star DL Kelze Howard of Las Vegas Spring Valley, Braylan Shelby of Friendswood, Texas, and My'Keil Gardner of Peoria (Ariz.) Liberty.
Some other four stars expected to visit include: CB Caleb Presley of Sammamish (Wash.) Rainer Beach, EDGE Hunter Clegg of American Fork (Utah) High, RB Jayden Limar of Lake Stevens, Wash., and LB Liona Lefau of Kahuku (Hawaii) High. One notable subtraction from the USC list is running back Rueben Owens.
Some of the top West region prospects in the 2024 class will also be there, including RB Jason Brown, and a standout St. John Bosco trio of linebacker Kyngstonn Viliamu-Asa, cornerback Marcelles Williams and safety Peyton Woodyard.
On3's WeAreSC will have more coverage of the Trojans' visit weekend.
LSU hosting around 30 top targets
LSU is hosting a large group of elite prospects from 2023 all the way to 2026 for its junior day this weekend.
The headliners in the bunch are On3 Consensus five-star quarterback Dante Moore of Detroit Martin Luther King, four-star cornerback Javien Toviano of Arlington (Texas) Martin, four-star safety Joenel Aguero of Danvers (Mass.) St. John's Prep, four-star receiver Johntay Cook II and four-star safety Derek Williams of New Iberia (La.) Westgate. All four rank in the top 52 in the On3 Consensus.
Five-star receiver Shelton Sampson Jr. is hoping to make it to campus for the junior day but it's unlikely because of a track meet.
Overall, the Tigers will host around 16 four-star 2023 prospects. Some other names ranked in the top 200 to keep an eye on include:
A few top juniors also expected are four-star ATH Joseph Stone of Logansville (Ga.) Grayson and coveted QB DJ Lagway of Willis, Texas.
On3's The Bengal Tiger has full coverage of LSU's big visit weekend, and you can view the visit list here.
Florida to host a packed junior day visit list
After hosting multiple high-profile targets on Thursday, the Florida Gators will welcome more 2023 and 2024 prospects to campus this weekend. The Gators hosted running back Treyaun Webb, defensive back Sharif Denson and defensive lineman Jordan Hall to campus on Thursday, making waves in each of their recruitments.
On3's GatorsOnline is reporting two five-stars recruits will be in Gainesville, Fla., on Saturday, including prime flip candidate EDGE Keon Keeley.
The Tampa (Fla.) Berkeley Prep target remains committed to Notre Dame, but there continues to be speculation that his pledge isn't 100% solid.
Five-star offensive lineman Francis Mauigoa will also make the trek to Gainesville with four-star athlete Samuel M'Pemba. Both Mauigoa and M'Pemba play at IMG Academy, where the Gators have made recruiting waves since Billy Napier was hired. Four-star linebacker Jordan Hall and EDGE Cam Lendhart will also accompany their teammates at UF.
A few other priority targets in Gainesville this weekend:
GatorsOnline will have more complete coverage of the Gators' big junior day weekend. You can view the Gators' updated visit list here.
Other junior day visits to watch:
+Downey (Calif.) Warren five-star quarterback Nico Iamaleava is at Tennessee this weekend and Volunteer fans are doing their part to try and land Iamaleava. That includes painting the rock on campus orange with "We Want Nico" emblazoned on it.
+Clemson's junior day on March 5 features a boatload of prospects on campus. The Tigers are gearing up to roll out the red carpet to dozens of offered and unoffered recruits, including A.J. Harris, Christian Hamilton and Monroe Freeling. On3's Clemson Sports will have full coverage of the big visit weekend.
+Iowa hosts a long list of visitors, including four-star receiver Joshua Manning, heavily-recruited defensive lineman Tyler Gant and a long list of others. View the Iowa visit list here.
+Nebraska hosts around 20 top 2023 targets this weekend for its junior day, including four-star linebacker Andrew Harris, four-star athlete Malachi Coleman and coveted offensive lineman Logan Reichert. You can view the Cornhusker visit list here.