Barack Obama shares his March Madness brackets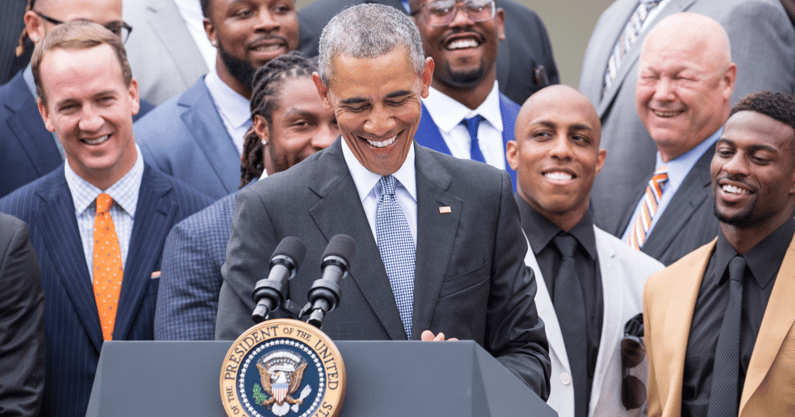 Before the First Four wraps up Wednesday night, former President Barack Obama's NCAA Tournament brackets have been released. He has Duke taking home the men's title over Houston, while confidently tabbing South Carolina as the women's champion over Indiana.
Obama's men's bracket includes an Iona Sweet Sixteen berth and 1-seed Purdue getting knocked out in the second round. He also has 7-seed NC State knocking off 2-seed Utah in the second of women's tournament, which in turn gives 3-seed Tennessee a spot in his Elite Eight.
Check out his full brackets below:
Obama has a history of picking higher seeds with little room for upsets. That has given him a spotty track record since he started making his March Madness bracket public. After his term, a study conducted by Northeast University in 2019 revealed that Obama's first four years (2009-2012) were much more successful than his second (2013-2016) when it comes to the NCAA Tournament.
He started out strong by picking UNC to win the 2009 title, but wouldn't pick another champion during his entire time as commander-in-chief, but averaged over 60 percent in correct bracket picks over his time in office. Still, he predicted the correct Final Four teams less than 30 percent of the time which hurts his overall credibility.
In 2012, he picked as many as 44 of the 63 games (70%) correctly. In 2017, Obama redeemed himself after correctly predicting North Carolina to win the title. That gave him his second correctly selected champion and it was UNC, again. He hasn't had any luck since.
The full slate of NCAA Tournament action tips off Thursday afternoon at 12:15 p.m. ET (CBS) with 8-seed Maryland taking on 9-seed West Virginia. Obama has the Mountaineers advancing to take on top overall seed Alabama in the second round. WVU has opened as 2.5-point favorites over the Terrapins.