Battle 7v7 Dallas preview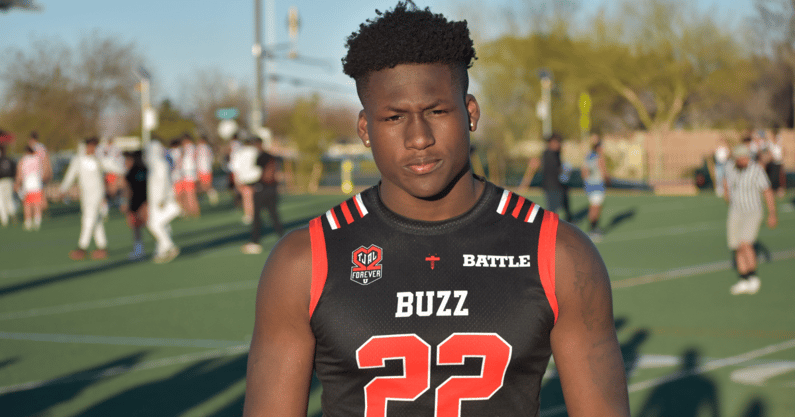 DALLAS — The star-studded Battle 7-on-7 circuit makes it back to the Lone Star State for one of the best competitions of the spring.
This year's event will attract talent in groves. Close to 100 teams from 15 different states are expected, including Texas as well as California, Florida, Louisiana, Arkansas, Oklahoma, Iowa, Mississippi, Nevada, Arizona and more will be represented.
Among the big names expected include host True Buzz as well as Fast Houston, Team Grind, Team Flex, Juice 7v7, F3 Elite, Def Con, Arkansas Elite, Devoted Dreamers, South Florida Elite, Miami Immortals and Sooners 7v7, among many others.
Texas well-represented in the field
Texas is the home state for this weekend's Battle tournament. Despite a series of major events taking place this weekend, including massive recruiting weekends nearby at Texas, Texas A&M and Oklahoma on top of state track relays, there's a major influx of blue-chip prospects from the host state expected to be in attendance.
Headlining that group is five-star Denton Ryan linebacker Anthony Hill Jr. Hill will play alongside other On300 recruits from the Lone Star State such as Notre Dame commitment Peyton Bowen and other defensive backs Jamel Johnson and Braxton Myers. Malik Muhammad, a top-50 player in the On3 Consensus, is also expected to suit up.
Mikal Harrison-Pilot, Braylon James and Tre Wisner round out some of the Central Texas standout expected at Battle and should bring some star power to their respective offenses. The same goes for former SMU and TCU commitment Cordale Russell and coveted Houston speedster Jaquaize Pettaway.
Other notable commitments from the host state include Houston commitment Ja'Kobi Banks and Baylor pledge Tareaun York, as well as 2024 Longhorns commitment Jaden Allen of Aledo (Tex.)
Rashada adds firepower to QB group
On300 quarterback Jaden Rashada, a top-100 recruit in the On3 Consensus, will be filling in behind center for the Miami Immortals this weekend. Last year, the star-studded Florida-based 7-on-7 squad took home the trophy in this tournament.
Rashada, a 6-foot-4, 175-pound passer out of Pittsburg (Calif.), has outstanding arm strength and is well-versed in orchestrating a vertical passing game. Last year as a junior, the On300 quarterback passed for 2,220 yards with 27 touchdowns compared to five picks.
With some of the nation's best athletes around him from South Florida, Rashada has a chance to add some big-play spark in this setting. He also has an opportunity to flaunt some of his less-heralded attributes like throwing on the run and executing in the red zone.
Ole Miss has been trending for Rasahada on the Recruiting Prediction Machine over the past week.
Handful of five-stars expected
This 7-on-7 is shaping up to be filled with elite recruits, including some five-stars representing the 2023 and 2024 cycles.
Host True Buzz will have Anthony Hill Jr. manning the middle of the defense. Visiting teams from Florida will pack some serious star power. Miami Immortals, who ran away with the title in this tournament last year, has the nation's No. 1 junior defensive back, Desmond Ricks, in the secondary. Las Vegas' Game-Changers will also have new On3 five-star Zachariah Branch leading the way.
On300 Consensus prospects to compete
2023
No. 12 WR Zachariah Branch, Las Vegas (Nev.) Bishop Gorman
No. 36 S Joenel Aguero, Danvers (Mass.) St. John's
No. 41 CB Malik Muhammad, Dallas (Tex.) South Oak Cliff
No. 48 S Peyton Bowen, Denton (Tex.) Guyer
No. 51 WR Jaquaize Pettaway, Houston (Tex.) Langham Creek
No. 57 RB Cedric Baxter Jr., Orlando (Fla.) Edgewater
No. 60 WR Hykeem Williams, Fort Lauderdale (Fla.) Stranahan
No. 74 ATH Jacobe Johnson, Mustang (Okla.)
No. 94 TE Luke Hasz, Bixby (Okla.)
No. 111 WR Braylon James, Del Valle (Tex.)
No. 114 CB Aaron Williams, Corona (Calif.) Centennial
No. 115 WR Nathaniel Joseph, Miami (Fla.) Edison
No. 118 CB Braxton Myers, Coppell (Tex.)
No. 135 CB Justyn Rhett, Las Vegas (Nev.) Bishop Gorman
No. 153 WR Robby Washington, Miami (Fla.) Killian
No. 153 QB Jaden Rashada, Pittsburg (Calif.)
No. 176 RB Tre Wisner, Waco (Tex.) Connally
No. 178 S Jamel Johnson, Arlington (Tex.) Seguin
No. 184 S Ryan Yaites, Denton (Tex.) Guyer
No. 185 CB Sharif Denson, Jacksonville (Fla.) Bartram Trail
No. 188 S Cedrick Hawkins, Titusville (Fla.) Cocoa
No. 200 WR Cordale Russell, Mesquite (Tex.) North Mesquite
No. 231 CB Damari Brown, Fort Lauderdale (Fla.) American Heritage
No. 270 S Daemon Fagan, Fort Lauderdale (Fla.) American Heritage
No. 299 CB Daniel Harris, Miami (Fla.) Gulliver
No. 307 TE Jaden Platt, Haslet (Tex.) Eaton
No. 315 RB Ryan Bullard, Miami (Fla.) St. Brendan
No. 320 CB Antonio Robinson, Miami (Fla.) Florida Christian
No. 336 LB Stanquan Clark, Miami (Fla.) Killian
2024
No. 2 CB Desmond Ricks, Chesapeake (Va.) IMG Academy
No. 9 WR Ryan Wingo, Saint Louis (Mo.) University
No. 24 WR Micah Hudson, Temple (Tex.) Lake Belton
No. 26 Jeremiah Smith, Hollywood (Fla.) Chaminade-Madonna
No. 33 ATH Jamyri Cauley, Dallas (Tex.) South Oak Cliff
No. 60 WR James Madison II, Fort Lauderdale (Fla.) TRU Prep
No. 71 S Corian Gipson, Lancaster (Tex.)
No. 105 S Jaydan Hardy, Lewisville (Tex.) IMG Academy
No. 107 CB Aaron Butler, Calabasas (Calif.)
No. 117 QB Cedric Bailey Jr., Hollywood (Fla.) Chaminade-Madonna
No. 118 LB Justin Williams, Conroe (Tex.) Oak Ridge
No. 141 ATH Dre'lon Miller, Silsbee (Tex.)
No. 153 CB Earl Kulp, Fort Lauderdale (Fla.) St. Thomas Aquinas
No. 161 S Ka'Davion Dotson-Walker, Duncanville (Tex.)