Bears make final decision on David Montgomery for Steelers game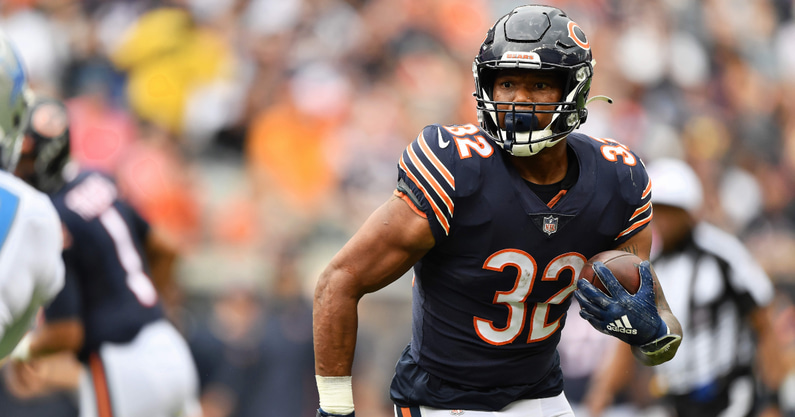 The Chicago Bears have activated running back David Montgomery from injured reserve ahead of a Monday night game against the Steelers, per ESPN's Adam Schefter. It will be his first appearance since he suffered a knee injury in Week 4.
The Iowa State product had served as the lead back prior to then, accumulating 309 yards and three touchdowns on 69 carries. In his absence, Chicago has turned to rookie Khalil Herbert. He has rushed for 70 more more yards in each of the Bears' past four games.
Expect both Herbert and Montgomery to be involved against a fierce Steelers defense led by TJ Watt. Pittsburgh is looking to climb its way up the AFC North standings after a poor start. After beginning the year 1-3, the Steelers have won three straight and find themselves at second place in the division.
The defense has played a major part in each of those wins and held Cleveland to just 10 points in Week 9.
Drafted in the third round in 2019, Montgomery took over midway through his rookie season. He finished that year with 889 yards and six touchdowns. In a full season as the starter this past year, he posted his first 1,000-yard season to go with 10 total touchdowns.
The Bears selected Herbert in the sixth round of this year's draft. He played the 2020 season with Virginia Tech after spending the first three years of his college career with the Kansas Jayhawks.
Chicago also has another rookie playing a major role on offense in quarterback Justin Fields. The first-round pick started the year behind Andy Dalton but took over in Week 2 after the veteran was injured. Fields has looked more comfortable with each week, coming off of a performance against San Francisco in which he passed and rushed for more than 100 yards each.
Still, he has been prone to many rookie mistakes, and the Steelers' defense should use that to their advantage. Even with David Montgomery activated from injured reserve, the Steelers enter as the favorite. Kickoff is set for 8 p.m. ET in Pittsburgh.