Report: Bedlam series between Oklahoma, Oklahoma State to end when Sooners join SEC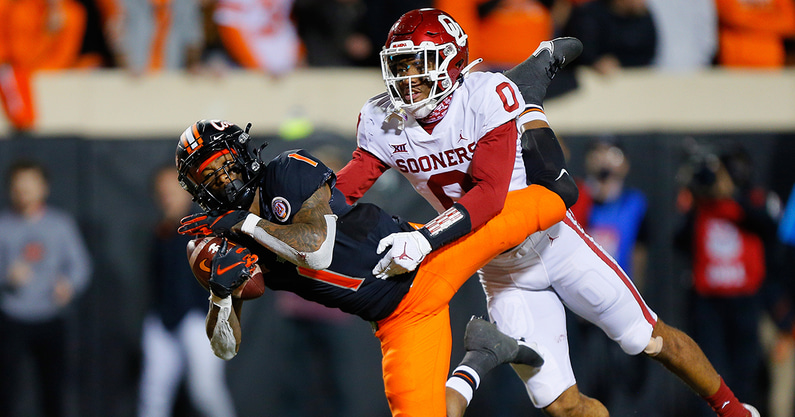 Some historic rivalries have come to an end as a result of conference realignment. One important series will reportedly be the next domino to fall.
The Bedlam series between Oklahoma and Oklahoma State will end when the Sooners leave the Big 12 for the SEC, The Action Network's Brett McMurphy reported. It's unclear when Oklahoma will eventually join the league, especially with College Football Playoff expansion coming on the horizon, but it'll happen by 2025.
That means the Bedlam series has a maximum of two seasons left.
CLICK HERE to subscribe for FREE to the On3 YouTube channel
McMurphy spoke with both athletic directors about the decision, and Oklahoma AD Joe Castiglione said Oklahoma State doesn't sound interested in a non-conference series.
"Oklahoma State has shown no interest to schedule any future games in football, so we're moving on (with filling OU's future nonconference openings)," Castiglione told McMurphy.
Cowboys athletic director Chad Weiberg confirmed this, saying the program's future schedules are full unless something major happens.
"It (playing Oklahoma) presents logistical issues under our current (scheduling) structure," Weiberg told McMurphy. "We don't have any openings to play them. We're full. Unless there are significant undertakings to make the game happen, it can't happen."
Multiple home-and-home series with Oklahoma canceled amid pending conference switch
Last week, the SEC announced multiple teams will have to cancel their home-and-home series with Oklahoma because of the Sooners' pending departure from the Big 12.
The SEC announced it "directed" Georgia and Tennessee to not play their home-and-home contests vs. Oklahoma. The Bulldogs were set the travel to Norman in the 2023 season and then host a return trip in 2031. Josh Heupel's program was set to see the Sooners come to Knoxville in the 2024 season.
In addition, LSU and Oklahoma will not play their previously scheduled home-and-home series against one another, LSU executive deputy athletic director Verge Ausberry confirmed to Matt Moscona. The matchups were set to take place in 2027 and 2028, with Norman originally being the site of the first one.
On3's Griffin McVeigh contributed to this report.