Ben Roethlisberger on T.J. Watt performance following extension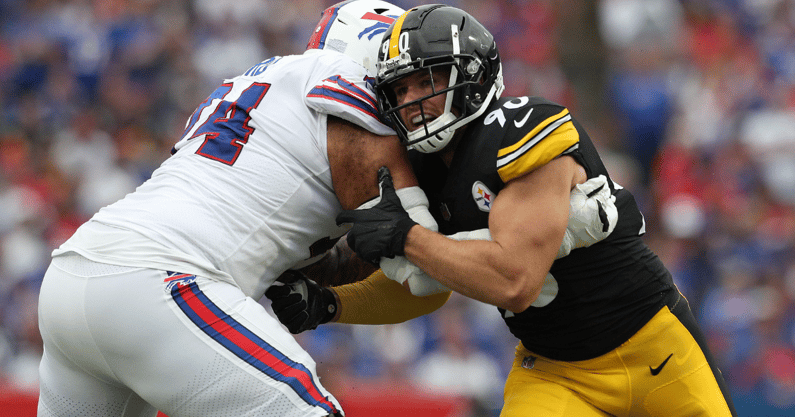 T.J. Watt was not going to budge this offseason. The Pittsburgh Steelers outside linebacker knew he wanted a new contract and wasn't going enter the year without win. So he opted participate in his own hold-in, participating in meetings and conditioning at training camp but sitting out of drills, spending team periods conditioning on the sideline.
His plan worked. Days before the Steelers's season opener, Watt signed a deal worth more than $112 million, an average of $28.003 million per year. A four-year extension, he is guaranteed $80 million and is now the highest-paid defensive player in the NFL.
Watt did not wait long to make sure Pittsburgh got its money's worth, easier. Just two days, after the ink dried on his contract, Watt tallied two sacks and five quarterback hits in the Steelers season-opening win at Buffalo.
"Were you surprised? Me either," said Ben Roethlisberger, who campaigned for the Steelers to pay up for Watt this preseason. "I don't think anybody else was. Just shows the preseason is overrated, right? He was here every day. I give T.J. credit for that, he didn't have to be here. He worked every day and we expect that from him. He expects that from himself.
"His conditioning was good, he wrecks havoc on offenses. That's why he should be is the highest-paid player on defense."
What T.J. Watt brings to Steelers offense
Watt has proven on the field he deserves a new contract. He has been selected first-team All-Pro in both seasons. And he has totaled 29.5 sacks, 77 hits on the quarterback, 15 passes defended, 10 forced fumbles and 23 tackles for loss. 
He was also third in Defensive Player of the Year voting in 2019 and second in 2020. Watt is the pillar of the Pittsburgh defense and is a dominant force. The Steelers have ranked in the top-five in both points and yards allowed in Watt's two seasons with the franchise. 
"It's my job to prove all these people that have put this amount of money to me and stood on the table to say they want me here, to prove them right," Watt said. "I know I can do it. I know exactly what it takes. I've been doing it my whole life. It's just about continuing to do it and staying hungry. And I guarantee everybody here right now and everybody in this building, I am still hungry."
It appears that Watt hardly ever considered leaving Pittsburgh, despite the possibility of getting more guaranteed money elsewhere. When he inked the deal, ESPN's Adam Schefter reported that Watt went against the advice of his agents, who believed he could have negotiated more money. Schefter said that Watt stormed into Art Rooney's office, despite ongoing negotiations, signed the contract and excused himself to go workout.