The best defensive lineman/linebacker/defensive back trios in college football in 2022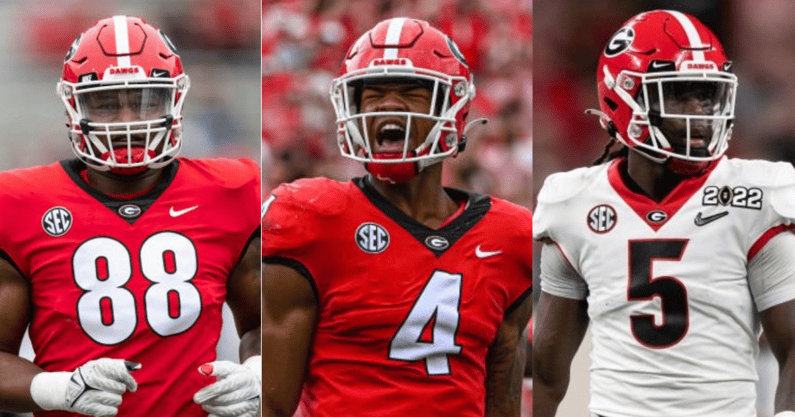 Today, we're talking about triplets – specifically, the top 13 defensive lineman/linebacker/defensive back trios in college football.
This is not a measure of which defense will be best, nor is it a measure of talent (or head-to-head talent). Rather, it's a gauge of the teams that have standouts at each level of their defense. All these players should contend for, at the least, first-team all-league honors; some will show up on All-America teams.
Some teams that will have excellent defenses, including Texas A&M and Wisconsin, don't show up here; that's because they do not yet have established standouts at each level – with "yet" the key word. At A&M, for instance, there are questions at linebacker; at Wisconsin, the questions are about the secondary.
We looked at offensive triplets Thursday. Here are the best defensive triplets.
13. San Diego State
The trio: E Keshawn Banks, LB Caden McDonald, S Patrick McMorris
The buzz: McDonald (6 feet 3, 235 pounds) and McMorris (6-0, 210) were first-team All-Mountain West guys last season, while Banks (6-4, 265) was a second-teamer. McDonald will team with his brother, Cooper, a Washington transfer, at linebacker this season. McMorris, who is one of the best safeties on the West Coast, led the defense-minded Aztecs with 90 tackles last season; he also had four interceptions and nine pass breakups. Banks had 11 tackles for loss and 13 quarterback hurries for a defense that was 20th in the nation with 95 TFL.
12. Ohio State
The trio: E Zach Harrison, LB Tommy Eichenberg, S Ronnie Hickman
The buzz: Harrison (6-6, 272) was a third-team All-Big Ten pick by coaches last season; he hasn't made as many flash plays as expected as a former five-star recruit, but he has been steady and productive. Eichenberg (6-2, 235) was second on the Buckeye with 64 tackles last season. He had 6.5 tackles for loss and an interception. Hickman (6-1, 205) was the steadiest player in a secondary that had issues at times in 2021. He was a second-team all-league pick by coaches after leading the Buckeyes with 98 tackles; he also had two interceptions, including one he returned for a TD.
11. Kansas State
The trio: E Felix Anudike-Uzomah, LB Daniel Green, CB Julius Brents
The buzz: Anudike-Uzomah (6-4, 253) was a first-team All-Big 12 honoree last season, when he had 11 sacks and tied for the national lead with six forced fumbles. Green (6-2, 242) had 89 tackles and 16 tackles for loss from his spot at middle linebacker; it was the most TFL for a K-State linebacker since 2002, when Terry Pierce also had 16. Brents (6-3, 202) is an intimidating presence in the secondary; he has the size of a safety but is a corner. He had 49 tackles last season.
10. Houston
The trio: E Derek Parish, LB Donavan Mutin, S Gervarrius Owens
The buzz: Houston had three linemen with double-digit tackles for loss last season; Parish (6-2, 245) is the only one left, and he will be one of the best defenders in the AAC. He had 54 tackles and 12 tackles for loss last season, when Houston was tied for 12th nationally with 98 TFL. Mutin (6-0, 230) led the Cougars with 77 tackles in 2021, and like Parish was a second-team all-conference selection. Owens (6-0, 200) was a first-team All-AAC pick last season and will be one of the best players in the AAC this season; he had 52 tackles, four tackles for loss, two interceptions and three pass breakups last fall.
9. NC State
The trio: T Cory Durden, LB Drake Thomas, S Tanner Ingle
The buzz: All three were first-team All-ACC selections last season, when the Wolfpack was one of just 16 teams nationally to hold opponents under 20 points per game. Durden (6-4, 310), who began his career at Florida State, proved to be an effective space-eater for the Wolfpack; he also provided a modicum of a pass rush on the inside. NC State has one of the best linebacker groups in the nation with the return from injury of Isaiah Moore and Payton Wilson. Thomas (6-0, 230) filled the void last season, finishing with 99 tackles, 13.5 tackles for loss and three interceptions. Ingle (he's listed at 5-10 and 186; the 5-10 part is generous) is a smallish safety who hits a ton; he had 82 tackles, an interception and four pass breakups, and is more than comfortable in the box.
8. Michigan
The trio: T Mazi Smith, LB Junior Colson, CB D.J. Turner
The buzz: The Wolverines lost a lot from their defense, including their coordinator, but they again will have a good unit this season. Smith (6-3, 326) is developing into a force in the middle of the line. Colson (6-2, 225), a sophomore who is native of Haiti, is a star on the rise. He was a freshman All-American last season and flows well sideline-to-sideline. Turner (6-0, 181) earned some honorable mention all-conference honors last season, when he had two interceptions and seven pass breakups.
7. Oregon
The trio: E Brandon Dorlus, LB Noah Sewell, CB Christian Gonzalez
The buzz: Dorlus and Sewell were overshadowed last season by E Kayvon Thibodeaux. But all three were first-team All-Pac-12 selections, and Dorlus and Sewell seem good bets to repeat. Sewell has a chance for first-team All-America honors. Dorlus (6-3, 284) had seven tackles for loss played the end spot in Oregon's 3-4. Sewell (6-3, 251) led the Ducks with 114 tackles and added four sacks, two forced fumbles, an interception and five pass breakups. He is a throwback to the middle linebackers of old when it comes to size, but his speed and mobility means he's a great fit in this offense-oriented era. Gonzalez (6-2, 200) is a transfer from Colorado; he was an honorable mention All-Pac-12 guy last season and should be the Ducks' leader in the secondary this fall.
6. Notre Dame
The trio: E Isaiah Foskey, LB J.D. Bertrand, S Brandon Joseph
The buzz: Foskey (6-5, 260) emerged as one of the nation's premier pass rushers last season, finishing 10th nationally with 11 sacks. He also had seven quarterback hurries and tied for the national lead with six forced fumbles. Bertrand (6-1, 230) adjusted nicely to then-defensive coordinator Marcus Freeman's new scheme, leading the Irish with 101 tackles. He also had seven tackles for loss. Joseph (6-1, 192) is a transfer from Northwestern who was a first-team All-American in 2020 as a redshirt freshman. Last season, he had 80 tackles, three interceptions and four pass breakups in earning second-team All-Big Ten honors.
5. Penn State
The trio: T P.J. Mustipher, LB Curtis Jacobs, CB Joey Porter Jr.
The buzz: Mustipher (6-4, 326) was one of the most dominating interior linemen in the nation last year until he suffered a season-ending injury in Game 6; he had 21 tackles and three tackles for loss when he was injured. Jacobs (6-1, 230) will go from being Penn State's third-most important linebacker last season to the lead dog this season. Jacobs, a former national top-50 prospect, had 61 tackles, six tackles for loss and three sacks in 2021. Porter (6-2, 200) and S Ji'Ayir Brown are both All-America candidates. Porter is heading into his third season as a starter and is coming off a year in which he earned third-team All-Big Ten acclaim from league coaches. He should vie for first-team all-league honors this season. Porter is a physical corner who had 51 tackles, a pick and four pass breakups last season.
4. Iowa
The trio: T Logan Lee, LB Jack Campbell, CB Riley Moss
The buzz: Campbell and Moss are returning first-team All-Big Ten performers, while Lee has the talent to contend for a spot on the first team this season. Lee (6-5, 280) had 48 tackles and five tackles for loss from his interior spot last season. Campbell (6-5, 243) led the nation with 143 tackles and added two picks and six pass breakups. He also scored on a fumble return and interception return. Moss (6-1, 194) had 39 tackles, four interceptions (including two returned for touchdowns) and five pass breakups. He was a key part of a ballhawking defense that forced 31 turnovers, third-most nationally. Iowa led the nation with 25 interceptions, four more than any other team.
3. Clemson
The trio: T Bryan Bresee, LB Trenton Simpson, S Andrew Mukuba
The buzz: Bresee (6-5, 300), the On3 Consensus No. 1 prospect in the nation in the 2020 class, played in just four games in 2021 before being lost to a season-ending injury. When healthy, he is as dominating an inside presence as there is. (We could've selected E Myles Murphy, but went with Bresee because of that disruptive native playing inside.) Simpson (6-3, 225) is a top-flight athlete at linebacker and had 64 tackles, 12 tackles for loss and five quarterback hurries last season. Mukuba (6-0, 185) had 48 tackles and seven pass breakups in earning freshman All-American honors last season.
2. Alabama
The trio: E Byron Young, LB Will Anderson Jr., S Jordan Battle
The buzz: Young (6-3, 292) had 40 tackles and 9.5 tackles for loss last season, and helped the Tide limit opponents to just 86.0 rushing yards per game. Anderson (6-4, 243) is the nation's top defender – and may be the top player overall. Quite simply, he wreaks havoc off the edge; he led the nation with 17.5 sacks and 33.5 tackles for loss last season. Anderson has 24.5 sacks in two seasons, which is second nationally among current players. Battle (6-1, 205), who was a first-team All-SEC selection last season, is part of a loaded secondary for the Tide. He had 87 tackles, three interceptions (two of which he took back for TDs) and three pass breakups in 2021.
1. Georgia
The trio: T Jalen Carter, LB Nolan Smith, CB Kelee Ringo
The buzz: Carter (6-3, 310) is the best lineman in the nation – on either side of the ball. He did not get much acclaim last season while lined up next to eventual first-rounders Jordan Davis and Devonte Wyatt, but ask NFL scouts and opposing coaches about him. The old Jake Gaither homily applies: Carter is agile, mobile and hostile. Carter will be a first-rounder; the question is whether he goes in the top five. Smith (6-3, 235) was the On3 Consensus No. 1 recruit in the 2019 class, and while he didn't make a splash initially, he has become an important cog for the Bulldogs. He had 10 tackles for loss last season from his outside linebacker spot. And Ringo (6-2, 205) is as talented as any corner in the nation. He had the game-sealing pick in the national championship win over Alabama.