The best non-conference games of the 2022 season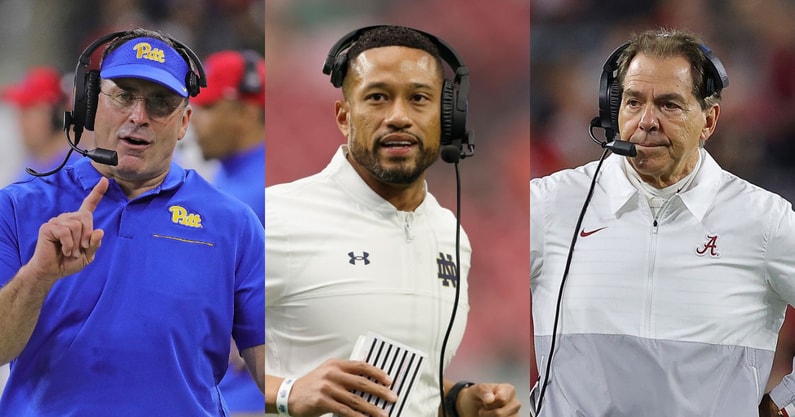 Today, we're going to look at the 25 best non-conference games of the 2022 college football season.
This season has no shortage of anticipated non-conference matchups, though, to be honest, there were better non-conference games last season.
Let's dive into the details; preference was given to non-conference games that don't occur annually. (This is Part 3 of a four-part schedule series. Tuesday, we had a broad overview of conference schedules. Wednesday, we looked at teams that had tough September schedules – and a few that don't. And while this is a breakdown of the best non-conference games this fall, on Friday we'll spotlight the most egregiously bad non-conference matchups.)
25. UTSA at Texas, September 17
The buzz: This will be the first meeting between the schools, and it comes a week after Texas will have played Alabama. Will there be any kind of hangover for the Longhorns? UTSA won 12 games and the Conference USA title last season; while the Roadrunners don't figure to be as good as they were in 2021, this is a solid program filled with players who weren't recruited by Texas. Thus, think of it as a chance for the little guy to stick a finger (or maybe even a fist) in the eye of the bully on the block.
24. Army at Coastal Carolina, September 3
The buzz: Both teams like to run the ball — Army with the triple option, Coastal with its shotgun-based option offense. The difference is Coastal also airs it out, and in Grayson McCall, the Chanticleers will have one of the nation's best quarterbacks.
23. Oregon State at Fresno State, September 10
The buzz: Fresno State was 1-1 against Pac-12 teams last season, losing a close one at Oregon and winning a close one at UCLA. Oregon State was surprisingly good last season, finishing 7-6; the Beavers haven't had back-to-back winning season since 2012-13. Fresno State has a new coach, Jeff Tedford, but productive QB Jake Haener (4,096 yards, 33 TDs last season) returns and should thrive in Tedford's offense. The Bulldogs should be in the mix for the Mountain West title.
22. Missouri at Kansas State, September 10
The buzz: These schools, whose campuses are about 250 miles apart, have played 97 times. But they haven't met since 2011, Mizzou's final season in the Big 12. Both should be middle-of-the-pack teams in their respective conferences, so this should be a good test for each. Both will have new starting quarterbacks this season; K-State's almost certainly will be Nebraska transfer Adrian Martinez.
21. Oklahoma at Nebraska, September 17
The buzz: Last season's game, a narrow win by OU, was the first meeting since the 2010 Big 12 championship game. This one will be the first meeting in Lincoln since 2009. This has some intrigue because how good these teams will be is a mystery. Still, there's no question OU has better talent, and we would not want to be Brent Venables if the Sooners lose his first "big" game.
20. Army vs. Navy in Philadelphia, December 10
The buzz: This is the "tradition unlike any other." This will be the 123rd meeting, and the teams have swapped wins the past three seasons, with Navy winning in 2019 and '21 and Army in '20. The pomp and pageantry on view is unmatched.
19. North Carolina at Appalachian State, September 3
The buzz: The post-Sam Howell era at UNC begins with the Tar Heels visiting App State for the first time ever. This will be just the third time the schools have met, and the first of those was in 1940. They also met in 2019, when three Tar Heels turnovers (including Howell's first career interception) helped the Mountaineers to a 34-31 win. App State again should be one of the best teams in the Sun Belt. UNC, meanwhile, was a big disappointment in 2021, and who knows what to expect in '22?
18. San Diego State at Utah, September 17
The buzz: Both programs are run-oriented, and pride themselves on defense and physicality. The Aztecs beat the Utes last season on their way to 12 wins. Utah will be one of the teams to beat in the Pac-12, has more talent and will be playing at home.
17. Baylor at BYU, September 10
The buzz: Baylor's non-conference schedule annually is one of the weakest in the nation. Including this season, since 2010, Baylor has played just two Power 5 non-conference opponents (Duke, in 2017 and '18). That's two in 13 seasons. BYU will be a conference opponent for Baylor soon, and for the second season in a row, the Cougars are the Bears' toughest non-conference foe. Baylor won by 14 in Waco last season, but things figure to be more difficult in Provo.
16. Washington State at Wisconsin, September 10
The buzz: This will be just the third time these teams have played and the first since 2007. Like the preceding two, this also will be in Madison. It should be an interesting matchup of wildly different offenses: Washington State throws the ball (new coordinator Eric Morris' offense averaged 46 passing attempts per game last season at FCS member Incarnate Word) and Wisconsin runs it. Wisconsin's defense is better.
15. Michigan State at Washington, September 17
The buzz: This will be the first "big" game for new Huskies coach Kalen DeBoer, whose team opens with Kent State and Portland State. This will be the fourth meeting ever between the Spartans and Huskies, and the first since the 1997 Aloha Bowl; it'll be the first regular-season game since 1970. Michigan State opens with two MAC teams (Western Michigan and Akron), so this should be the first real test for the Spartans' rebuilt rushing attack.
14. TCU at SMU, September 24
The buzz: This should be an extra intense version of "The Battle for the Iron Skillet" (surely one of the more, uhh, unique trophies in a rivalry game). That's because new TCU coach Sonny Dykes spent the past four seasons as SMU's coach. While with the Mustangs, he was 2-2 against the Horned Frogs, including a win last season. After that one, then-TCU coach Gary Patterson took umbrage with the Mustangs; this season, Patterson is a special assistant at Texas, so he probably will take umbrage with both programs. This will be the 101st meeting of the old Southwest Conference rivals.
13. Penn State at Auburn, September 17
The buzz: This is a Week 3 game and it will be the second road trip for Penn State, which opens at Purdue. Auburn has it far easier in September: The Tigers open the season with five consecutive home games and have Mercer and San Jose State in the first two weeks. Penn State beat Auburn in Happy Valley last season. Auburn seems likely to be worse than it was last season, when it finished 6-7, but how much will the home-field advantage help the Tigers? This is the only Big Ten-SEC regular-season matchup.
12. Arkansas at BYU, October 15
The buzz: Here's BYU again, hosting another Power 5 opponent. (Interestingly, Arkansas has zero P5 non-conference foes this season, but plays Cincinnati as well as BYU.) This is the finale of a four-game stretch in which Arkansas has just one home game — and that's against Alabama. This trip for the Hogs comes on the heels of a game at Mississippi State. BYU will be coming off a game against Notre Dame in Las Vegas.
11. Tennessee at Pitt, September 10
The buzz: Pitt is the defending ACC champ and won in Knoxville last season. But QB Kenny Pickett is gone and this will the second game in a Panthers uniform for USC transfer Kedon Slovis. The Vols were a surprise last season, winning seven games. More is expected from Tennessee this fall, thanks to the return of QB Hendon Hooker, who was responsible for 36 TDs last season. Will either defense be able to handle things?
10. Florida State vs. LSU in New Orleans, September 4
The buzz: Brian Kelly's first game as Tigers coach will come against a scuffling Seminoles program. FSU has had four consecutive losing seasons — the first time that has happened since 1973-76 (1976 was Bobby Bowden's first season). LSU is coming off its first losing season since 1999. The overall talent level on both rosters is a question. One positive for LSU is that this Sunday contest basically will be a home game.
9. Miami at Texas A&M, September 17
The buzz: Once again, a lot is expected of Texas A&M. Will the Aggies live up to the hype this season? A lot depends on the quarterback, whether it's Haynes King or LSU transfer Max Johnson. Speaking of quarterbacks, Miami will have the best one in this game in Tyler Van Dyke. Can the Hurricanes keep him protected? Miami's best chance would seem to be winning a shootout. This also is an interesting coaching matchup with A&M's Jimbo Fisher and new UM head man Mario Cristobal.
8. West Virginia at Pitt, September 1
The buzz: The "Backyard Brawl" resumes after a 10-year hiatus, and that gives this a little extra cachet. The schools, located about 75 miles apart, played annually from 1943-2011; conference expansion tore that asunder. The '22 game is the first of a four-year contract (2022-25). Both teams will be breaking in new quarterbacks — Slovis for Pitt, still an unknown for WVU. Both also have new offensive coordinators — Frank Cignetti Jr. for Pitt and Graham Harrell for the Mountaineers. While neither is likely to be a title contender in its respective conference, opening the season with some good old-fashioned hate always is cool.
7. Utah at Florida, September 3
The buzz: This will be the first game for new Gators coach Billy Napier. Kyle Whittingham, meanwhile, will be kicking off his 18th season with the Utes. Consider this: Whittingham replaced Urban Meyer as Utah's coach after the 2004 season, when Meyer left for Florida. Counting Meyer, Napier is the fifth Gators coach since then. Utah returns an experienced and physical team; the Gators are somewhat of a mystery. One advantage for Florida: It will be hot and humid, even if it's a night-time kickoff, and the Gators should be more accustomed to that type of weather.
6. Clemson at Notre Dame, November 5
The buzz: These teams met twice in 2020, when COVID led to the Irish playing a full ACC schedule; the Irish won in the regular season, Clemson won the rematch in the ACC title game and both went to the College Football Playoff. As this point in April, neither looks like a potential CFP team this season, and by the time this game rolls around, there could be a loss or two (or three) for each. Still, it should be an important late-season game for both in terms of bowl positioning.
5. Notre Dame at USC, November 26
The buzz: This longtime intersectional rivalry (this will be the 90th meeting) definitely has lost some luster, but Lincoln Riley's arrival at USC should change things. It's the regular-season finale for both, and here's to hoping both are in the top 15 at kickoff. Why? Because college football is more interesting when both these teams are good.
4. Alabama at Texas, September 10
The buzz: This will be just the 10th meeting all-time between these storied programs — and the first-regular-season game since 1922. Yep, 100 years. The most recent meeting was the BCS Championship Game following the 2009 season, and that is the Tide's lone win over the Longhorns. This will be Game 2 in Steve Sarkisian's second season at Texas, and everyone knows how Nick Saban treats his former assistants. Texas has some interesting offensive pieces, but how good is the Longhorns' offensive line? And can Texas' defense slow Alabama's offense?
3. Cincinnati at Arkansas, September 3
The buzz: The contract for this game was signed in August 2019, and it's doubtful then that either side knew how big this game could be. Cincinnati is coming off a College Football Playoff appearance, and though the Bearcats figure to take at least a half-step back in 2022, they still should be formidable. Arkansas was pitiful in 2019, finishing 2-10. But they made strides in 2020, then turned in a nine-win season in 2021. This should be a matchup of top-20 teams.
2. Georgia vs. Oregon in Atlanta, September 3
The buzz: New Ducks coach Dan Lanning opens against his former employer in a "neutral-site" matchup that basically is a home game for Georgia. The quarterback storyline figures to be a huge deal; former Auburn starter Bo Nix, who was 0-3 vs. the Bulldogs with the Tigers, is expected to be Oregon's QB1, and Georgia's Stetson Bennett decided to return for his "super senior" season.
1. Notre Dame at Ohio State, September 3
The buzz: This will be just the sixth meeting in history between these storied programs; it'll be first overall since the Fiesta Bowl following the 2015 season and the first in the regular season since 1996. It'll also be the first regular-season game as coach for Notre Dame's Marcus Freeman, an Ohio State alum. (Generally, former stars get a warm welcome when they return to a campus, but that ain't going to be the case for Freeman.) Freeman's defense will get a huge test in Game 1: Ohio State's offense figures to be one of the most productive in the nation again. Notre Dame, meanwhile, will be breaking in a new starting quarterback.