For so long, colleges avoided any ties to sports betting — but that is changing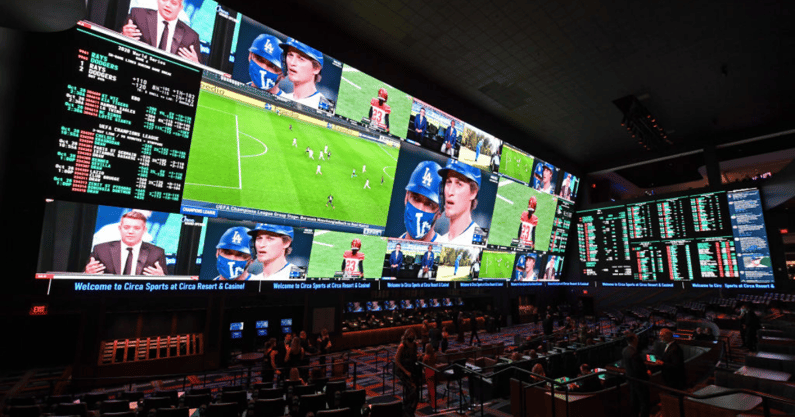 Imagine walking into your favorite college football stadium on a Saturday afternoon, buying your usual hot dog and beverage and browsing through the team store. But then instead of venturing to your seat, you make a beeline for the stadium's sports betting lounge, where you place money on any number of bets related to games nationwide.
That scenario isn't possible this season and won't be next year, either. But it's coming. The convergence of the sports betting space and college athletics already is under way. Five years ago, the betting world maintained arm's-length separation with pro leagues, college sports and rights-holders. But since the U.S. Supreme Court struck down the federal sports wagering ban more than three years ago, the flirtation between the two worlds has escalated and is fast becoming a warm embrace.
"This is a wave," Blake Lawrence, co-founder and CEO of the athlete marketing platform Opendorse, told On3. "And in college athletics, there are leaders who look to the future and understand the benefits of being the first to do anything and realize the impact it has on national attention and recruiting. It is not an 'if' but a 'when' there will be an athletic director who takes the next step and starts to provide an in-venue sports betting experience, so long as it's compliant. It's a fantastic revenue-driver. Who is going to be first is the question."
The NCAA waged war against sports betting for years. In January 2019, at the association's annual convention, president Mark Emmert said that sports betting could "threaten the integrity of college sports." And in a July 2020 Senate Judiciary Committee hearing on "Protecting the Integrity of College Athletics," Pitt athletic director Heather Lyke testified that the legalization of sports betting will have a "corrosive and detrimental impact" on college athletes. NCAA rules prohibit athletes, coaches and administrators from betting on sports.
But 21 states plus the District of Columbia entered this fall with legalized sports betting. Everywhere one looks in college athletics, the relationship is becoming less taboo and more accepted, if not outright embraced. The once-clear line between the two worlds has blurred: Seven-figure deals have a funny way of allaying moral concerns.
Tapping into new revenue streams is among the highest priorities for cash-strapped athletic departments. There has been a negative financial impact because of COVID-19, not the least of which was a truncated 2020 football season and limited gate revenue.
Schools making deals; what about athletes?
As more schools secure partnerships with sports wagering companies, it remains to be seen if state laws and university policies will enable athletes to do the same. "If you have schools that are engaging with those companies, how can the athletes not be allowed to?" said Zach Maurides, the founder and CEO of Teamworks. "It's like, 'Do as I say, not as I do.' College athletics, where they have lost the quote-unquote high ground is when they don't hold themselves to the same standards they hold the athletes to."
Two Power 5 schools, LSU and Colorado, have lucrative partnerships with sports betting companies. The most significant is LSU, which last month entered into a multiyear sponsorship agreement with Caesar's Sportsbook for "multiple millions" of dollars, a source told The Associated Press. While there are no plans to launch a sportsbook inside Tiger Stadium, Caesars will receive naming rights for the Caesars Sportsbook Skyline Club at Tiger Stadium. It can post signage throughout the stadium as well as at the Pete Maravich Assembly Center, in addition to having a presence on LSU's mobile sports app.
In September 2020, Colorado entered into a five-year, $1.6 million partnership with PointsBet. Among lower-profile schools, the University of Nevada entered a deal with William Hill in 2017, while the University of Denver has a deal with SuperBook Sports.
"It has changed completely," Lawrence said. "There are major dollars flooding into the sports marketing and sponsorship market from sports wagering companies. They spend big because there is a very good return on investment. … As a sports wagering or gaming company looking to acquire sports fans, the most direct way to do so is by aligning with sports organizations."
At the college bowl level, the Fiesta Bowl has partnered with Caesars Entertainment Inc. The deal says Caesars will host an in-venue fan lounge at the Fiesta Bowl and the Guaranteed Rate Bowl. Caesars also will make financial donations annually to Fiesta Bowl charities. Because sports wagering in Arizona became legal September 9, fans will be able to place bets on their mobile devices at the games. 
"It's happening very fast because, on the sports betting side, they're seeing user acquisition costs go up at such a rate," said Steve Ahern, a partner at venture capital firm KB Partners, which invests in startups at the intersection of sports gambling and technology. "They've started to hit the limit in early markets of low-hanging fruit. So when you can go after and partner with more regional fan bases, you could drive people that are potential vendors down the funnel much more easily."
State laws on athletes and betting likely to be challenged
In addition, Barstool Sports has become the title sponsor for the Arizona Bowl. On the NIL front, Barstool garnered attention this summer when Louisville advised its athletes to avoid deals with the company because the school said it does not comply with school policy or criteria outlined in the Kentucky Governor's Executive Order on NIL. Penn National Gaming, which owns and operates casinos, purchased 36 percent of Barstool last year.
Calling Barstool a cultural touchstone, like Rolling Stone magazine of that era, Peter Schoenthal, CEO of Athliance, said the company will be a "major player" in college athletics and has far more attractive elements than merely the gambling connection. But he understood Louisville's caution in urging its athletes to take a more deliberate, wait-and-see approach in the space.
In a recent first-of-its-kind deal, MaximBet announced it would offer contracts to every female athlete in the state of Colorado over the age of 21. The state does not prohibit athletes from working with brands in the gambling category. To receive compensation, athletes need to highlight the company on social media. But a source familiar with the deal said female athletes at the University of Colorado are precluded from engaging in this particular NIL deal because of the school's partnership with PointsBet.
Lawrence said it's natural for sports betting companies to pay athlete ambassadors because athletes have proven that they can attract attention and acquire new customers. (MaximBet used Lawrence's Opendorse to facilitate its NIL activities.) What is on the horizon, Lawrence said, is the state laws that explicitly restrict athletes from participating in that market likely being challenged — more than a dozen states currently prohibit athletes from engaging in NIL activities with sports betting companies — and any school policies that directly prohibit athletes from participating in that market being challenged as well.
Schoenthal called athletes engaging in an NIL deal with a sports betting company a "slippery slope" and cautions athletes and schools to be especially mindful of state and university policies to avoid any vulnerability to a lack of institutional control charge by the NCAA — even retroactively. 
Casey Schwab, the founder of Altius Sports Partners, which provides NIL advisory services, spent three years at the NFL Players Association. He said there is an "interesting equitability argument because the schools are doing deals with sportsbooks, so what's their stance on their athletes doing it? There is a fundamental fairness point to be discussed. If a school can do it, if a coach can do it, let's have a serious discussion as to why you think an athlete cannot do it."
From the pros to the colleges
Rights-holders also are looking to capitalize on the fast-growing sports gambling industry. In August, the Wall Street Journal reported that ESPN had discussions with owners of major sportsbooks, including Caesars and DraftKings, about licensing its brand for at least $3 billion over several years. One reported possibility is that a suitor could rename its sportsbook after ESPN.
"Everybody's looking for an edge," said Keith Bank, founder of KB Partners. "And if they believe in branding their sportsbook as ESPN, and they have all the goodies that come along with it because of their great repository of content and rights and everything else, it wouldn't surprise me.
"I don't know how somebody's going to make back that investment in a reasonable period of time, if that's the real number. If I were a betting man, I would bet that if they do a deal, it'll end up going for half or two-thirds of that."
David Levy, the former Turner Sports president, told On3, that "three years from now, sportsbooks are going to own media companies or media companies are going to own sportsbooks. It is inevitable."
What also seems inevitable is that the convergence of the sports betting space and pro sports that has occurred will continue into college athletics. Major League Baseball has a deep, complicated past with gambling, dating to the 1919 Black Sox scandal and the Pete Rose saga. But even MLB has come to accept, welcome and embrace where the trendlines are headed — not to mention embracing new revenue streams. 
In 2020, the Cubs entered a multiyear agreement with DraftKings. In August, the Commission on Chicago Landmarks voted unanimously to approve the Cubs' plans to build a two-story sportsbook adjacent to Wrigley Field. The college sports world takes notice, and one day will follow suit. 
"If you're taking inspiration from professional sports and running a $100 million-a-year college football program," Lawrence said, "then naturally the revenue stream from in-venue sportsbooks is probably an interesting appeal. It seems natural."