Betting Wrap: An early look at Kentucky-Georgia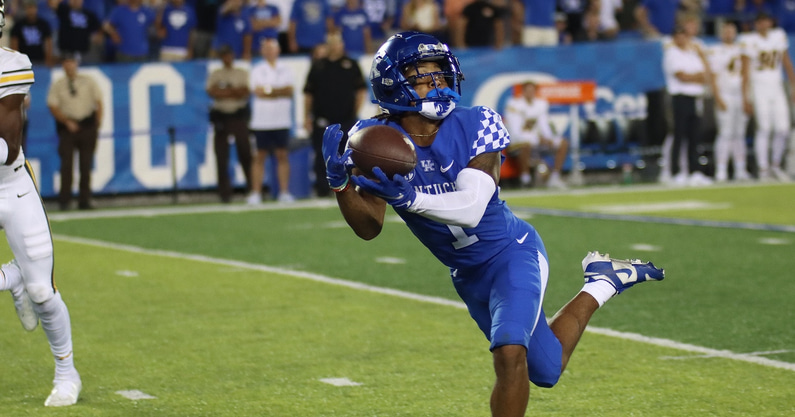 For the second time in three weeks, one of the nation's best games will be played in Athens as No. 11 Kentucky visits the country's new No. 1 team, Georgia. 
On Monday, broadcaster Mick Gillespie and Jeff Cameron, host of "The Jeff Cameron Show" joined forces on College Sportsbook's "Betting Wrap" to discuss the 26.5-point spread in favor of the Bulldogs and offered insight into what they think will happen at Sanford Stadium on Saturday afternoon. 
"I'm sure after seeing the Arkansas game, Vegas is like 'Look [Kentucky is] not going to be able to go in there and hang,'" Gillespie said to open the conversation. "I don't think they're going to be able to go in there and hang either, but what if they did? What an incredible story it would be."
Georgia destroyed Arkansas 37-0 on Oct. 2. The Razorbacks had just 162 yards of total offense and nine first downs.
"It would be stunning if they went into Athens and won this game," Cameron said. "I don't see it."
Kentucky's offense is heavily reliant on big plays. They have four pass catchers with at least five receptions that are averaging over 14 yards per catch. Wideout Wan'Dale Robinson leads the SEC in receiving yards, and running back Chris Rodriguez Jr. holds the same honor in rushing yards. But Saturday will provide a whole new challenge for the 6-0 Wildcats.
Cameron referred back to last week when he believed Auburn would struggle to score against what is the nation's top scoring defense by a wide margin; Georgia is allowing 5.5 points per game, the only team holding opponents under 10 points per contest. Cameron believes the same fate awaits the Wildcats.
"They want to throw the ball deep, but the problem is those are slow-developing routes against a defensive line that is just ferocious," Cameron added.
No passing zone at Georgia
Georgia is allowing 137 passing yards per game (second in the nation) and 64.2 yards on the ground (fourth in the nation). In total, they are the best defense yardage-wise in the SEC by over 100 yards per game. 
The best passing defense Kentucky has encountered this season was, surprisingly, South Carolina. The Wildcats struggled mightily, posting just 16 points in a 16-10 victory. Quarterback Will Levis had 102 yards and an interception. 
Cameron concluded his commentary saying that although Kentucky will have a hard time reaching the end zone, 26.5 is a big number. 
"Twenty-six, that's a stay away game for me."
ESPN's College Gameday will be on site in Athens, their second visit to Georgia in the last three weeks. The game kicks off at 3:30 p.m. ET on CBS.