Bob Bowlsby addresses if Texas/OU leaving factored into retirement decision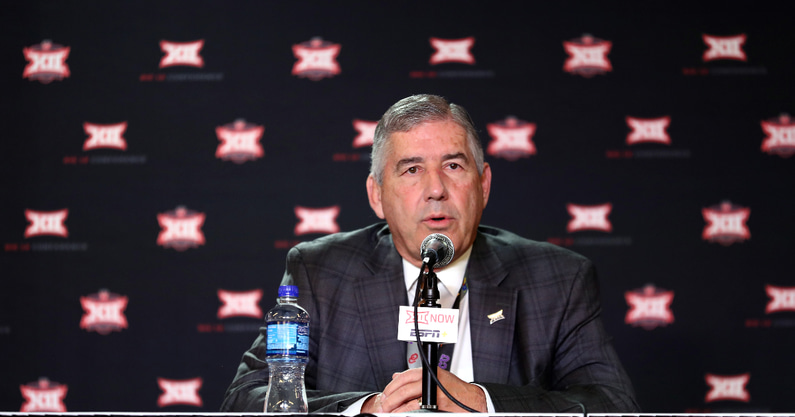 When Bob Bowlsby took over as the Big 12 commissioner, the conference was fresh off losing four programs to three different conferences, most notably the Missouri Tigers and Texas A&M Aggies to the SEC. Flash forward nine years and another pair of Big 12 schools will be bolting to the SEC, with the Oklahoma Sooners and Texas Longhorns moving no later than the 2025 season.
ESPN College Football Playoff reporter Heather Dinich caught up with Bowlsby shortly after the announcement regarding his retirement. He discussed the latest round of realignment, between the two Red River schools leaving and attracting four new members into the Big 12. He said the whole process was "stressful" but did not say if it was a factor in his retirement decision.
"The departure of OU and Texas was a stressful circumstance, and the process to bring on the new members was pretty high energy because it happened over a relatively short period of time," Bowlsby said.
News broke of Texas and Oklahoma in the summer of 2021, mainly during SEC media days. It came as a shock to everyone within the Big 12, including Bowlsby. The whole process was expedited once made public and the Longhorns and Sooners were voted into the conference just weeks later.
Bowlsby was able to do some damage control, bringing in the BYU Cougars, Cincinnati Bearcats, Houston Cougars, and UCF Knights. There is some time before those four will be official Big 12 members but at the very least, the commissioner saved the conference from only having eight members.
Bob Bowlsby leaving Big 12, retiring
Releasing a statement on the situation, Bob Bowlsby said he has "reached a natural transition point" and will be handing the job off to somebody else. He will remain the commissioner until the Big 12 can find his replacement. From there, Bowlsby will move into a new interim role that he and whoever takes over will agree on in the future.
"After more than 40 years of serving in leadership roles in intercollegiate athletics, including the last 10 with the Big 12, and given the major issues that college sports in general and the Big 12 specifically will address in the next several years, I have reached a natural transition point in my tenure as Commissioner, as well as in my career," said Bowlsby in a statement.
Four members will soon be joining the Big 12 in the BYU Cougars, Cincinnati Bearcats, Houston Cougars, and UCF Knights. Bowlsby brought them into the conference after the Texas Longhorns and Oklahoma Sooners announced they would be heading to the SEC.
"The Big 12 will soon bring in our four new members and negotiate a new grant of rights and media rights agreements," Bowlsby said. "I truly believe the Big 12 and our member institutions are in a strong position now and as we look into the future. As such, this is an appropriate time for me to step away from the Commissioner's role so that the next leader of the Conference can take the reins on these significant matters that will come to the forefront before the end of the term of my employment agreement in 2025 to set the stage for the Big 12's future ongoing success."