Big risers to know in newly expanded On300 rankings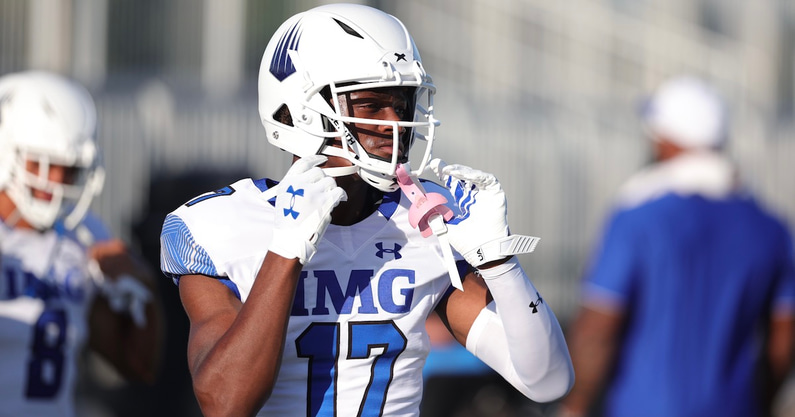 On3 has expanded prospect rankings in the class of 2023 from a top 100 to the On300. With the expanded rankings come prospect additions and movement in the rankings. The updated rankings for the Class of 2023 includes a number of new entries and big risers. 
OT Zalance Heard
Background: Monroe (La.) Neville
On300 ranking: No. 14
Zalance Heard is a 6-foot-5.5, 295-pounder with an 84-inch wingspan that goes from outside the top 100 to the highest four-star in the On300. The former defensive tackle has found his future at right tackle this season playing opposite LSU verbal Will Campbell. Heard has development in front of him from a technique standpoint, but he's very gifted. He has the initial quickness, body and reactive quickness, bend, overall agility and physicality college programs covet.
Ole Miss and Texas were the first to offer on May 16. Michigan and Colorado have since followed. Heard has been on campus at LSU this season. This offer list will eclipse 30 in the coming months. 
WR Carnell Tate
Background: Chicago IMG Academy
On300 ranking: No. 18
Carnell Tate, a technically advanced receiver, moves up 28 spots from No. 46 to No. 18 in the On300 with a strong start to his junior season. Tate possesses quickness off the line for his size, very good feet and COD ability in and out of cuts, body control, strong hands and the physicality to play through contact and in traffic. Tate has more than 30 offers with Notre Dame, Ohio State, Michigan and Michigan State trying to bring Tate back closer to home. Georgia, Florida State, Texas and Oregon are also in the mix. 
IOL Francis Mauigoa
Background: Bradenton (Fla.) IMG Academy
On300 ranking: No. 19
On an absolutely loaded IMG Academy team, the 6-foot-6, 320-pounder with an 80-inch wingspan may have the highest upside. Now settling in at right tackle for IMG Academy, Francis Mauigoa is displaying a very high ceiling as a RT or IOL at the next level.
The early list of suitors for the On300 star is led by Oregon, USC, Utah, Michigan and Washington State. Two older brothers have played and are playing at Washington State. Francisco is a freshman linebacker, and Frederick was a three-year starter on the offensive line from 2017-19. 
EDGE Jaquavious Russaw
Background: Troy (Ala.) Carver
On300 ranking: No. 25
The state of Alabama is absolutely loaded in the 2023 cycle, and the 6-foot-2.5, 230-pound Jaquavious Russaw is one of the best. He's has gone from outside the top 100 to the top 25 in the On300 with a dominant junior season to date. His playing strength, initial quickness, playing finishing physicality, and motor are among the best in the cycle. The offer list has grown with his ascending play with Alabama, Georgia and Florida among the latest. He has been on campus at Georgia this month and will be at Alabama in the coming weeks. 
IOL Markis Deal
Background: Garland (Texas) Naaman Forest
On300 ranking: No. 28
Markis Deal goes from outside the top 100 to inside the top 30 in the On300. The near 6-foot-5, 290-pounder has been defensive tackle focused early in his high school career. With his father being the defensive line coach at Naaman Forest, that is totally understandable. His quickness, flexibility and strength combination show up in track and field as well. He threw the shot put 49 feet, 10 inches as a sophomore and is expected to ascend to near 55-feet this spring. Texas A&M made a strong impression over the summer, and he has been back on campus this season. Arkansas, Colorado and Texas Tech have been added to the offer list this season. 
TE Riley Williams
Background: Portland (Ore.) Central Catholic
On300 ranking: No. 34
Williams jumps 20 spots in the On300 and is the No. 2-ranked tight end in the class. The 6-foot-5, 230-pounder is a fluid athlete at the position with an exceptional catch radius. He's a fast starter with the speed to work down the field, along with the agility to make the first defender miss after the catch. Williams saw his stock explode this summer, and has added to that rising stock this season. He's added six Power 5 offers since June, including USC and Ohio State. Oregon is very much a factor in this recruitment with an older brother on the Ducks roster. 
LB Troy Bowles
Background: Tampa (Fla.) Jesuit
On300 ranking: No. 38
The son of Tampa Buccaneers defensive coordinator Todd Bowles checks in as the No. 1-ranked linebacker in the On300. The 6-foot-1, 205-pound playmaker has more than 140 tackles since the beginning of his sophomore season along with three sacks and two interceptions. Troy Bowles has instincts and awareness in spades and the feel for making plays on the ball. His versatility in the run game and coverage sets him apart from many peers at the position. Bowles has more than 30 offers to date, and has made unofficial visits to Ohio State, Georgia and Rutgers this season. 
IOL Jven Williams
Background: Wyomissing (Pa.) High
On300 ranking: No. 43
Jven Williams jumps to the top 50 of the On300 with some terrific junior tape. The 6-foot-4, 280-pounder has high-end initial movement skills, agility, flexibility and play finishing physicality in the run game. On3 believes this is one of the more under-recruited prospects in the cycle currently. His blend of quickness, flexibility and overall agility shows up in track and field as well. He boasts personal bests of 56'7" in the shot put, and 176'2" in the discus. Williams has picked up nine Power 5 offers since the beginning of the season. He has been on campus at Penn State this season. 
RB Cedric Baxter Jr.
Background: Orlando (Fla.) Edgewater
On300 ranking: No. 45
Cedric Baxter has risen to the No. 1 running back in the On300. Baxter is a smooth back at 6-foot-0 and near 210 pounds with the ability to cut at full speed. His balance, ability to break tackles while working vertically and 4.59 laser 40-yard dash speed places him in an elite category at his size. He has proven to be durable this season with a 40-carry game, as well as games of 246 yards and 308 yards rushing. Baxter's next-level play on the field has netter offers from Ohio State, Georgia, Alabama and Louisville since September. 
EDGE Adepoju Adebawore
Background: Kansas City (Mo.) North Kansas City
On300 ranking: No. 52
The 6-foot-4, 210-pound rush prospect has quickly become one of the top EDGE prospects in the cycle this season and made a big jump in the On300. Adepoju Adebawore's combination of height, frame potential, initial quickness, extremely long arms and closing burst has netted him offers from Iowa State, Iowa and Minnesota this season. His older brother, Adetomiwa, is a starting defensive lineman for the Northwestern Wildcats.