Big Ten announces Player of the Year awards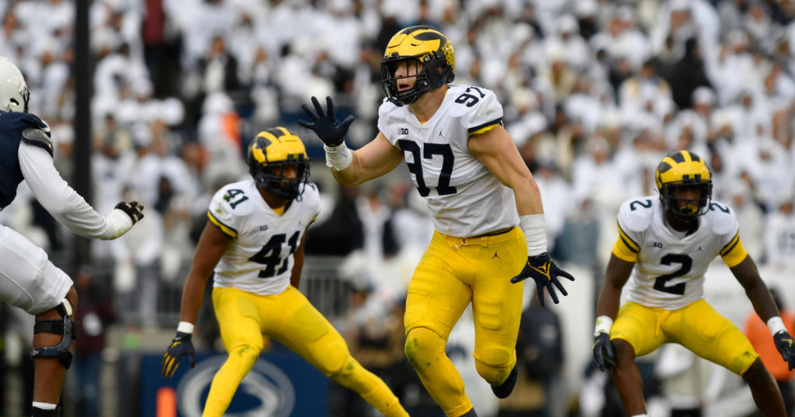 The Big Ten Conference announced the 2021 All-Big Ten football honorees on defense and special teams on Tuesday on the Big Ten Network.
These awards recognize the best players at each position in the conference this season.
Michigan defensive end Aidan Hutchinson picked up the Big Ten's biggest defensive award on Monday. He earned the Nagurski-Woodson Defensive Player of the Year. He's put up 32 solo tackles and 13 sacks this season for the Wolverines.
The Big Ten coaches also voted on the best coach amongst them this season, landing on Michigan State head coach Mel Tucker. Tucker coached his team to a 10-2 record in his second season. The Spartans have already rewarded their head coach with a 10-year, $95 million contract extension for his success. The media also voted for Tucker as coach of the year.
Big Ten Defense, Special Team award winners
Nagurski-Woodson Defensive Player of the Year: Aidan Hutchinson, Michigan
Smith-Brown Defensive Lineman of the Year: Aidan Hutchinson, Michigan
Butkus-Fitzgerald Linebacker of the Year: Leo Chenal, Wisconsin
Tatum-Woodson Defensive Back of the Year: Riley Moss, Iowa
Bakken-Andersen Kicker of the Year: Jake Moody, Michigan
Eddleman-Fields Punter of the Year: Jordan Stout, Penn State
Rodgers-Dwight Return Specialist of the Year: Charlie Jones, Iowa
All-Conference Teams, Defense
First Team
Aidan Hutchinson, Michigan
Haskell Garrett, Ohio State
Arnold Ebiketie, Penn State
George Karlaftis, Purdue
David Ojabo, Michigan
Leo Chenal, Wisconsin
Jack Sanborn, Wisconsin
Dane Belton, Iowa
Riley Moss, Iowa
Dax Hill, Michigan
Jaquan Brisker, Penn State
Jake Moody, Michigan
Jordan Stout, Penn State
Adam Korsak, Rutgers
Charlie Jones, Iowa
Second Team
Zach VanValkenburg, Iowa
Jacub Panasuik, Michigan State
Tyreke Smith, Ohio State
PJ Mustipher, Penn State
Keeanu Benton, Wisconsin
Micah McFadden, Indiana
JoJo Domann, Nebraska
Ellis Brooks, Penn State
Kerby Joseph, Illinois
Matt Hankins, Iowa
Cam Taylor-Britt, Nebraska
Ronnie Hickman, Ohio State
Caleb Shudak, Iowa
Noah Ruggles, Ohio State
Bryce Baringer, Michigan State
Jayden Reed, Michigan State
Third Team
Sam Okuayinonu, Maryland
Boye Mafe, Minnesota
Zach Harrison, Ohio State
Matt Henningsen, Wisconsin
Jack Campbell, Iowa
Chris Bergin, Northwestern
Brandon Smith, Penn State
Denzel Burke, Ohio State
Ji'Ayir Brown, Penn State
Joey Porter Jr., Penn State
Ceasar Williams, Wisconsin
James McCourt, Illinois
Blake Hayes, Illinois
AJ Henning, Michigan
Jahan Dotson, Penn State
The winners of the Big Ten offensive awards will be revealed on Wednesday, Dec. 1, 2021, on the Big Ten Network.