Big Ten Conference releases overhauled 2022 college football schedule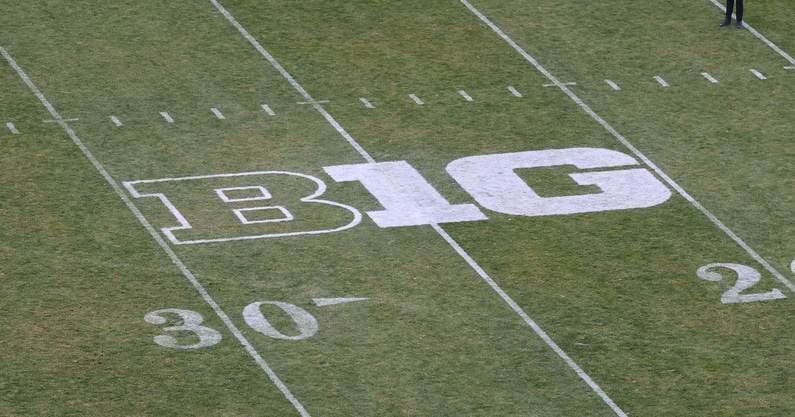 With Monday night's national championship ending the 2021 season, all focus has been turned to the 2022 season. For the Big Ten, they will be hoping to send another team to the College Football Playoff after Michigan represented the conference in the Orange Bowl.
However, the path to get to the postseason will be a bit different than before. The Big Ten announced some changes to the conference schedule on Wednesday, moving around a few key games.
All of the conference's major rivalries such as Michigan-Ohio State, Iowa-Nebraska, and Minnesota-Wisconsin stayed during the week of Thanksgiving as did the Week 0 matchup between Nebraska and Northwestern.
Most of the changes were made in the heart of the schedule, setting up for another exciting year in the Big 12. Check out the full slate of games, week by week, below.
Big Ten 2022 conference schedule
Week 0, Aug. 27
Northwestern vs Nebraska (Dublin, Ireland)
Week 1, Sept. 3
Penn State at Purdue
Week 2, Sept. 10
None
Week 3, Sept. 17
None
Week 4, Sept. 24
Week 4, Oct. 1
Illinois at Wisconsin
Michigan at Iowa
Purdue at Minnesota
Indiana at Nebraska
Northwestern at Penn State
Michigan State and Maryland
Rutgers at Ohio State
Week 5, Oct. 8
Iowa at Illinois
Nebraska at Rutgers
Wisconsin at Northwestern
Purdue at Maryland
Michigan at Indiana
Ohio State and Michigan State
Week 6, Oct. 15
Minnesota at Illinois
Nebraska at Purdue
Wisconsin at Michigan State
Maryland at Indiana
Penn State at Michigan
Week 7, Oct. 22
Iowa at Ohio State
Minnesota at Penn State
Northwestern at Maryland
Purdue at Wisconsin
Indiana at Rutgers
Week 8, Oct. 29
Illinois at Nebraska
Northwestern at Iowa
Rutgers at Minnesota
Michigan State at Michigan
Ohio State at Penn State
Week 9, Nov. 5
Michigan State at Illinois
Iowa at Purdue
Minnesota at Nebraska
Ohio State at Northwestern
Maryland at Wisconsin
Penn State at Indiana
Michigan at Rutgers
Week 10, Nov. 12
Purdue at Illinois
Wisconsin at Iowa
Northwestern at Minnesota
Nebraska at Michigan
Indiana at Ohio State
Maryland at Penn State
Rutgers at Michigan State
Week 11, Nov. 19
Illinois at Michigan
Iowa at Minnesota
Wisconsin at Nebraska
Purdue at Northwestern
Indiana at Michigan State
Ohio State at Maryland
Penn State at Rutgers
Week 12, Nov. 26
Nebraska at Iowa (Friday)
Illinois at Northwestern
Minnesota at Wisconsin
Purdue at Indiana
Rutgers at Maryland
Michigan at Ohio State
Michigan State at Penn State