WATCH: College business insider reveals Big Ten Conference could ink record media deal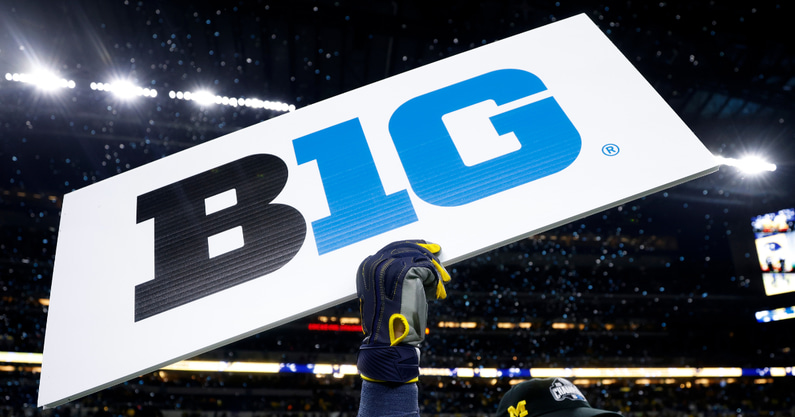 The Big Ten is currently looking for a new media deal, as their current one is set to expire. They're not the only Power Five conference without a future television contact, with the Big 12 and Pac-12 soon on the hunt as well.
However, the Big Ten seems to be on track to secure a larger deal than the other two.
During his recent podcast, John Ourand of the Sports Business Journal said when the Big Ten does sign their new media deal, it will be a historic one. When talking about how much money the conference will make from a TV network, the number is going to reach 10 figures per Ourand.
"From what I am told, the Big Ten Conference is going to be the first college conference to earn more than $1 billion per year in media rights," Ourand said. "Incredible."
Some of the biggest brands in college football call the Big Ten home and the conference has been near the top nationally every football season. Ohio State has won a national championship in the College Football Playoff era, while Michigan made its first appearance last season.
Television networks will want to buy the rights thanks to brands such as though. If they do, it's going to cost a pretty penny to win over the Big Ten.
Commissioner Kevin Warren's goal for Big Ten media deal passes
Throughout the offseason, the Big Ten has been working toward a new media rights deal. Back in early May, commissioner Kevin Warren provided a timeline on a potential decision. It has since passed and talks continue to linger.
Prior to league meetings in Arizona, Warren told ESPN's Adam Rittenberg and Heather Dinich he hoped basic terms of the deal are done before the calendar moved to June. The league currently has a deal with FOX, ESPN, and CBS, but it's set to expire in 2023.
"I'm confident it will sort out and we'll land exactly where it's supposed to be," Warren said, via Rittenberg.
Warren also said companies such as CBS, NBC, ESPN, and TNT have expressed interest, in addition to FOX and streaming services such as Apple and Amazon. He didn't name a frontrunner, though.
"There's many, many hours left this month to make sure that we get everything negotiated properly and come to some term sheets or a memorandum of understanding," Warren said, via Rittenberg. "That's when the lawyers will get involved to start doing long-form agreements."
Warren set a goal to have everything worked out but as things stand, there is still work to do for the Big Ten. Nonetheless, a big pay day should be coming to the conference.