Big Ten Power Rankings: Top contenders excel in Week 1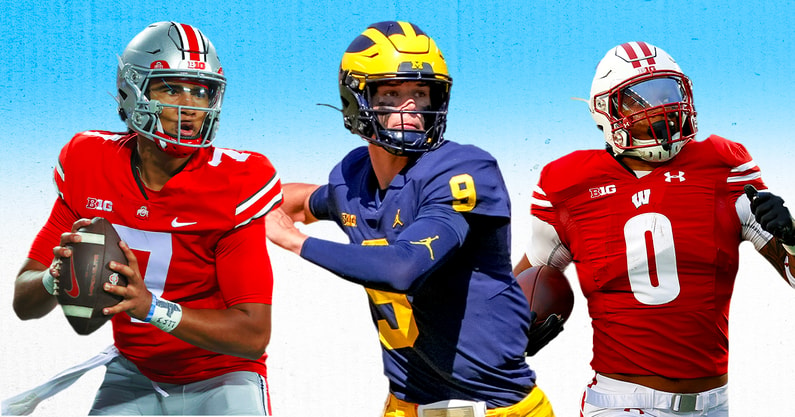 College Football has finally begun in earnest, with a slew of Week 1 games giving us our first glimpse at who the contenders and the pretenders might be and allowing us to update our Big Ten Power Rankings.
Now that we have some real football games to go off of let's dig in.
The Big Ten took part in some marquee matchups, headlined by Ohio State's tilt with Notre Dame in primetime. There were plenty of results to provide some movement for risers and fallers in the Big Ten Power Rankings.
CLICK HERE to subscribe for FREE to the On3 YouTube channel
Today we update the Big Ten Power Rankings following Week 1 games.
Big Ten Power Rankings 2022 – Week 1
Notre Dame more than held its own against Ohio State early on, but the Buckeyes took over and wore down the Fighting Irish with a staunch defensive effort in the second half. The Buckeyes remain atop the Big Ten Power Rankings as a result of securing a top-5 win, and it'll be a few weeks before they face another real test.
While the Wolverines managed to beat the Colorado State Rams 51-7, a few key storylines emerged. First, starting quarterback Cade McNamara was just so-so, particularly in the red zone early, and sophomore JJ McCarthy is slated to start next week against Hawaii as Jim Harbaugh continues to evaluate the position. Second, the Wolverines are still excellent defensively. The schedule sets up nicely for smooth sailing until at least mid-October.
Michigan State dispatched Western Michigan 35-13 in a game that was more of a struggle than the final score indicated. Quarterback Payton Thorne had an uneven performance despite throwing for four touchdowns and the Spartans allowed the Broncos to hang around. Key defensive players Darius Snow and Xavier Henderson left hurt for the Spartans; both would be significant losses if they're out for any extended period.
The Badgers had a relatively easy go of it with a 38-0 win over Illinois State, though it may not have been quite as smooth early as anticipated. A pair of huge plays — a 100-yard pick-six and a 96-yard rushing touchdown — broke the game open and the Badgers coasted from there. There's not much separation between Michigan State, Wisconsin and Penn State in the Big Ten Power Rankings right now.
Penn State escaped with a narrow win over a tough Purdue squad on the road, in large part thanks to some questionable game management by the Boilermakers in the fourth quarter and an absolutely clutch late drive by hot-and-cold quarterback Sean Clifford. Cornerback Joey Porter Jr. was fantastic. Still, the Nittany Lions have some defensive issues to sort through and the run game offensively wasn't very good.
The Golden Gophers cruised on Thursday night in a comfortable 38-0 win over former coach Jerry Kill's New Mexico State squad. Tanner Morgan was relatively sharp, while running back Mo Ibrahim ran for 132 yards and a pair of touchdowns in his return from a torn Achilles a year ago.
The Boilermakers put up one of the best fights of Week 1 in a back-and-forth affair with the Nittany Lions, but they came up a little short after some iffy clock management and aggressiveness offensively in the fourth quarter. Still, quarterback Aidan O'Connell looked solid and Jeff Brohm's squad looked like a team capable of having the kind of success it did in a nine-win campaign last year.
Maryland (+2)
Tied as the biggest positive mover in our Week 1 Big Ten Power Rankings, Maryland jumps mostly due to poor performances by Iowa this week and Nebraska over the last two weeks. The Terrapins weren't firing on all cylinders offensively but have some serious weapons there. But the defense was stout in a 31-10 win over Buffalo and Maryland still has plenty of room for improvement.
Northwestern (+2)
After dispatching Nebraska in a gritty season opener in Ireland in Week 0, the Wildcats had Week 1 off. Quarterback Ryan Hilinski probably turned in his best game yet for Northwestern in the win over the Huskers, which provides reason for optimism. Next up is a test against a Duke team that pitched a 30-0 shutout of Temple this weekend.
Iowa (-2)
The Hawkeyes provided the box score that drew the most laughs this weekend, topping South Dakota State by a 7-3 score composed of a Hawkeyes field goal and two safeties. Quarterback Spencer Petras struggled mightily, but there isn't a clear indication yet that Kirk Ferentz will look elsewhere. Hard to put much faith in Iowa until there's a pivot there.
Indiana (+1)
The Hoosiers battled hard against a plucky Bret Bielema Illinois team, finally capped by Auburn running back transfer Shaun Shivers plunging in for the winning score with 23 seconds left. Missouri quarterback transfer Connor Bazelak was sharp on the game-winning, 75-yard drive. The 23-20 win was a big step in the right direction for coach Tom Allen's squad.
Illinois (+1)
Playing their second game of the season after knocking off Wyoming in Week 0, Bielema and company nearly took down Indiana on Friday. Running back Chase Brown was the star, rushing for 199 yards on 36 carries, but it wasn't enough to secure the win as the Hoosiers' offense got it done in the waning moments.
Nebraska (-4)
What can you say about Scott Frost's Nebraska program at this point? After blowing the season opener in Ireland against Northwestern, the Huskers struggled for longer than they should have against North Dakota this weekend. Nebraska wasn't able to make it a two-score game for good until more than halfway through the fourth quarter. While Texas quarterback transfer Casey Thompson and running back Anthony Grant have both had their moments, the Huskers seem to have deeper issues than just talent level.
You have to give it to Greg Schiano. His teams always seem to play tough for four quarters. The Scarlet Knights gave the Boston College Eagles all they could handle, getting enough pressure on quarterback Phil Jurkovec that he eventually caved behind a poor offensive line late in the fourth quarter. Offensively, though, Rutgers wasn't much to write home about.
Want to see how this week's power rankings compare to our previous edition? Check out the 2022 Preseason Big Ten Power Rankings here!