Big Ten Power Rankings: Bottom of league sorting itself out as chalk holds at top in Week 2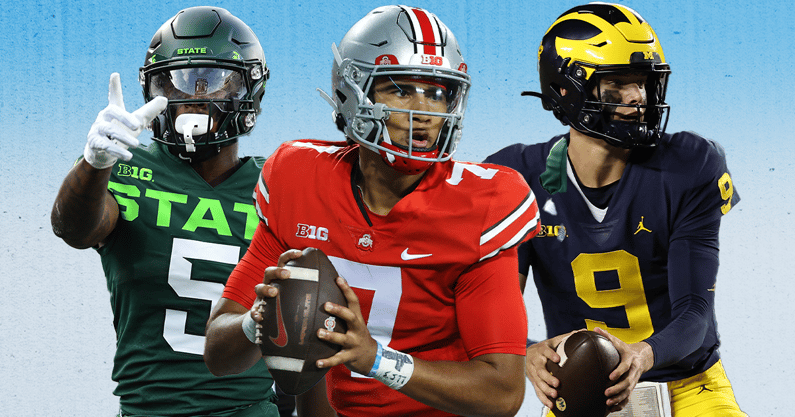 Opening weekend provided no movement in the top half of the league, but that certainly changed in the Big Ten Power Rankings in Week 2.
Wisconsin tripping up at home against Washington State allowed a trio of league contenders to move up a slot, with the Badgers sliding after a narrow Power 5 loss. Meanwhile, at the bottom of the league there was again significant movement as a handful of teams confirmed doubts that emerged last week.
Iowa, Northwestern and Nebraska were all big losers in the latest edition, so let's talk movement.
CLICK HERE to subscribe for FREE to the On3 YouTube channel
Today we update the Big Ten Power Rankings following Week 2 games.
2022 Big Ten Power Rankings – Week 1
After an impressive season-opening win over Notre Dame, Ohio State was in cruise control in Week 2 against Arkansas State. The Buckeyes won 45-12 as quarterback CJ Stroud went 16-of-24 passing for 351 yards and four touchdowns and receiver Marvin Harrison Jr. caught three touchdown passes on a seven-catch, 184-yard afternoon. Light work.
It looked like the Wolverines might make a quarterback change after Week 1, and sure enough Jim Harbaugh confirmed a move to JJ McCarthy starting going forward after the sophomore impressed in Week 2 against Hawaii. He threw three touchdown passes and his only incompletion was a throw-away as the Wolverines walloped the Warriors 56-10.
The Spartans haven't been tested through the first two weeks but have won convincingly. Saturday was a 52-0 shutout of Akron. Quarterback Payton Thorne continues to be a bit shaky, though, now having thrown three interceptions to just four touchdowns through two weeks. Michigan State will get a good test this week when it travels cross-country for a game at unbeaten Washington.
Penn State (+1)
It was much smoother sailing for James Franklin's Nittany Lions this week after a close call with Purdue a week ago. Penn State dismantled Ohio 46-10. That said, there are still question marks at quarterback after five-star freshman Drew Allar threw his first touchdown pass and looked sharp in going 6-of-8 passing for 88 yards with two scores. Veteran Sean Clifford was fine Saturday, but his long-term upside remains iffy. How the quarterback situation shakes out with a Week 3 contest at Auburn coming up will be fascinating.
Minnesota (+1)
Minnesota has yet to face a truly quality opponent, and that won't change in Week 3 as Colorado comes to town. The Golden Gophers have been quite business-like so far, racking up a 100-10 scoring edge against New Mexico State and Western Illinois. Those performances have been underscored by a defense currently allowing just 142.5 yards per game, best in the nation.
Purdue (+1)
After nearly taking down Penn State on opening week, Purdue ran away from Indiana State right away in a 56-0 rout. Quarterback Aidan O'Connell was nearly perfect (17-of-19 for 211 yards, 4 TDs, 0 INTs) in the game as his connection with receiver Charlie Jones (nine catches for 133 yards, 3 TDs) continued to flourish. A potentially tough road game at Syracuse is up in Week 3.
Wisconsin (-3)
A slew of mistakes caused Wisconsin to be the first team in the top half of our Big Ten Power Rankings to bite the dust. A pair of missed field goals, a pair of fumbles and an interception that preceded one of those fumbles proved costly in a 17-14 upset at the hands of Washington State. The Badgers dominated most categories statistically but also piled up 11 penalties for 106 yards. In the end, the mistakes were too much to overcome. Not much time to figure things out, either, with a trip to No. 3 Ohio State on the docket in two weeks.
Steady as she goes. Maryland wasn't firing on all cylinders in its season opener but was much closer to doing so Saturday in a 56-21 romp over Charlotte. The high-flying Terrapins passing attack was on point with Taulia Tagovailoa tossing four touchdown passes and racking up 391 yards through the air. The next three weeks — vs. SMU, at No. 4 Michigan, vs. No. 11 Michigan State — will give the Terrapins a lot of potential to climb the rankings.
Indiana (+2)
The Hoosiers got off to an extremely sloppy start against Idaho and really only retain this spot above Illinois thanks to the head-to-head win a week ago. The Illini can make a decently compelling case as the better team, to our eye. Still, Indiana rallied from a 10-0 halftime deficit to win 35-22 and move to 2-0 on the year. There's a path to 5-0 before a home game against No. 4 Michigan on Oct. 8, though it will require coming up with a road win at Cincinnati in two weeks.
Illinois (+2)
If not for that 23-20 loss to Indiana a week ago, Bret Bielema's squad would be significantly higher in our Big Ten Power Rankings. Week 2 resulted in a 24-3 win over Virginia, a win that was as dominant as the score suggested. Bielema's bunch put the brakes on the 'Hoos, limiting veteran quarterback Brennan Armstrong to 13-of-32 passing for 180 yards with no touchdowns and two interceptions.
Rutgers (+3)
Rutgers gutted out a tight win over Boston College to open its season, then followed it with a dominant 66-7 win over Wagner this week. The Scarlet Knights were well-balanced offensively as they piled up 575 yards, while limiting Wagner to just 145. It's possible Rutgers could get to 4-0 before traveling to No. 3 Ohio State; next up are a road trip to Temple and a home date with Iowa.
Iowa (-2)
Quarterback Spencer Petras was putrid again and the Iowa offense remained stuck in the mud, having scored just one touchdown in two weeks now. Petras went 12-of-26 passing for 92 yards with no scores and an interception as Iowa State managed to survive a slew of miscues to dump their rivals 10-7. Kirk Ferentz has to be thinking about a quarterback change at this point.
Northwestern (-4)
Duke has gotten off to a stronger-than-expected start under first-year coach Mike Elko, but Northwestern gave the game away by being unready to play it began. The Blue Devils raced out to a 21-0 lead before the Wildcats woke up, but it was too little too late as Duke came up with stops when it needed down the stretch. Given how unimpressive Nebraska has looked so far this year, that Week 0 win in Ireland has lost some shine for Northwestern.
Nebraska (-1)
"Fire Frost" chants rained down from the student section after a second loss in 2022 in yet another one-score game for coach Scott Frost and company. On Sunday, Frost was fired. Nebraska, like it has in more than half a dozen games in the last year, gave itself a chance down the stretch against Georgia Southern but missed a game-tying 52-yard field goal as time expired. Worse: It cost the Cornhuskers more than $1.4 million in game guarantees to the Eagles to pick up the second loss of the season.
Want to see how this week's power rankings compare to our previous edition? Check out the 2022 Preseason Big Ten Power Rankings here!