Big Ten unveils 2022-23 conference basketball opponents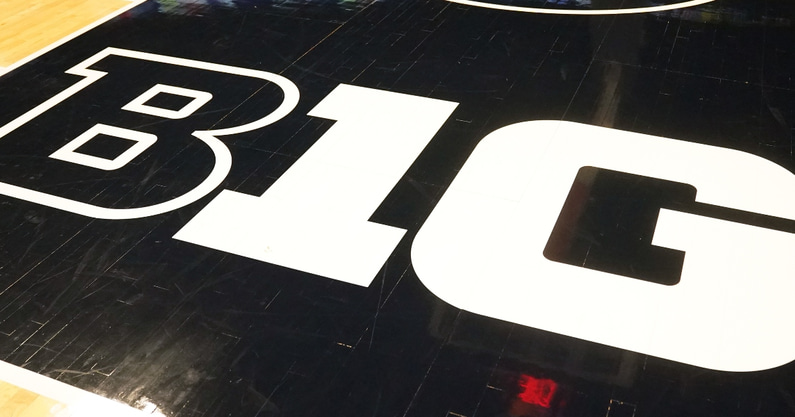 Most eyes are looking toward college football season, but the Big Ten is already getting plans together for college basketball season. The league announced each team's conference opponents on their respective schedules for the 2022-23 season.
Last year's co-champions, Illinois and Wisconsin, will have a home-and-home series while Indiana — seen as a likely contender after Trayce Jackson-Davis announced his return to Bloomington — will notably have home-and-homes with Michigan and Michigan State. The league also announced the conference tournament will return to the United Center in Chicago for the first time since 2019, scheduled for March 8-12.
Here's who each Big Ten team will face this season. The league will unveil the full schedule at a later date, according to the announcement.
Full breakdown of 2022-23 Big Ten basketball opponents
Illinois Fighting Illini
Home: Michigan, Michigan State, Rutgers
Away: Iowa, Maryland, Purdue
Home/Away: Indiana, Minnesota, Nebraska, Northwestern, Ohio State, Penn State, Wisconsin
Indiana Hoosiers
Home: Nebraska, Ohio State, Wisconsin
Away: Maryland, Minnesota, Penn State
Home/Away: Illinois, Iowa, Michigan, Michigan State, Northwestern, Purdue, Rutgers
Iowa Hawkeyes
Home: Illinois, Maryland, Michigan
Away: Minnesota, Penn State, Purdue
Home/Away: Indiana, Michigan State, Nebraska, Northwestern, Ohio State, Rutgers, Wisconsin
Maryland Terrapins
Home: Illinois, Indiana, Northwestern
Away: Iowa, Michigan State, Rutgers
Home/Away: Michigan, Minnesota, Nebraska, Penn State, Purdue, Ohio State, Wisconsin
Michigan Wolverines
Home: Nebraska, Ohio State, Purdue
Away: Illinois, Iowa, Rutgers
Home/Away: Indiana, Maryland, Michigan State, Minnesota, Northwestern, Penn State, Wisconsin
Michigan State Spartans
Home: Maryland, Minnesota, Northwestern
Away: Illinois, Penn State, Wisconsin
Home/Away: Indiana, Iowa, Michigan, Nebraska, Ohio State, Purdue, Rutgers
Minnesota Golden Gophers
Home: Indiana, Iowa, Penn State
Away: Michigan State, Northwestern, Ohio State
Home/Away: Illinois, Maryland, Michigan, Nebraska, Purdue, Rutgers, Wisconsin
Nebraska Cornhuskers
Home: Northwestern, Ohio State, Wisconsin
Away: Indiana, Michigan, Rutgers
Home/Away: Illinois, Iowa, Maryland, Michigan State, Minnesota, Penn State, Purdue
Northwestern Wildcats
Home: Minnesota, Penn State, Purdue
Away: Maryland, Michigan State, Nebraska
Home/Away: Illinois, Indiana, Iowa, Michigan, Ohio State, Rutgers, Wisconsin
Ohio State Buckeyes
Home: Minnesota, Penn State, Wisconsin
Away: Indiana, Michigan, Nebraska
Home/Away: Illinois, Iowa, Maryland, Michigan State, Northwestern, Purdue, Rutgers
Penn State Nittany Lions
Home: Indiana, Iowa, Michigan State
Away: Minnesota, Northwestern, Ohio State
Home/Away: Illinois, Maryland, Michigan, Nebraska, Purdue, Rutgers, Wisconsin
Purdue Boilermakers
Home: Illinois, Iowa, Rutgers
Away: Michigan, Northwestern, Wisconsin
Home/Away: Indiana, Maryland, Michigan State, Minnesota, Nebraska, Ohio State, Penn State
Rutgers Scarlet Knights
Home: Maryland, Michigan, Nebraska
Away: Illinois, Purdue, Wisconsin
Home/Away: Indiana, Iowa, Michigan State, Minnesota, Northwestern, Ohio State, Penn State
Wisconsin Badgers
Home: Michigan State, Purdue, Rutgers
Away: Indiana, Nebraska, Ohio State
Home/Away: Illinois, Iowa, Maryland, Michigan, Minnesota, Northwestern, Penn State