Big Ten West football: A 4-wheel-drive vehicle in a Maserati world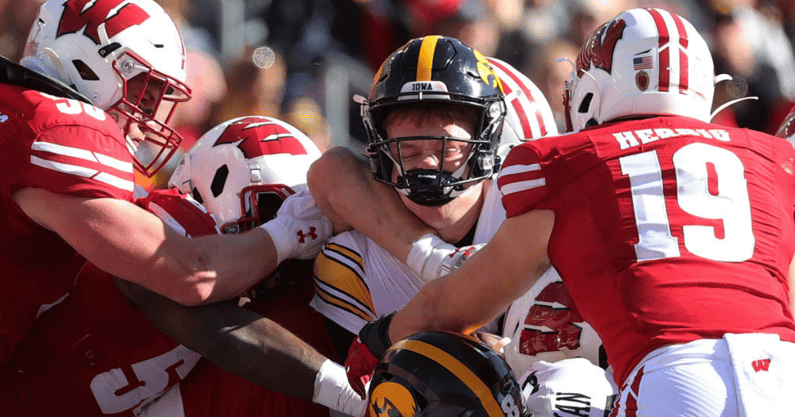 INDIANAPOLIS – The West Division of the Big Ten Conference is proud of its image. You want to play winning football in the Big Ten West, you better be physical.
"In the West, it's a little more four-wheel-drive," Northwestern coach Pat Fitzgerald said Tuesday at Big Ten Media Days. "From the way Scott (Frost) runs the ball in Lincoln, as good as anybody and challenges you schematically as much as anybody, to the history Kirk (Ferentz of Iowa) has had, line-of-scrimmage based. What P.J. (Fleck) has done – I don't think we could get the Minnesota offensive line on our plane. Bret (Bielema of Illinois) is taking the Wisconsin mentality down to Champaign. Paul (Chryst of Wisconsin) has carried it over. And they'd probably say the same thing about us."
Four-wheel-drive has its place. But that place isn't the finish line. The elite in college football these days are driving Maseratis, sleek offenses that go fast, and go fast in space. That's what they run at Alabama. That's what got Lincoln Riley hired at USC. Those offenses are more likely to spread it out, quicken the tempo, go vertical. And that's what is run at Ohio State, the dominant team in the Big Ten.
Those offenses are streaming video. The Big Ten West? It's televising in black-and-white.
In the eight seasons since Big Ten football split into geographic divisions, the East has won every conference championship. Tulane has won as many Big Ten titles as any of the seven teams in the West.
"The imbalance is Ohio State," said former Wisconsin coach Barry Alvarez, now the football consigliere to commissioner Kevin Warren. "That's the imbalance. Nobody can beat 'em."
The Buckeyes won four consecutive conference championships before Michigan knocked them off as East Division champions last season. West champion Iowa didn't exactly seize the opportunity to ascend to the top with Ohio State gone. The Hawkeyes lost to Michigan 42-3.
And that said, the favorite to win the Big Ten in 2022 is Ohio State. Athlon named eight Buckeyes to its preseason All-Big Ten team. The West Division, all seven teams, had a combined 10 players.
For the first half of the 20th century, this league was known as the Western Conference. That is so 100 years ago. The Big Ten East holds the power. Since the move to geographic divisions, Ohio State has won five league championships; Michigan State, Penn State and Michigan each have one.
Defenders of the West look at the overall numbers. In the eight seasons of East-West play, the East is only 77-70 vs. the West. That's a numerical way of saying that Indiana, Maryland and Rutgers play in the East. They have combined to win 19 games against the West in eight seasons. Ohio State has won 18.
By the way, Indiana and Maryland have shown signs of life in the past two seasons with exciting, modern offenses.
Other leagues have had this happen. The Pac-12 North has won nine of the 11 championship games. The SEC West has won 12 of 13. But the stylistic differences in those conferences don't vary much. That's not the case in the Big Ten. When you cross from the eastern time zone to the central, you don't lose an hour. In football terms, you lose about 20 years.
"That's who we can recruit," Alvarez said. When he came to Wisconsin to resurrect the Badgers in 1990, he famously said, "Our hearts and minds will come from Wisconsin, but our hands and feet better come from somewhere else."
He threw up his hands and put his feet back as if he were pass-blocking.
"You're not going to have guys stand in front of you like this all day," Alvarez said. "You're going to have two 300-pounders combo-blocking you. You're going to take on 600 pounds every snap."
Minnesota center John Michael Schmitz brings 320 pounds to his side of the combo. "Minnesota vs. Iowa, Minnesota vs. Wisconsin – those are two tough games," Schmitz said. "It comes down to physicality and toughness. You gotta be tougher than your opponent, and you gotta be willing to outlast him."
Don't forget what the second half of the season feels like at Kinnick Stadium, or Camp Randall.
"Physical and competitive best define the West Division," Northwestern defensive end Adetomiwa Adebawore said. "The West is a lot more competitive. The environments – Minnesota in November is going to be snowing. Illinois, Iowa, those tough environments you have to push through."
In his role as eminence grise of Big Ten football, Alvarez already has received a call from one of the conference's future members.
"Southern Cal's asked me to come out and talk to their coaches about competing in this league," Alvarez said. "That's one thing I'll tell them: You gotta change how you recruit. You better start recruiting some depth and size in your defensive front."
The bet here is that Riley will make the Big Ten adjust to him more than he adjusts to the Big Ten. Then again, let's see how those Trojans handle November in the central time zone.