Biletnikoff 2021 watch list: Buckeyes have talented 1-2 punch at receiver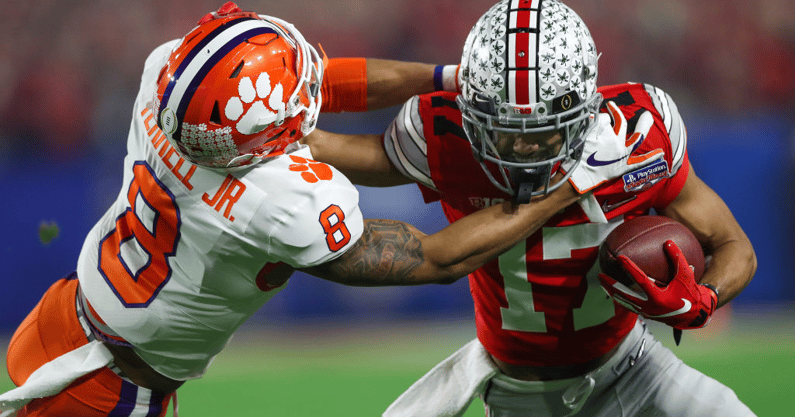 Pro Football Focus recently has released its 2021 Biletnikoff watch list rankings for the 2021 season. The Award, given annually to the best receiver in college football, is one of the most coveted in the sport. Below are the top 11 candidates to take home the trophy.
11. John Metchie III, Alabama: Metchie will become the Crimson Tide's No. 1 receiver with DeVonta Smith and Jaylen Waddle both gone. He already put up 916 yards receiving and six touchdowns last year, and those numbers should rise.
10. Ty Fryfogle, Indiana: Fryfogle was a big reason Hoosier football finished with a .750 win percentage this past season, the fifth-best in school history. He returns for a fifth season to once again make Indiana a team to watch in the Big Ten race.
9. David Bell, Purdue: Ninth on the Biletnikoff 2021 watch list, Bell's PFF receiving grade the past two season trails only LSU's JaMarr Chase and Alabama's DeVonta Smith. As a freshman in 2019, Bell had 1,035 yards receiving and seven touchdowns.
8. Khalil Shakir, Boise State: Shakir finished just 153 yards behind his 2019 numbers last year despite playing half as many games. He had the ninth-best PFF receiving grade in FBS in 2020.
7. Jaquarii Roberson, Wake Forest: Roberson averaged a little more than 100 yards receiving and slightly less than a touchdown per game in 2020. Prior to last year, he had just 13 receptions over a two-year career with the Demon Deacons.
6. Marvin Mims, Oklahoma: Mims had 37 catches for 610 yards and nine touchdowns in 2020. Charleston Rambo has since transferred to Miami (FL), so Mims should see more targets in his second season.
5. Treylon Burks, Arkansas: An Arkansas native, Burks could be the best receiver in the SEC. If the Razorbacks take a step forward in Sam Pittman's second season it will be because of this dark horse Biletnikoff 2021 candidate. His one-handed touchdown catch against Ole Miss was one of the best from 2020.
4. Arik Gilbert, Georgia: Gilbert played tight end for LSU this past season, finishing with 35 catches for 368 yards. He transferred to Georgia and should make an immediate impact in his second college season.
3. Justyn Ross, Clemson: Ross had spinal surgery that caused him to miss the entire 2020 season. If he is cleared to play, he will be one of the best stories of this year.
2. Garrett Wilson, Ohio State: A former five-star recruit, Wilson is living up to his lofty expectations. After recording five touchdowns as a freshman, he added six more in only eight games as a sophomore.
1. Chris Olave, Ohio State: The Buckeyes have two of college football's best receivers in Olave and Wilson. As such, it wouldn't be a surprise at all to see a Buckeye as the Biletnikoff 2021 winner.