Billy Napier 1-on-1 talks fixing Florida: 'There's no magical potion, we've just got to do the work'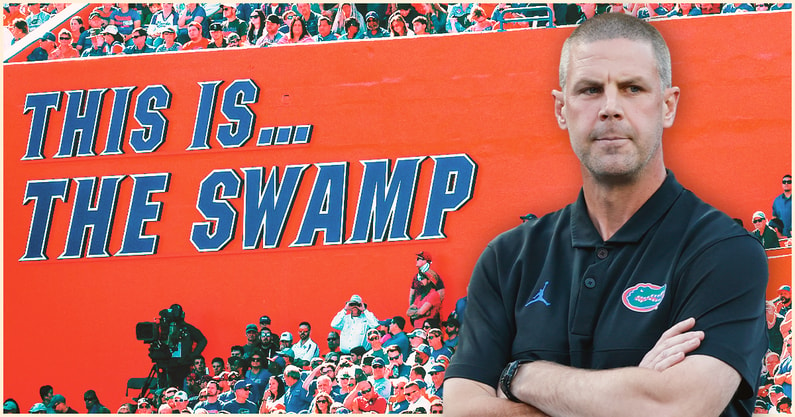 MIRAMAR BEACH, Fla. — Billy Napier is adamant he knew what he signed up for. Florida's head coach was handed the keys to a football program that I've likened to an aging Ferrari, and after a wheel-spinning Year 1, the once distinguished Orange & Blue continues to fade. 
The Gators are 15 years removed from their last SEC (and national) Championship. Napier is the program's fourth head coach during that time. Florida went 6-7 last fall, and they're not projected to make some dramatic Year 2 leap, with Las Vegas setting the team's 2023 win-total at an eye-poppingly low 5.5 games. 
"We took the job knowing exactly what we were getting into," Billy Napier told On3 in a sit-down during the 2023 SEC Spring Meetings. 
"We have to keep perspective here. What's the reality of Florida? In the last 15 years, Florida has won the East (Division) three times. That's what we're talking about here, right? We're 15 years removed from the last SEC Championship in the sport of football here.  
"I remember, my generation, when I was in middle school and high school, Steve Spurrier was dominating college football. I was a young coach at Clemson when Urban Meyer had this thing rolling. 
"So we did our homework. We did our research, and that's why ultimately, we felt confident the timing was right. The right leadership, the right vision for the future. (Florida's) commitment to facilities from an infrastructure standpoint. The NIL potential. We all know that Florida is very capable. We've done it before and we're going to do it again. 
"I'm up for the challenge."
Year 1 certainly was a challenge. 
A SEASON FULL OF BLUES
Florida was not expected to compete for the SEC East in 2022, but few foresaw such a floundering first season for Billy Napier & Co. 
The Gators upset eventual Pac-12 champs Utah in Week 1, but Florida lost to rivals Tennessee, LSU, Georgia and Florida State all in the same year for the first time in school history. 
The Gators were upset at Vanderbilt for the first time in 34 years. Florida's defense set historic lows and the team completely no-showed in a four-touchdown loss to Oregon State in the Las Vegas Bowl. Team culture was bad, and a tough first 12 months was capped by a PR nightmare in an embarrassing NIL deal gone wrong. 
"Year 1 is Year 1, regardless of where you're at," said Napier, noting that his first team at Louisiana had an inconsistent 7-7 season in 2018.
"It's the same job. There's just more people watching. … There's going to be good days and bad days. It is what it is. There's no excuses. That's not who we are, or what we're going to be (moving forward)."
It can't be, otherwise, Napier won't be long for Gainesville, even amid a seven-year contract that runs through 2028. 
Billy Napier knew he inherited a flawed roster last season. He knew Florida's recruiting department needed a face-lift and the team's "internal infrastructure had to be addressed," but when he looked under the program's hood, Napier, who is as meticulously prepared as any head coach you'll meet, wasn't quite ready for all the oil leaking from a hissing engine. 
Florida was ill-prepared for the recent changes in the transfer portal and NIL, and while Napier wasn't complaining, he candidly admitted both "variables" caused "significant issues" for him and his first-year staff in 2022. The Jaden Rashada saga was an outlier situation, but it was hardly the lone NIL battle Florida dealt with.
"You're in constant catch-up mode," he said.
Thanks to a new state law and a consolidated and organized collective rebranded as Florida Victorious, the second-year head coach is confident that "a more streamlined" NIL vision will be a strength for the Gators in the future. Throughout the spring, Napier met with UF boosters to stress unity and urgency in making sure Florida doesn't get left behind in an arms race that is critical for the highest level of competitive recruiting.  
"It's taken 10 months of work. I can't compliment (enough people)," he said.
"There's just so many people who contributed to solving this issue. Re-organizing and having a system in place that can prove beneficial for all University of Florida athletes. Florida Victorious and their leadership as a whole is built for Florida to be very competitive. It's taken a year, but we're getting that thing where it needs to be. 
"I do have confidence in that process."
The Gators signed 16 blue-chip recruits in the 2023 class — fourth-most in the SEC. That's good, but Napier knows it's not good enough when Alabama (26), Georgia (22) and LSU (18) all inked even more 4 and 5-star recruits. 
It's a math game, and the Gators can't keep lagging behind their SEC rivals if they want to return back to national prominence. Whether NIL has been a factor or not in the 2024 cycle, Florida is positioned to sign its best recruiting class in at least a decade, currently 4th nationally in the On3 rankings. The Gators already have four Top 50 commitments, led by 5-star quarterback DJ Lagway.  
That's a good start, but will it be enough when Georgia and Alabama continue to land the most elite prospects?
THE MAN WITH THE PLAN
Florida AD Scott Stricklin hired Napier because of his calculated plan and vision. Napier's coaching philosophy is an amalgamation of Dabo Swinney and Nick Saban — two of his former bosses. He graduated from the 'Saban School of Process,' but in his time at Louisiana and UF, he's also blended in some of Swinney's 'rah-rah,' culture attitude. 
Napier believes he has a proof of concept: He turned around Louisiana-Lafayette and established it as a Sun Belt power. Now he's using the same blueprint to revive Florida. Going 6-7 last season with one of the better offensive lines in the SEC and a 1st Round pick at quarterback was unacceptable, and Napier knows it, but he's not deviating from his plan after one season of poor results.   
"Look there's no magical potion here. We just got to do the work, right," he said.
This offseason, the Gators brought in Wisconsin transfer quarterback Graham Mertz and saw close to 30 players leave the program via the portal. Napier hired the well-regarded Austin Armstrong to fix the defense, and the returns were felt there immediately this spring, with Napier saying, "We got the right guy. (Armstrong) has shown that in a short amount of time with the staff and the players.
Florida has questions at receiver, offensive line and safety, but Napier said the team is "lightyears ahead" of where it was last offseason, especially from "a fundamental and execution perspective." Napier continues to wear a lot of hats — he's Florida's head coach, play-caller and QB coach — but he insists he isn't overwhelmed and that program's overall "refinement" is "much better in Year 2."
"I think every person in our building would say that," Napier added.
Napier took the Rajin' Cajuns from 7-7 to 10-3 in his second season at Louisiana, but barring a stunning turnaround this fall, such a leap looks unlikely for the Gators in 2023. Florida opens at Utah, and it also has games against preseason Top 10 teams Georgia, Tennessee, LSU and Florida State. 
From the outside, UF could go anywhere from 4-8 to 8-4 this fall, and that's the tightrope that Napier currently stands on. 
PATIENCE VERSUS EXPECTATIONS 
On the one hand, Billy Napier has all the support he needs. Florida's administration has $31.8 million reasons to be patient with its second-year head coach. The Gators have a fresh $90 million football facility and they're out-spending every other school in the SEC — even Alabama, LSU and Georgia — in off-field staff support. 
And yet, most fans don't care about a massive flow chart or Napier's detailed blueprint on how he aims to get Florida back to being an SEC powerhouse.
All Gator fans see is the arch-rival Georgia Bulldogs winning back-to-back national championships, with no signs of the red and black locomotive slowing down. They see Tennessee suddenly relevant again and LSU resurgent. 
They also watched Lincoln Riley, Kalen DeBoer and Sonny Dykes engineer immediate successful turnarounds in Year 1. 
Napier can't control any of that, but it crystalizes the challenge he's up against. Florida's fan base always has outsized expectations, and no amount of frustration will change that. Gator fans want to win now, and that reality is bumping up against a process that can't be microwaved. Napier never uttered the word "patience" once during our sit-down. He didn't have to. Anyone can see Florida is not what Florida once was. Time will tell if Napier can restore the Gators back to their vintage glory, but he's certainly optimistic sunnier days are ahead.
"This is not like I can just say, 'Hey, we're finished. This is ongoing. There will be questions when we do get it going. Can you sustain it? Look, this is what we do. We all get it. We've got work to do," Billy Napier said. 
"I like our team. I can say that loud enough. Nobody knows besides our people the work that's been done since January. We're about halfway through the offseason. We started Phase 6 (this week), and training camp is two months away.
"That's what makes this game fun, right? Especially when nobody thinks you can do it."