Boo Corrigan backtracks on controversy regarding CFP hopes for Ohio State, Alabama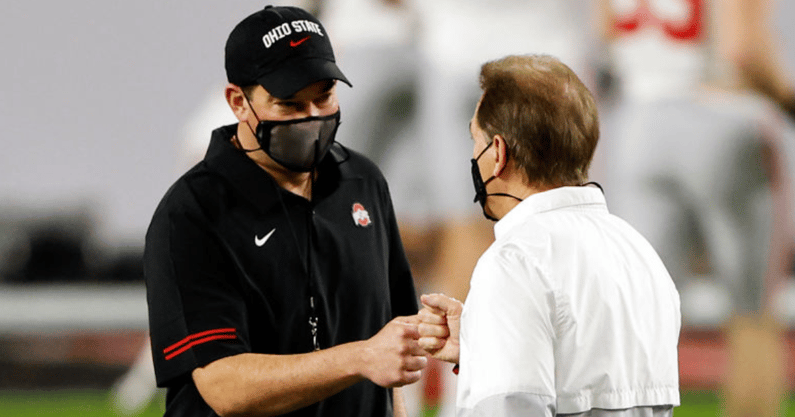 After revealing the penultimate College Football Rankings on ESPN Tuesday night, CFP Selection Committee chairman Boo Corrigan sat down with host Rece Davis to discuss the decisions made by the 13-member panel to place each team in the Top 25. As it turns out, he created quite the controversy before providing further comment on the issue.
After losing to Michigan, many wondered whether Ohio State would drop below two-loss Alabama, but they did not. That discussion becomes important because all teams ranked ahead will play an extra game on conference championship weekend, providing another risk of losing and slipping out of the top four.
Despite the action around them, Boo Corrigan seemed to indicate that the two teams were locked into their current spots given their complete body of work and current resumes.
"You're trying to get me to project a little bit," Corrigan said, when asked what would allow Ohio State or Alabama to reach the top four. "It was a tough decision."
"I know you don't project, but their bodies of work are done," replied Davis. "So nothing can really change for those teams that have already played in terms of how they stack up against each other, correct?"
"Correct," Corrigan responded. "Now there's four teams ahead of them still playing games that we need to go through as we go through this weekend.
"And again, coming out of this week, as we looked at Ohio State and the wins that they have over Notre Dame and Penn State. You look at Alabama and their big wins are over Texas and Mississippi State. They've got a couple games where they also played close – two close losses. But again, in the minds of the committee, we came back to Ohio State at No. 5 and Alabama at No. 6."
Corrigan later spoke with other media members about the controversy he stirred up, clarifying what he meant during a flustered moment on live television.
"I apologize if there's any confusion on that," Corrigan said regarding the chances for Ohio State and Alabama to move up or down in the rankings next week. "I apologize. That's not necessarily the case. I apologize if there is confusion."
While their resumes are complete it certainly sounds like the conversation will be had by the 13-member committee about both in relation to the other teams if a loss were to shake things up. It is all out of Ohio State's and Alabama's hands at this point, but the dream is not yet dead.