Bradley Beal named 'Mr. Two Bits' for Florida vs. Alabama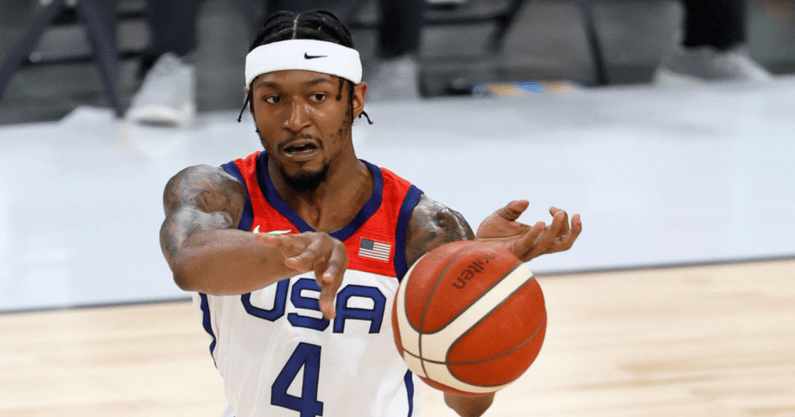 Former Florida Gators basketball star Bradley Beal was named "Mr. Two Bits" for Florida's Week Three game against Alabama, according to the school. The Top 15 matchup will be broadcast on CBS at 3:30 p.m. ET on Saturday. It is the first time Alabama has played in Gainesville, Florida since 2011.
Beal, a first-team All-SEC selection as a freshman in 2012, will return to campus for the first time since February 2020 when he helped unveil "Billy Donovan Court" at Exactech Arena/O'Connell Center.
"I know the whole 'Two Bits' thing is an iconic deal, so when they asked it was pretty much a no-brainer for me," said Beal. "I've never been in a situation like this — 90,000? — so I'm kind of getting out of my comfort here, but that's OK. The crowd, I'm sure, will be electrifying."
He continued: "I'll have to work on it in the hotel room Friday night, but I'll be ready for Saturday. At least I don't have to make a speech or something."
Tickets are already sold out for Saturday's game as fans hope to see the biggest upset of the young season. Alabama leads the all-time series 26-14 and has won the past seven meetings. However, there is some hope surrounding the Florida fan base as the hope to see Anthony Richardson, recently compared to Tim Tebow, can help take down the Crimson Tide for the first time since 2008.
Alabama enters its first road game of 2021 as 15.5-point favorites with the over/under set at 58.5.
More about Bradley Beal
Bradley Beal is a St. Louis, Missouri native who came to Florida as a five-star basketball recruit to play under head coach Billy Donovan. He does have some experience with football, having three brothers who played college football.
While Beal played both sports growing up, he says his mom shut down his football career after he received a basketball offer from Kansas as a freshman.
Once at Florida, Bradley Beal became friends with football players Jacoby Brissett and Valdez Showers, among others. He went on to become one of just two one-and-done prospects as he left for the NBA in 2012.
After going No. 3 overall to the Washington Wizards, Beal was named to the All-Rookie team. In his first nine seasons, he scored 13,303 points to rank first in Florida Gators history.
Beal is a three-time NBA All-Star and made the 2020-2021 All-NBA team after averaging 31.3 points, 4.7 rebounds and 4.4 assists. He also joined Team USA ahead of the 2021 Olympics but was replaced after entering health and safety protocols.