4-star WR Bredell Richardson reveals top eight schools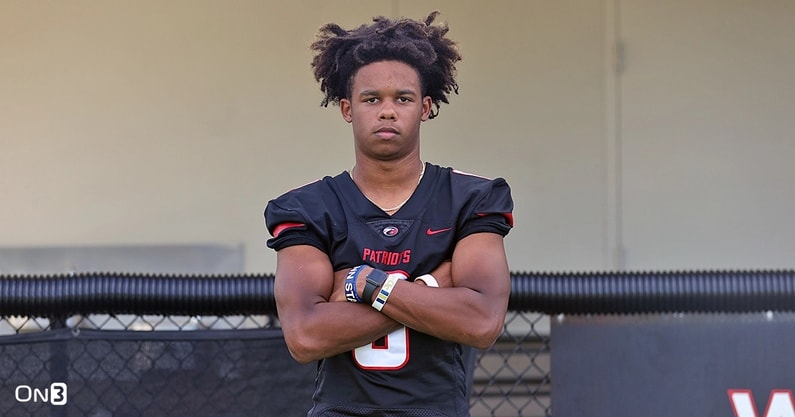 Tampa (Fla.) Carrollwood Day four-star wide receiver Bredell Richardson holds 47 offers. He is ready to cut down his list.
The 6-foot-0, 190-pound wideout announced his top eight schools on Saturday. They are Alabama, Colorado, Georgia, LSU, Michigan, Michigan State, Notre Dame and Tennessee.
"These schools have shown they believe in me and I feel each gives me an opportunity to get to the next level," Richardson told On3. "I have visited each school other than Colorado and Tennessee and I feel I can fit in well at any of these schools.
"It was difficult to get down to eight. I have been recruited since the eighth grade, so it has been a long process, so it feels good to get down to these eight. I feel good about this list and I see myself picking one of these schools when I make my decision."
Right now, Richardson is "not sure I will trim my list down again." Next, he plans to go on official visits before announcing his commitment ahead of his senior season.
"I may only take some of my official visits, then make a decision," said Richardson, the No. 129 overall prospect and No. 22 wide receiver in the 2024 On3 Consensus. "I am not sure how long I will need before I make a decision, but a decision could come fairly soon. The thing I know for sure is, I will commit before my senior season."
Richardson breaks down his top eight schools
Alabama: "It is all about the production at Alabama. They coach up and develop receivers, so that stands out to me. Alabama has been consistent and produced a lot of dudes at my positon that went in the first round. My connection with coach (Holmon) Wiggins is big for me too."
Colorado: "Coach Prime is what it is about right now. Travis Hunter is up there. They are getting players and coach Prime is setting a new standard for Colorado football. I think he can do big things there, so I have to consider them."
Georgia: "Georgia is full of champions. I would love to win a championship, and at Georgia, I would have that chance. Coach B-Mac (Bryan McClendon) is a great receivers coach and coach (Kirby) Smart has that program on top right now."
LSU: "I like what LSU is doing. I think they have a chance to win the national championship in the next couple of years. They have been consistent with wide receiver production too. Coach (Cortez) Hankton is my guy too. We have a stong relationship."
Michigan: "I love what Michigan is doing. They have been in the playoffs the last two seasons and they seem to have found the recipe to beating Ohio State. The offense they run is strong and they get the ball to their playmakers."
Michigan State: "Coach (Mel) Tucker has the program going in the right direction. They are building something up there and they have had some receivers come in the last few years. I just like overall what Michigan State is about."
Notre Dame: "Coach (Marcus) Freeman is a great coach. I love what he is doing with the program. Notre Dame is just different and I like different. Notre Dame is a different culture, a different type of program and it would be cool to be different and leave Florida to get up there."
Tennessee: "The air raid offense is crazy. It is hard not to love what Tennessee is doing right now. They develop receivers, they get them the ball, they get them open in the offense and I can't wait to get up there in March."