Bronny James, son of LeBron, receives offer from Ohio State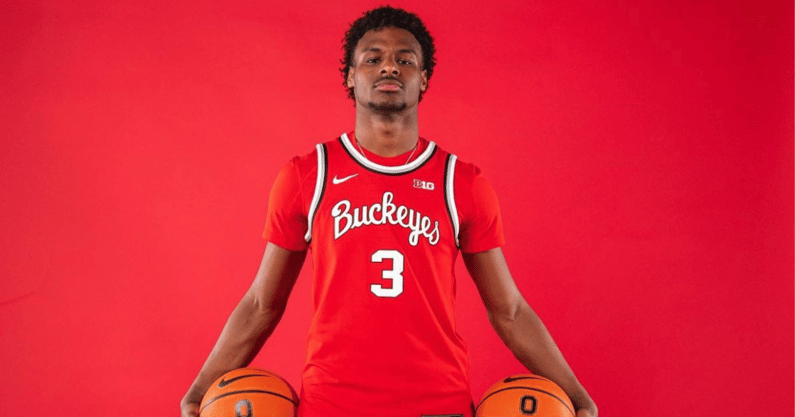 Chatsworth (Calif.) Sierra Canyon four-star combo guard Bronny James has received an offer from Ohio State, a source told On3.
James, a Cleveland native, has long held a 'standing offer' from Ohio State, not to much surprise either. His father, LeBron James, has been a vocal and avid fan of the Buckeyes' program. He's even said in the past had he gone to college, it would've been in Columbus. It's a no-brainer for Ohio State to extend Bronny a scholarship.
As Bronny began to go through the recruiting process, his offer to Ohio State was reconfirmed by the coaching staff in August. With that being said, the fact that Bronny has been offered a scholarship to Ohio State hasn't been public information until now.
Bronny James unofficially visited the Buckeyes over the weekend for Ohio State's season-opener against Notre Dame.
On3 has also reported that James also holds offers from USC and Memphis.
The 6-foot-3, 190-pound James ranked as the No. 43 overall prospect in the 2023 class, according to the On3 Consensus.
LeBron James, Jr: What we know about Bronny James recruitment
Bronny James' NIL value is worth millions
James has an On3 NIL Valuation of $7.2M, making him the most valuable high school athlete in the name, image, and likeness era. To no surprise, Bronny is the No. 1 player in On3's NIL 100, which ranks high school and college football and men's basketball players.
The On3 NIL 100 is the first of its kind and the defacto NIL ranking of the top 100 high school and college athletes based on projected market valuation.
Based on his On3 NIL Valuation, one Instagram post from James has a projected value of $89,000.
Scouting Report
Bronny James is a sturdy guard, with a strong frame, long arms, and broad shoulders. The 6-2/6-3 guard is a noted defender at the point of attack. He moves his feet well laterally and plays with a chip on his shoulder. Offensively he does not really show blow-by burst in the half-court. But he attacks closeouts well, and he is strong in the paint. James is good in transition, has a little bit of wiggle there, and can get on the rim. He is explosive in straight lines. James needs to tighten his handle in space. One of his biggest areas of improvement is from three, where he has cleaned up his mechanics – especially the release – and gathered his balance. James made 13 threes in six Peach Jam games at a 35 percent clip. He will need to finish better at the rim, especially in traffic. When playing as the primary initiator, he takes care of the ball with a better than 2.5:1 assists to turnover ratio at Peach Jam. – On3's Jamie Shaw, National Recruiting Analyst