Browns running back Kareem Hunt carted off field with calf injury Sunday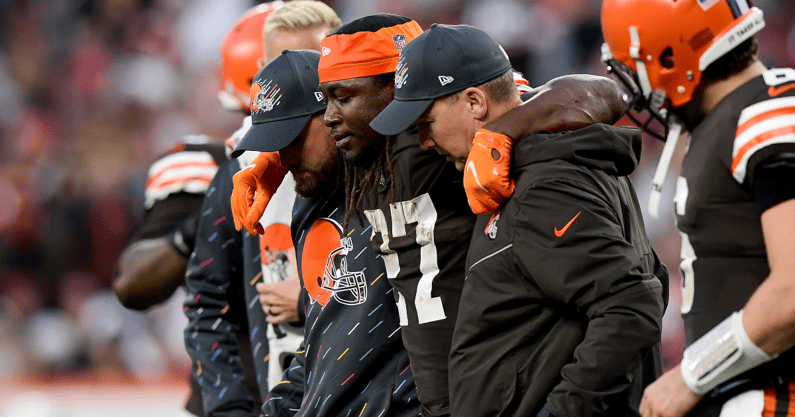 Cleveland Browns running back Kareem Hunt was carted off the field Sunday's game against Arizona with a calf injury and will not return. He had 14 carries for 66 yards to go with three receptions when he exited early in the fourth quarter.
The news means Cleveland is down to its third string running back as Nick Chubb missed this game also with a calf injury. Demetric Felton and D'Ernest Johnson are the other two backs on the roster. Johnson entered late in the game and had just one carry for two yards.
The Browns eventually lost to the Cardinals by a score of 37-14. They drop to 3-3 on the season with the loss while Arizona stays undefeated at 6-0. It will also be the first home loss of the season for the Browns. It is definitely a disappointing start to the year, marred by injuries. In addition to Hunt and Chubb, receiver Jarvis Landry is also out.
It has certainly put a damper on the season after Cleveland entered as a preseason Super Bowl candidate.
The game was actually fairly close at halftime, with Arizona leading just 23-14. However, the Browns failed to score in the second half as quarterback Kyler Murray led the Cardinals to touchdowns in both the third and fourth quarters.
Murray finished the game with 20-of-30 for 229 yards passing, four touchdowns and no interceptions. Baker Mayfield, his Oklahoma Sooners counterpart and opposition, was 19-of-28 for 234 yards, two touchdowns and an interception.
The Browns will hope that either Chubb or Kareem Hunt can return from their calf injury before next week. Cleveland has a quick turnaround as it takes on the Denver Broncos in the Thursday night game at 8:20 p.m. ET.
The Cardinals will look to remain undefeated as they return home for a matchup against Houston next Sunday at 4:25 p.m. ET.