Bruce Pearl compares Jabari Smith to Kevin Durant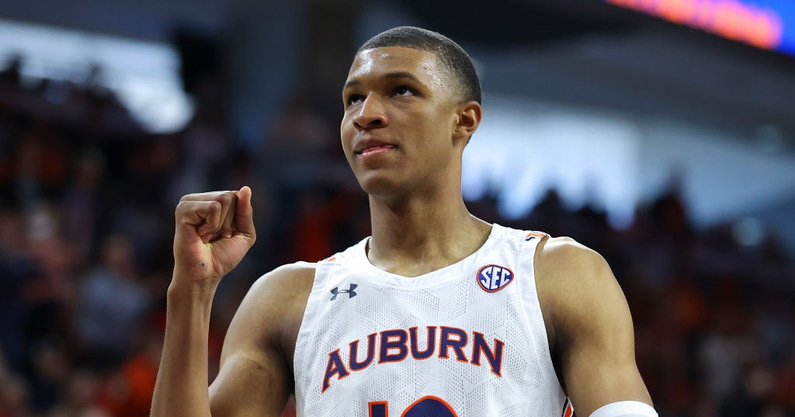 One of the biggest comparisons for Jabari Smith ahead of the 2022 NBA Draft is Brooklyn Nets star Kevin Durant. Those got even louder this week when Smith's coach at Auburn addressed that very topic.
Bruce Pearl joined The Herd with Colin Cowherd to talk about Smith's draft stock and continue to make the comparison between Smith and Durant. From a stats perspective, they're pretty similar. Durant is a 7-foot forward and had a 47.3% field goal percentage in one year at Texas, while Smith is 6-foot-10 and shot 42.9% from the floor last year at Auburn.
But Pearl thinks Smith can make a major impact from an intangible standpoint, as well, especially if he goes No. 1 overall to the Orlando Magic.
"The comp's got to be Durant," Pearl said. "It's got to be because of his ability to shoot the ball, jump shoot. He's got a high release point, he's every bit of 6-10 and he can make open ones and he can make contested ones. He's absolutely not afraid of the moment. The secret sauce to Jabari is his competitiveness. He doesn't want to lose anything. He's going to win in sprints, he's going to win a free throw contest, three-point shooting contest. He's going to win at ping pong. If he doesn't win, he's pissed.
"He affects everybody else that he's with. That's all he cares about is getting better, being a great teammate and winning championships. Orlando's got pieces, but they've got no glue. They haven't figured out how to win. I think a kid like this could make a huge difference for them."
Jabari Smith compares himself to Kevin Durant, other NBA superstars
Smith, himself, said he tries to model his game after Durant. Considering Durant is a 12-time All-Star and two-time NBA Finals MVP, that's someone good to emulate.
"Giannis (Antetokounmpo) on the defensive end, Jayson Tatum, Kevin Durant," said Smith. "People who can do a lot or are not limited."
With the Tigers last season, Smith averaged 15.9 points and seven rebounds a game. He was the centerpiece of Bruce Pearl's team that went 28-6 and ranked as high as No. 1 in the AP Poll.
Smith has emphasized the fact he doesn't want to be a player who's limited on either side of the floor. Some big men have become impractical in today's modern NBA where perimeter play has become key. At 6-10, he's been able to show potential both offensively and defensively from multiple spots on the floor. He doesn't limit himself to one comparison as he wants to be the most versatile player he can.