LOOK: Cade York becomes rich man as Browns draft kicker in Round 4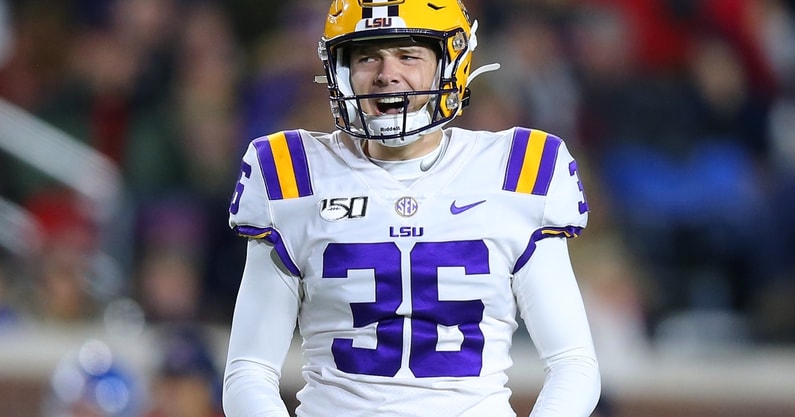 The Browns surprised the football world by going kicker in the fourth round of the 2022 NFL Draft, but it worked out fantastic for Cade York of LSU. Not only did Cleveland help him realize his lifelong dream of being drafted, the team made him a rich man based on his draft slot.
According to Spotrac, York projects to sign a significant contract for a rookie kicker due to being drafted earlier than expected.
"The #Browns selected the first Kicker of the draft, Cade York (LSU) at #124 overall," tweeted Spotrac. "He projects to sign a 4 year, $4.3M contract with $730k guaranteed."
As you can see, York will be doing better than most rookie kickers usually do. The money is nice, but it'll likely also earn him a larger leash on the field, not that the former LSU kicker isn't up to the challenge the NFL presents.
York was a savant for LSU, with a booming and accurate leg. During his time with the Tigers, the kicker made 54 of his 66 field goal attempts. Additionally, York was 15 of 19 on kicks from 50 yards or further, booming a 57-yard field goal during the 2020 season.
As far as extra-points go, the former Tigers kicker was near perfect, sinking 164 of 168 extra-point attempts for LSU. It's easy to see why the Browns are confident in the former LSU star to get the job done.
Dream realized. Money secured. It's a good day to be a kicker, and a good day to be Cade York.
What NFL Draft analysts are saying about Cade York
During his career at LSU, York displayed a strong leg, which should serve him well in the NFL even though he didn't do kickoffs with the Tigers. Still, NFL.com's Lance Zierlein said York can have success in the NFL with his leg strength and the accuracy he showed in Baton Rouge for Ed Orgeron's group.
"York was a highly ranked kicker coming out of high school and has played at a consistently high level for LSU," Zierlein wrote. "He gets consistent rotation on kicks from all distances and is usually near the middle of the uprights. He didn't handle kickoff duties at LSU, but has the leg to do so as a pro and should become a good NFL kicker early in his career."